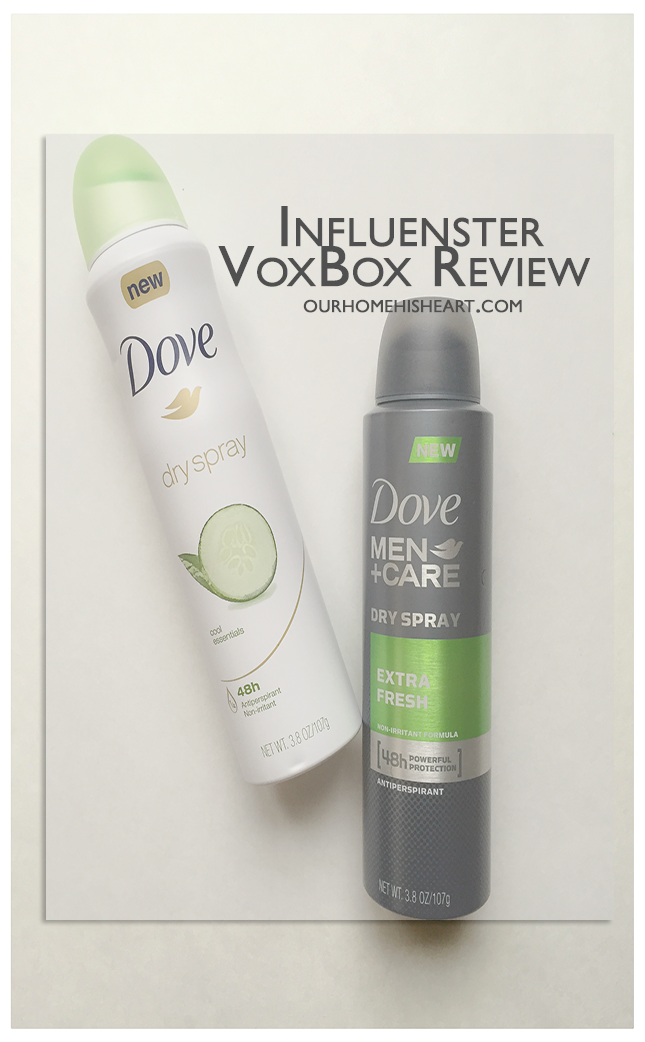 Hey Everyone!
Today's post is all about the Target Dove Dry Spray VoxBox I received, courtesy of Influenster! If you are not familiar with it, Influenster is a great resource to find millions of reviews on products! They also love to get consumers opinions about various products by writing reviews on products. If you are interested in Influenster, you can find out more about it here. They send you different things to test out if you meet certain requirements! What I like most is if you do not like a product you are free to say that—You give 100% of your OWN opinions! I have received VoxBox's in the past, but this is my first box while having a blog platform to share on. I've been using this dry spray deoderant for a few weeks now, so that I could give an honest review of  my thoughts on it. I enjoy testing out new things and letting you know my opionion- so let's get the review started!
The VoxBox arrived just after the new year in my mailbox! I was SO excited to get this and start testing! The box contained a Dove Cool Essentials Dry Spray Antiperspirant for me and a Dove Men+Care Dry Spray for Eddie to try. The Cool Essentials Dry Spray retails for $5.49 and it is available at Target and also many drugstores. The Dry Spray formula is available in many scents for men and women, so there is definitely something for everyone with this one!
Influenster VoxBox Review | Target Dove Dry Spray
The Details:
Dove Dry Spray antiperspirant delivers all the care of Dove, now in a dry antiperspirant spray. 
Goes on instantly dry for a cleaner feel
Made with Dove's 1/4 moisturizers
48 hour odor and wetness protection
Leaves underarms feeling soft, smooth and free of visible residue
It goes on instantly dry and delivers 48 hours of protection against odor and wetness. Enjoy the delightful scent of cucumber and green tea.
Pros:
* I love the smell of this Dry Spray Antiperspirant in the Cool Essentials scent! My husband loved the Dove Men+Care in Fresh Scent as well. Both smell so refreshing and not overpowering at all! Both provide great odor protection.
*Very easy to apply…hold 6 inches away and spray! That's it!
*Sleek and easy to manage packaging. The slim bottle fits in the hand nicely.
*Leaves underarms feeling incredibly soft and smooth, with the care of Dove and the brand's 1/4 moisturizers
*There was no white residue transferred onto clothes!
*This really dries instantly, so its perfect for if you are in a hurry to get ready!
*The scent lasted a very long time. I Definitely smelled fresh all day long.
*The Dove Dry Spray formula is available in 6 variations.
Cons:
Now while the smell is heavenly, I don't care for the spray formula in a deodorant, personally. I am old school with deodorant and prefer the stick deodorant formula over all others. This spray formula made it almost impossible to cover all of the skin to create a barrier against wetness without spraying for a really long time.
My Final Thoughts:
After giving this a try, I can say that the actual spray application of deodorant is not for me. While this does feel incredibly weightless, I am sold out forever to my all time favorite and must-have deodorant!  Overall, I could see this working for someone who's on the go a ton and wants something with a fresh smell that's also really convenient to use. I do think that someone who doesn't mind the spray application would absolutely love this product. This would be great in a gym bag for a quick touch up as well. Someone who does not need a bunch of wetness protection and likes a milder formula when it comes to antiperspirant and deodorant would really love this. As far as Eddie goes, he absolutely loves this deodorant and uses it everyday with no complaints 🙂 He loves the convenience of it since he is on the go a lot and the smell is great.
Thanks Influenster for sending me these products to review!
I would love to know what you all think of the Dove Dry Spray deodorant if you've given it a try! Don't forget to like, comment, and subscribe!
Have a great weekend, friends!
*I received these products courtesy of an Influenster Voxbox  for testing purposes. All opinions are my own. *