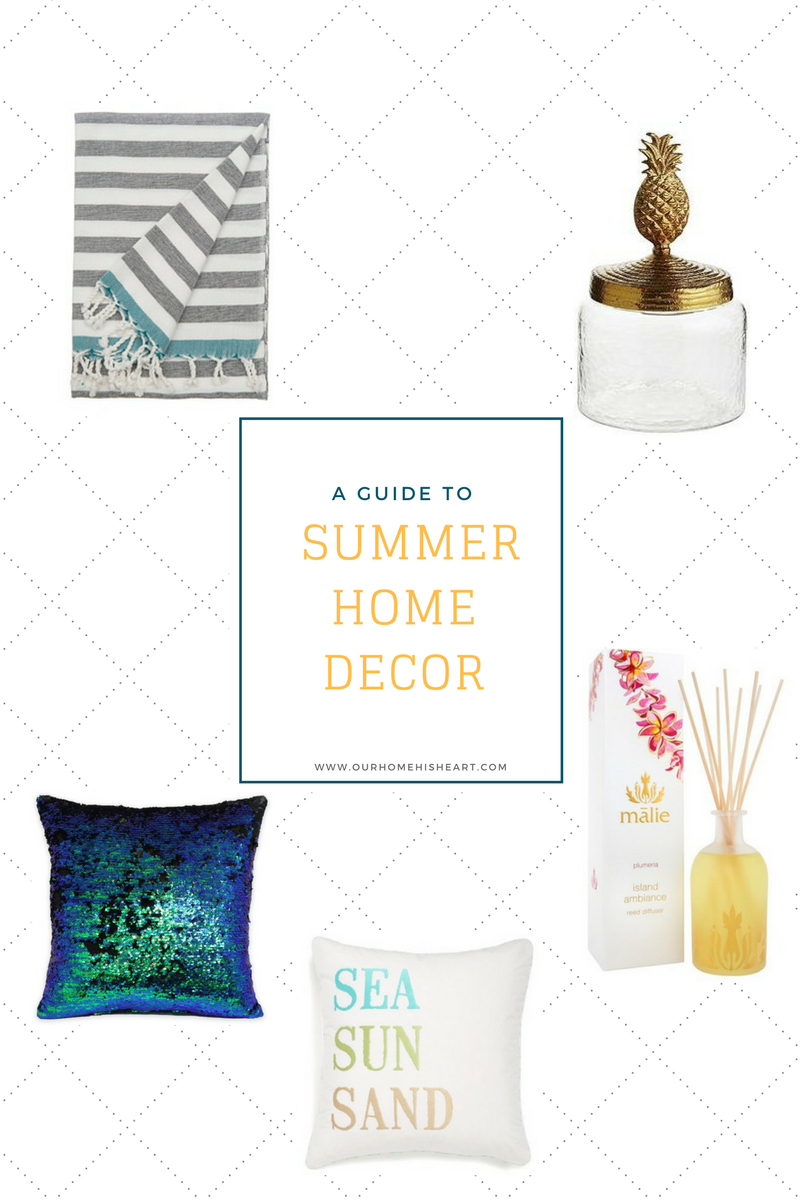 We are well into the season of fabulous off the shoulder tops, pom pom sandals, and easy breezy dresses with sneakers. While summer can't last forever, we do still have just a few weeks left to stylishly immerse ourselves into what's left of it! Our closets are certainly filled with items that are appropriate for summer, but why not add some summer details into home décor as well?  Today, I'm sharing my easy tips for adding summer decor items in your home.From beach inspired coffee table books, to bringing palm prints indoors, all are sure to have you feeling like your home is a tropical getaway!
9 Tips for Adding Summer Details Into Home Decor
Tip 1: Add a Little Sparkle
Mermaid throw pillows are something I am eager to incorporate into my summer home décor, even if summer is just for a few more weeks! No worries here because sparkly throw pillows can be added into décor all year round. The effect they give with just one swipe of the hand, allows the underlying color to become more prominent, creating a stunning look that's full of dimension. Using gold glittery coasters on a side table as an anchor piece really pull the look together seamlessly. The shimmer from these pieces not only remind us of sand at the beach, but the shimmer also balances out any more masculine touches in the room, such as harder wooden details.
Tip 2: Use Thematic Throw Pillows
In addition to the sequined mermaid pillows, add some more understated summer pillows here and there (think: throw pillows on bedding, benches, side chairs, sofas, and accent chairs). These will not only add more interest, but also make the space feel festive, yet cozy after having some fun in the sun. Pom pom details are not just for fashion either. Pillows with pom-pom details are sure to make a big impact.
Tip 3: Incorporate Beach-Inspired Candles and Scents
Engaging the sense of smell is something that can easily be overlooked when putting together a space. Using beach and vacation- inspired scents can trigger certain memories of past good times and fun trips, lending to the overall relaxed ambiance summer decor. Reed diffusers are a great option if candles are not feasible, as they add to the idea of bringing the outdoors inside. Summery room sprays and fabric perfumes can be used and are a nice touch.
Tip 4: Keep Textiles & Materials Light and Airy
Summer time is about being outdoors and being carefree. Fabrics that are breathable, light in feel, color, and texture really evoke those feelings, while still being functional for the summer temperatures. Look for throws with on-trend detail, such as pom pom trim or tassels.  Swapping out baskets made of heavier materials for woven and wire baskets keeps a space airy. Lightly stained wooden candleholders and mirrors with driftwood frames keep the space light.
Tip 5: Display Unexpected Trinkets
Using fun elements to summer decor such as pineapples, sea creatures, coral reef, flamingos, and more can really spice up any space. These are also cheeky conversation starters. Adding unlikely trinkets on a stack of coffee table books, on a tray, or simply adding themed decorative votive candles makes a big statement. Small summer details can easily fit into kitchenware, as well. Try switching out usual dessert or salad plates for some with coral reef accents and tropical colors.
Tip 6: Don't forget the Palm Leaves!
Unless you've been living under a rock all spring and summer, you have seen the hype around the palm leaf trend. This pattern is a classic for a reason, as using palms in decor is a very sophisticated way to be quite festive. Palm details provide lots of color and natural elements into a space for summer.
Tip 7: Showcase Fresh Flowers
Bringing in fresh flowers really adds color, as well as some serene elements of nature while indoors. Use pretty glass vases to display your favorite blooms for an instant pick-me-up. The clear glass will add to feelings of open space, just like being outdoors.
Tip 8: Use Citrus Fruit to Decorate
Bright and cheery citrus fruit-embellished items just scream SUMMER! Try using a lemon and lime themed pitcher to serve drinks at the next BBQ or family dinner. Adding lemons to an apothecary jar, vase, or a bowl, is very simple to do. This costs next to nothing and really adds some chic style to summer décor.
Tip 9: Feature Interesting Coffee Table Books
Switching out coffee table books by season is a clever way to gain inspiration. These are nice to have when guests come over and while catching up on some of your favorite tv shows on warm summer nights. Summer-themed coffee table books add more interest and complete the look.
Shop My Favorite Summer Home Decor Items:
Which summer décor items will you be adding into your space?