Autumn finally here and it's been quite lovely weather where we live so far! It's nice to step outdoors to take in the crisp and cool autumn air, but sometimes it's great to be able to enjoy the scents of the season while being inside your home without having to always burn a candle. The scent that this CrockPot recipe creates always leaves me feeling nostalgic and it is the perfect mix of spicy and sweet. Everyone in our household really loves the aroma this gives off once it simmers for a bit. Below you'll find a quick, simple, festive, and yummy smelling recipe for an Autumn CrockPot Potpourri. There are lots of variations of this recipe out there, but I happen to prefer the way this one smells the best. Another plus is that for this recipe, most of the ingredients are probably already in your kitchen! This finishes up smelling like warm apple pie or pumpkin pie throughout your home depending on which of the two is used.  The smell is delightful and I thought some of you might like this too! The recipe is below.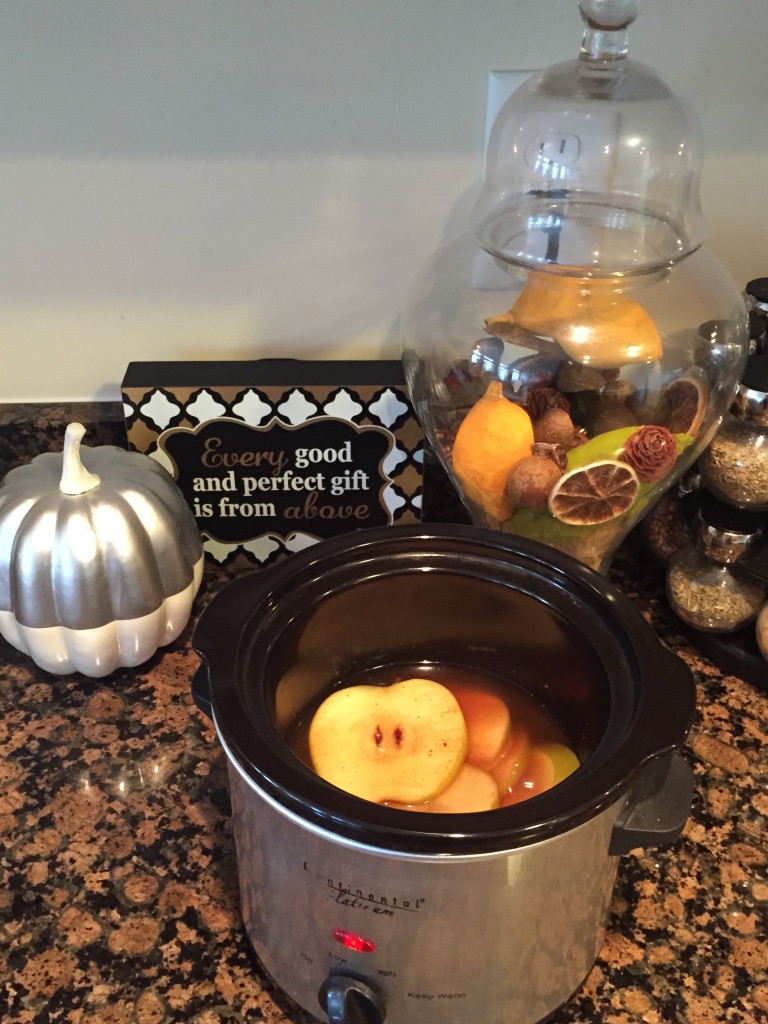 Ingredients:
*2 Sliced Apples of your choice
*4 Cups of Apple Juice (you can also use Apple Cider)
*2 teaspoons of Vanilla Extract
*2 teaspoons of Cloves
*2 teaspoons of Nutmeg
*3 tablespoons of Cinnamon
*2 teaspoons either Apple Pie Spice or Pumpkin Pie Spice (this time I used Pumpkin Pie Spice but both are good)
Directions:
1.Combine all of the ingredients in either a CrockPot set to low or in a medium saucepan on the stove set to low. I used my mini slow cooker and it worked great.
2.Give it all a good stir then leave it uncovered as it simmers. Be sure to add more water or you can add more apple juice as the liquid begins to evaporate while simmering.
3.Enjoy the wonderful aroma all throughout your home 🙂
Store this in the refrigerator when finished and then reuse it by simply reheating the liquid for up to one week.
I hope you enjoy!
 The original recipe can be found here