It's been a while since I shared some beauty favorites! I have been using all of these things nonstop for the past few weeks. Today I have just a handful of beauty product loves to share because I have been happy with each one of them for various reasons. Check out some of my current beauty faves below 🙂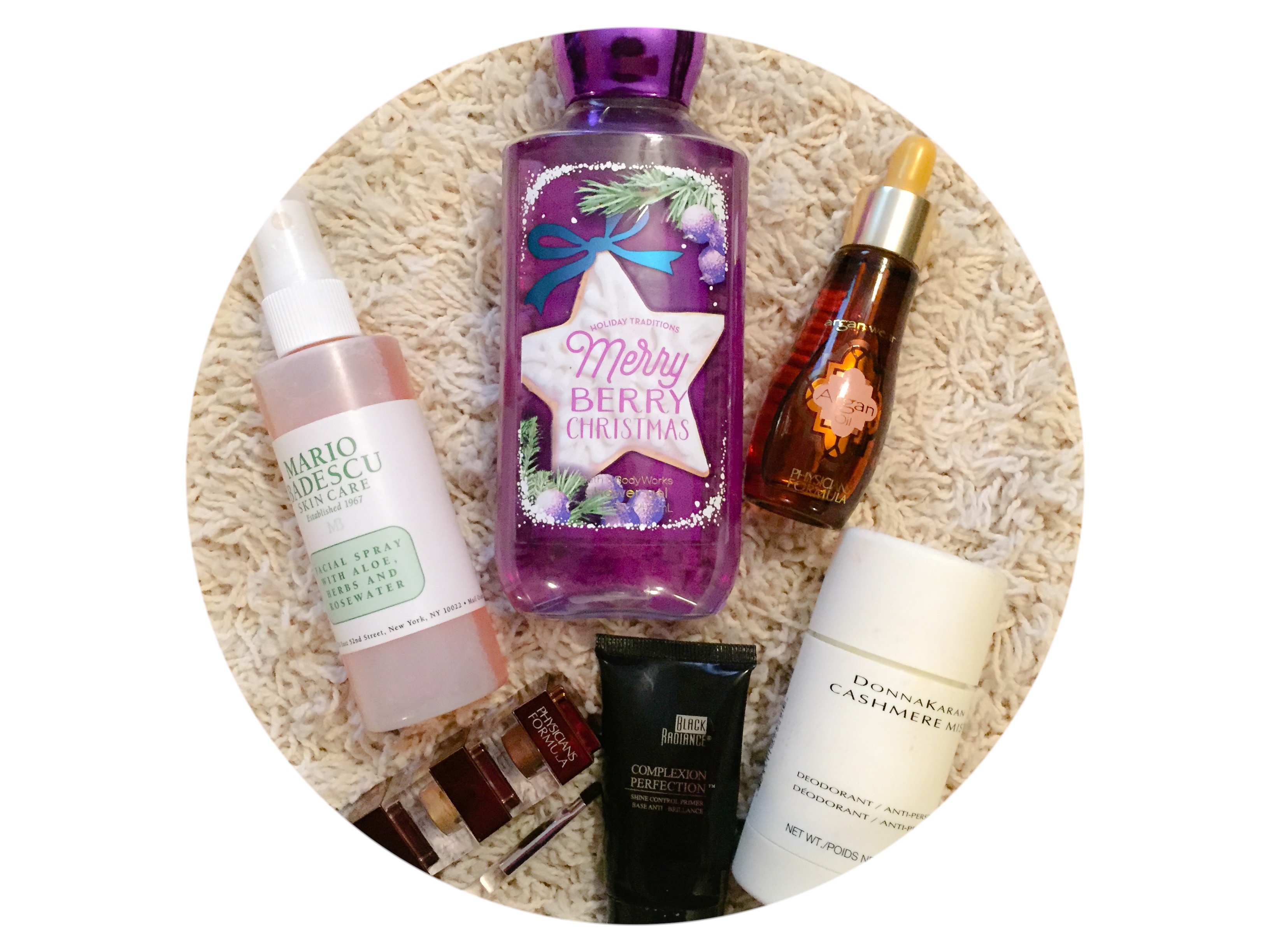 Current Beauty Favorites
I have been using Merry Berry Christmas Shower gel
through the month of December. The lather on these body washes is perfection. It smells so fruity and the pretty packaging is perfect for this time of year.  It gives off enough berry scented sweetness to make it one of my current beauty favorites. This has been good for bubble baths from time to time as well.
Another body product that has been getting tons of use is literally the BEST deodorant I have ever tried: Donna Karan Cashmere Mist Deodorant. I have been using it for years and it really does prove to do exactly what it says. First off, the smell is feminine without being floral. It doesn't compete with any other fragrance I have on. The scent of this worn alone is enough to actually be the fragrance-of-the-day if you wanted to use it that way. It is very concentrated and you get little pleasant whiffs of this all day long, but it's not at all overpowering. This gives perfect coverage and protection and it holds up with the strength of a deodorant for men, but it's made for a woman to use. It also lasts forever which makes the price not so bad. This little gem will forever be one of my beauty favorites!
Another beauty favorite of mine is facial oil. After washing my face at night, a richly beneficial moisturizer or night cream is a must. I have shared before that the Josie Maran 100% pure Argan oil has been a game changer to me to use for this purpose. I have oily skin and years ago I was hesitant to start using an oil on my already oily skin-it seemed to be counterproductive at first thought. I was  SO wrong! Using Argan oil on my face at night to moisturize and nourish has been probably one of the best things I could have done for my skin! Over time I noticed the oiliness lessened, dark spots faded, and my skin had a natural subtle glow. I have been using the Physicians Formula Argan Oil lately and it proves to be a comparable drugstore option to the Josie Maran oil. It has been working just as great although it does feel a little thinner in consistency than the Josie Maran oil.
Fresh roses are the best…and the Mario Badescu Facial Spray smells just like fresh roses! It is so light and refreshing which is why I have been using this mostly as a refresher spray throughout the day on both my bare skin on my no-makeup days and also over a full face of makeup to set it all. It's been easy to throw in my bag and take while out, which has been really nice. I like the fact that it contains simple ingredients and it works great to hydrate my skin when needed as well. I love this stuff!
On my eyes, I typically opt for simple black liner on the bottom water line on a daily basis. Lately, I have been into adding a slight winged out effect on my top lid using Physicians Formula Shimmer Strips Custom Eye Enhancing Gel Cream liners. These 3 gel liners glide on so smoothly and have great color pay off. The stackable little cubes look sleek and store away nicely. I like having the option of either black gel liner, deep gold gel liner, or brown gel liner – all in one product. This is an awesome beauty favorite available at almost any drugstore.
I don't usually apply a primer on my face before doing my makeup on a day to day basis, but with several holiday events to attend I have been needing my makeup to hold up for a few hours at a time without retouching. Black Radiance Complexion Perfetion Shine Control Primer has been impressive! Sure, it's a little tube but a little goes a long way with this. It doesn't have a harsh smell, glides smoothly on, and really works as a great primer for makeup. The primer does come out of the tube white, but it blends in to be invisible and it truly is a nice primer at an excellent price. I like that it's such a bargain and is available at drugstores, making it so easy to find! Another plus is it also can be used as an eye shadow primer.
Has anyone else tried the Black Radiance primer?  Also, what are some of your current beauty favorites? Let me know in the comments below!