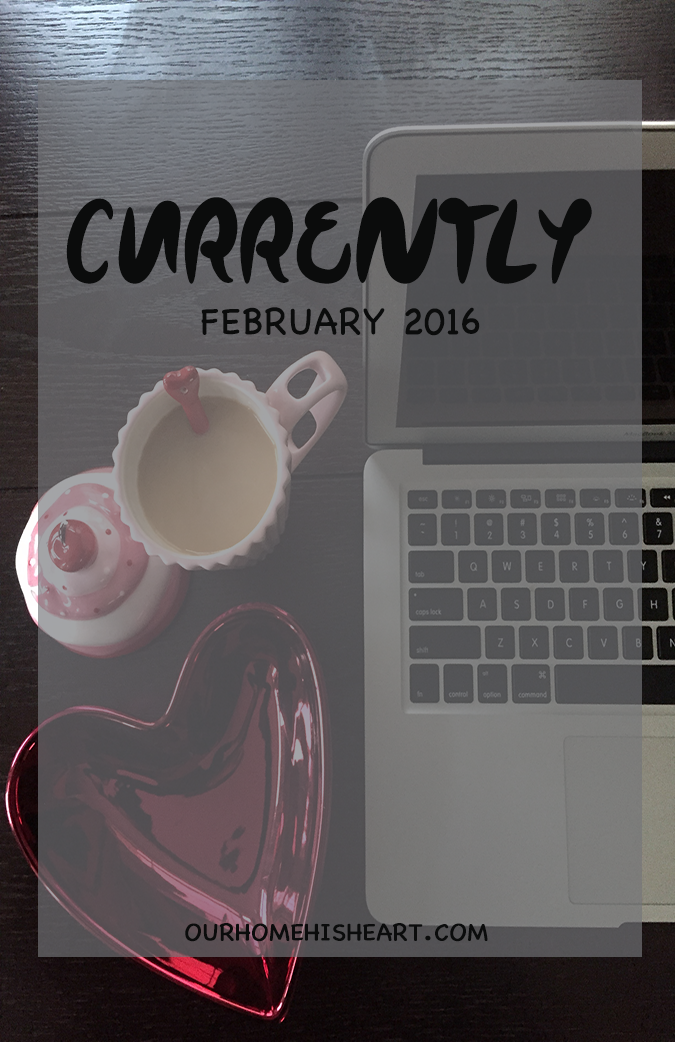 Happy Wednesday, friends! For the New Year, one new thing that I will be taking part of is joining some linkups… and I'm SO excited about it! Today will be my very first "Currently" monthly linkup post!  This particular one is fun because it gives a little glimpse into the more personal side of the blogger posting to the prompts. It is a time to share a few little things that we all may not normally share. It's also neat to see how others involved interpret the prompts because each prompt evokes different emotions and thoughts for each person participating. Keep reading to find out what I am currently sending, eating, dreaming, smelling, and hearting!
Currently | February 2016
Sending| lots of Valentine's Day love and hugs to family and friends near and far!
Eating |  chocolate chip cookies fresh from the oven with a little homemade whipped cream. YUM!!!  I started making homemade whipped cream for my morning lattes and desserts and it's really easy and tastes delicious! You only need three ingredients for this one: Heavy Whipping Cream, Vanilla, and Sugar.
Dreaming | of warmer weather lately and thinking of fun warm weather activities and short trips to take as a family. Jacob's first trip to the zoo is definitely on the list, but I'm thinking of where else I'd like to take him this year and experience as a family.
Smelling | the 719 Walnut Avenue Classic Flannel candle. Usually, I go for the Bath & Body Works 3-wick candles but didn't take advantage of the most recent sale on them. I decided to give these a try since I had one in my candle stash from Fall. So far I really like them! They are a very wallet-friendly alternative and I have been burning this cozy scent all winter long. I'm looking forward to trying out more scents!
Hearting | our sweet little family of three …  I'm so thankful for my two boys! It's pretty cool being the only girl in the house!
I can't wait to hear what you all are sending, eating, dreaming, smelling, and hearting! Let me know in the comments below! Thanks for hosting this linkup Anne and Jenna!