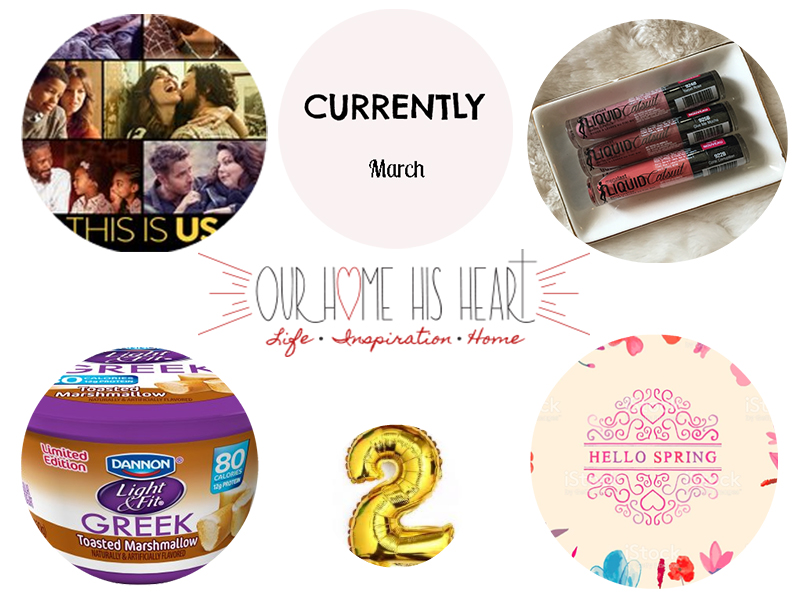 Just like that, It's March! My last currently post was quite a while ago but I'm excited to get back in the swing of things!
Today I'm linking up with Anne and Carrie to share what I am currently…
Watching | This Is Us. I can't always catch it when it airs during the week, so thankfully it's easy to catch up on Hulu with Eddie. This show is well written and just so sweet! I always have to have my tissues near by me when we watch, anyone else?!
Eating | Toasted Marshmallow flavored greek yogurt- YUM! Mixing in a little granola really makes this a little sweet treat from time to time.
Saying | This makes me think of my 2 year old, JP, because he is saying a lot these days! The kiddo is full of personality and is talking non-stop from the minute he wakes up 🙂 Safe to say that he is pretty much saying everything he hears! Just like a little parrot! Hilarious!
Wearing | I picked up a few of the new Wet n' Wild Liquid Catsuit matte lipsticks a few weeks back. They are a good long lasting formula and under $5! So far Give Me Mocha is the color I like most for an easy everyday shade.
Posting | This unusually early spring-like weather that we've consistently been having in NC makes me more than ready for spring clothes, spring accessories, spring cleaning – basically spring everything! So I'm definitely working on some upcoming spring-inspired blog posts!
What are some things you're currently into, friends?