One look I can't get enough of is classic black and white. Combining black and white gives off a chic vibe. Decorating with a black and white theme can be used subtly, but can also be used to makes a statement. While it is truly versatile, sometimes it can be tricky to achieve the warm, calming, and sophisticated look most are going for. From going total glam to gaining a cozy cottage feel, black and white can be used to achieve your overall look! Today, I've rounded up a few gorgeous black and white décor looks for the home.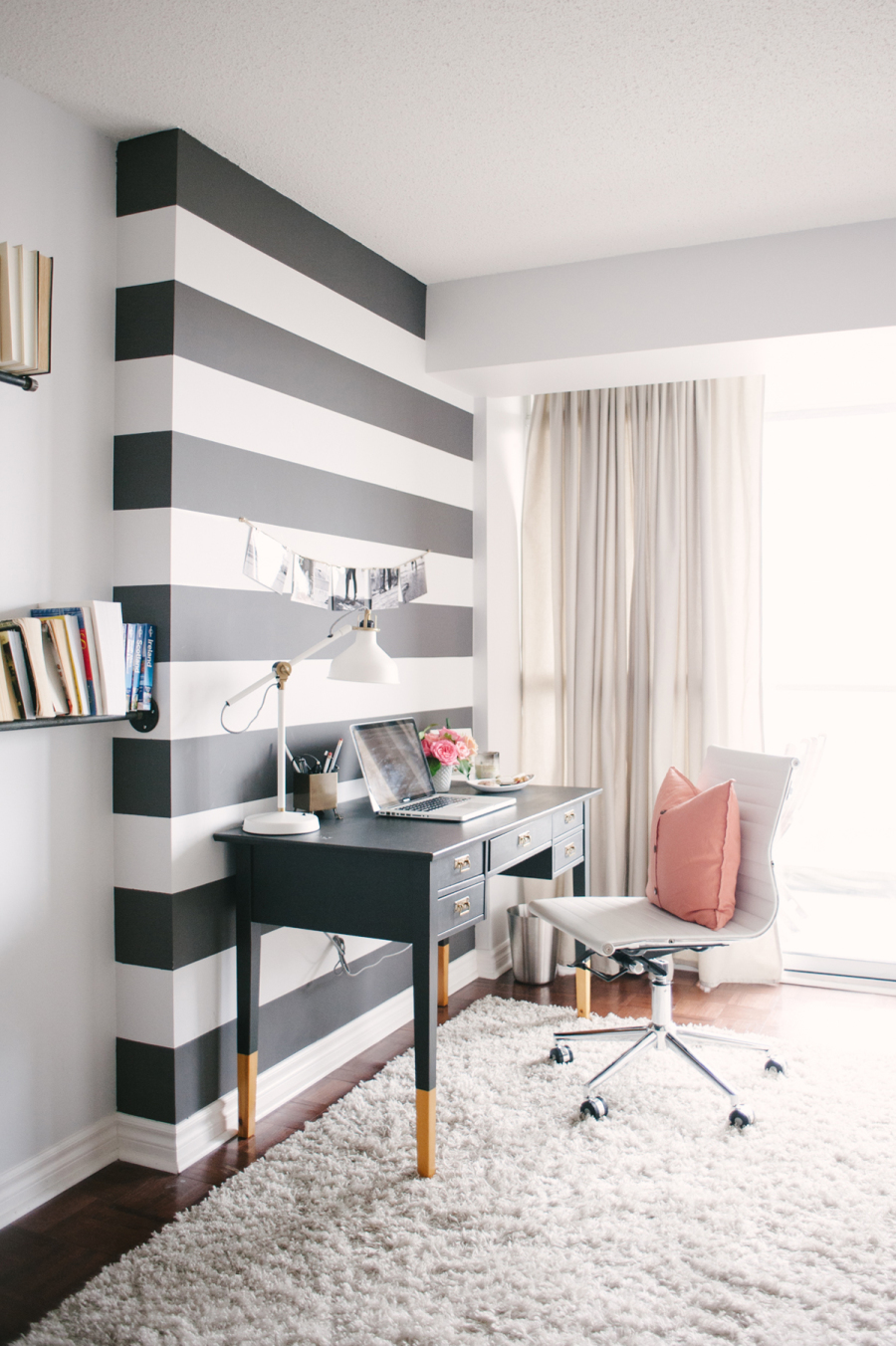 Image Credit: Style Me Pretty
The use of bold black and white horizontal lines on part of the wall makes this office space look so sophisticated! Simple office decor with sprinkles of blush add some softness, while a nice bouquet of flowers adds even more femininity to the space. Gold dipped legs on the minimalistic style desk is a pretty finishing touch to the room that works to tie everything together well.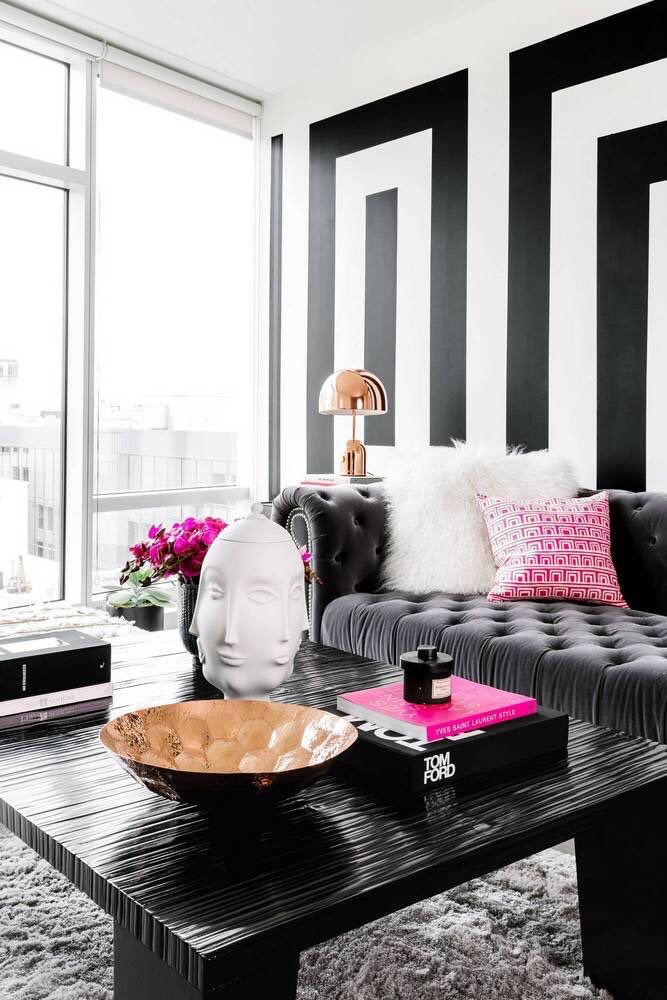 This room makes a glamorous statement using black, white, and hot pink accents! Adding more masculine touches such as the chunky legs, rough texture, and stout stature of the coffee table helps to achieve a good balance between masculine and feminine. Using the pale gray rug and sofa in this space really adds a soft touch to the room. Rose gold accents really pop for even more of a glam look!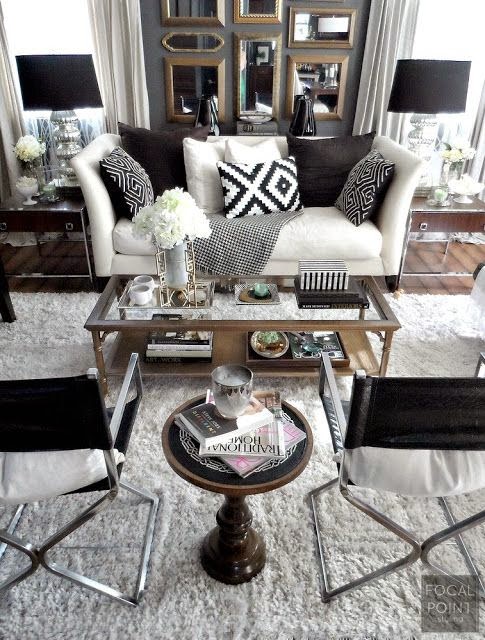 Decorating With Black and White 
Using black and white for more of an Industrial look can be very family friendly! The creamy white sofa and soft rug add a cozy element to the room. Decorating with black, white, and mixing metals a bit creates a warm and inviting space. White sofas are so great because we can view them as a blank canvas, having fun mixing and matching colors.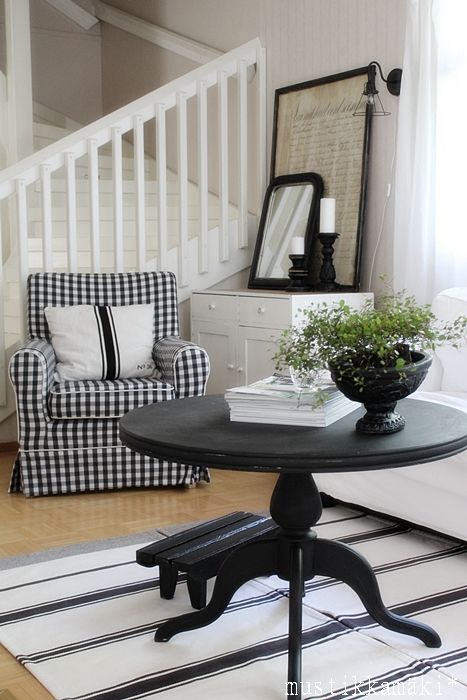 Creating a cozy cottage look is easy using black and white primarily. The room feels cozy because of the use of soft lines and bringing in natural elements such as greenery. Lots of interest is added here by mixing various black and white patterns and prints. The balance of using dark and light furniture creates a very lived-in comfortable space all can enjoy!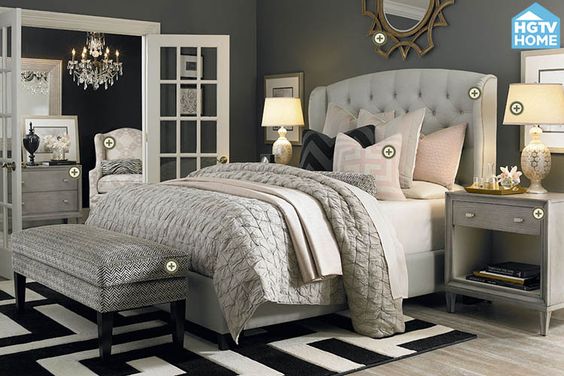 Who says black and white has to be the main color scheme in a room to achieve a bold and sophisticated look? Simple accents in black and white can liven up any space, even one using softer colors primarily. A black and white geometric print rug can add lots of personality to any room! Rugs, vases, trinkets, accent walls and more can be a great way to add just a touch of black and white when decorating.
These are just a few of the looks I love when using black and white in home decor. The possibilities are endless because these colors seem to just go with everything!
Do you like to incorporate black and white into your home decor?