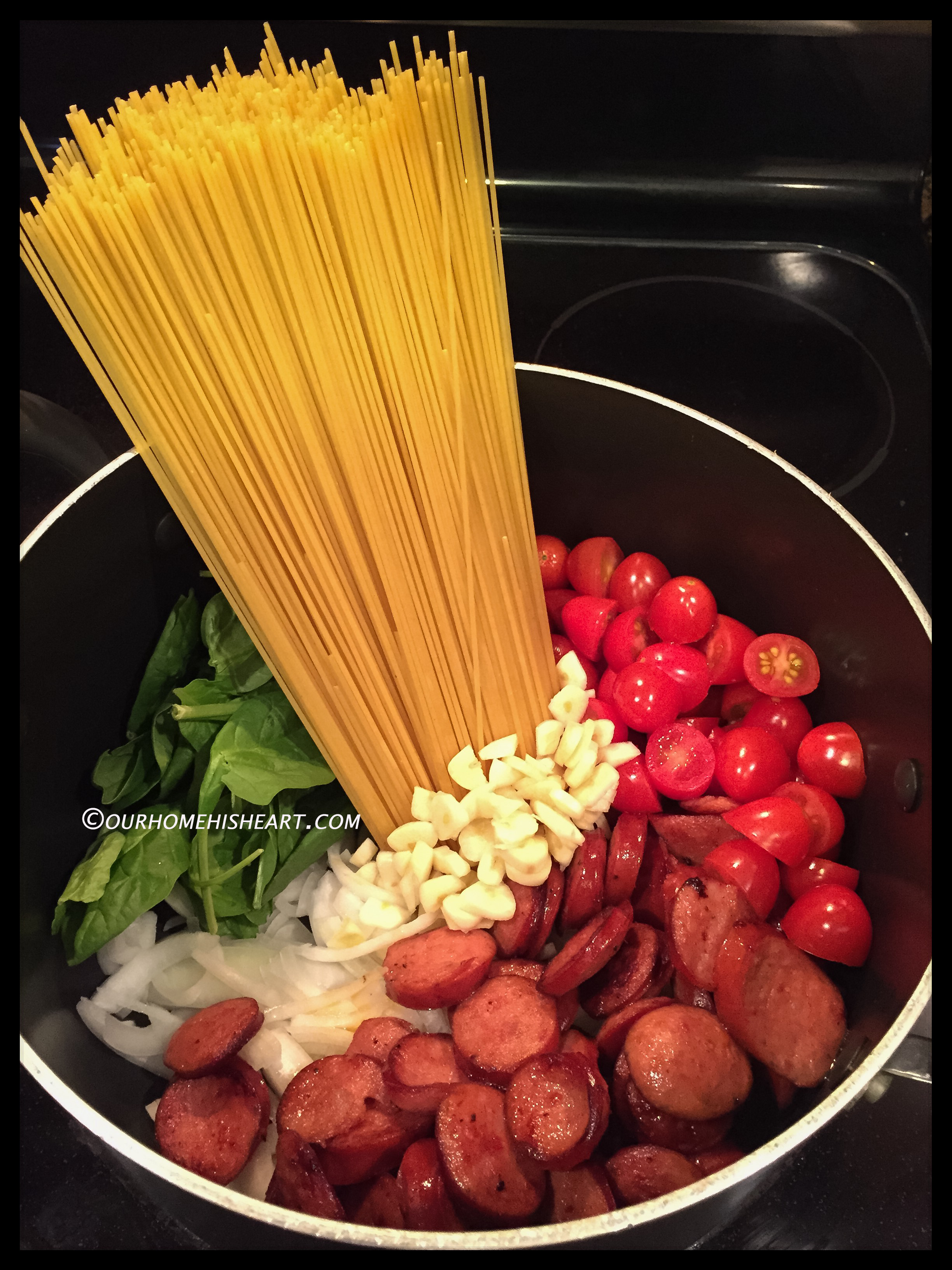 It's a busy time of year, so making EASY and delicious meals a must in my house! I am sure everyone has lots of holiday get-togethers, as well as shopping and decorating to get done with Thanksgiving and Christmas nearby. So when life gets really busy, I find it helpful to have a handful of recipes that are effortless and yummy to be able to pull from to cook at home! One pot pasta recipes are great to have especially for this purpose. There are so many varieties out there and this particular go-to meal for me is definitely a crowd pleaser, looks beautiful, and takes very little time to prepare.
Prepping ahead of time by chopping the onion, tomatoes, and garlic really makes this even quicker to throw together when I'm ready to cook. Literally everything just gets thrown in one pot and you're done…with the exception of a little stirring! There's no need to cook the noodles beforehand and the spinach can be swapped out by using basil if you prefer.  I like to brown the Andouille smoked sausage before adding in the pot, but that is completely an optional step 🙂 If you are not a fan of spicy foods, you could definitely use regular smoked sausage for this one and I'm sure it would be delicious as well. Linguine noodles or spaghetti noodles can be used, but I would stay away from using thinner noodles such as angel hair due to the small amount of time angel hair takes to cook. We do like thinner noodles in my house so I did opt for thin spaghetti, which works out great.  The recipe is below and it's easy to add or take away ingredients so that it fits your tastes!
Ingredients I Use: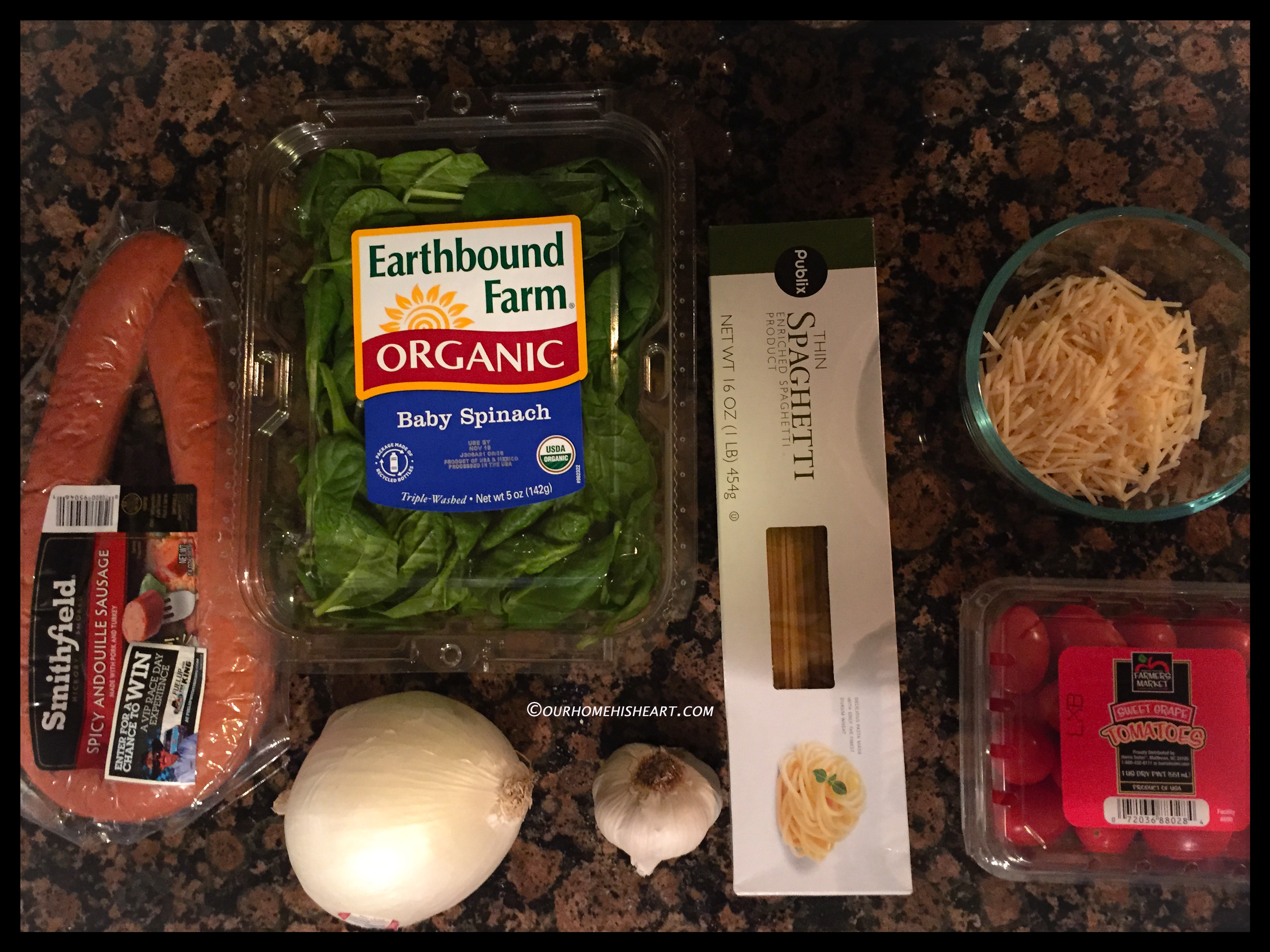 1 package of Smoked Andouille sausage thinly sliced  (I prefer to brown mine before adding to the pot but this is optional)
1 box of thin spaghetti
2 cups of grape tomatoes washed and cut in half
3 cups of baby spinach
1 large white onion, thinly sliced
4 cloves of garlic, thinly sliced
salt and pepper taste, I also add a dash of Lawry's seasoned salt
1 1/2 cups of shredded Parmesan cheese
3 cups of water
1 1/2 cups of chicken broth  *not pictured*
Directions:
Slice and brown the package of smoked sausage.
While the smoked sausage is browning, slice onion, half grape tomatoes, and slice garlic.
In a large pot, add the browned smoked sausage, sliced  onions, halved grape tomatoes, sliced garlic, spaghetti, salt and pepper, a dash of Lawry's seasoned salt, water and chicken broth.
Bring everything to a boil , stirring occasionally. The noodles will begin to soften and then fall into the liquid mixture.
Once boiling begins, reduce heat and simmer uncovered, continuing to stir occasionally. This prevents everything from sticking to the bottom of the pot.
Continue to cook with reduced heat until pasta is cooked and liquid is reduced, about 10-12 minutes.
Stir in Parmesan (optional)
Serve immediately and enjoy! It makes 6-7 servings 🙂
This is the mixture of ingredients that I use and it comes out delicious! Yum!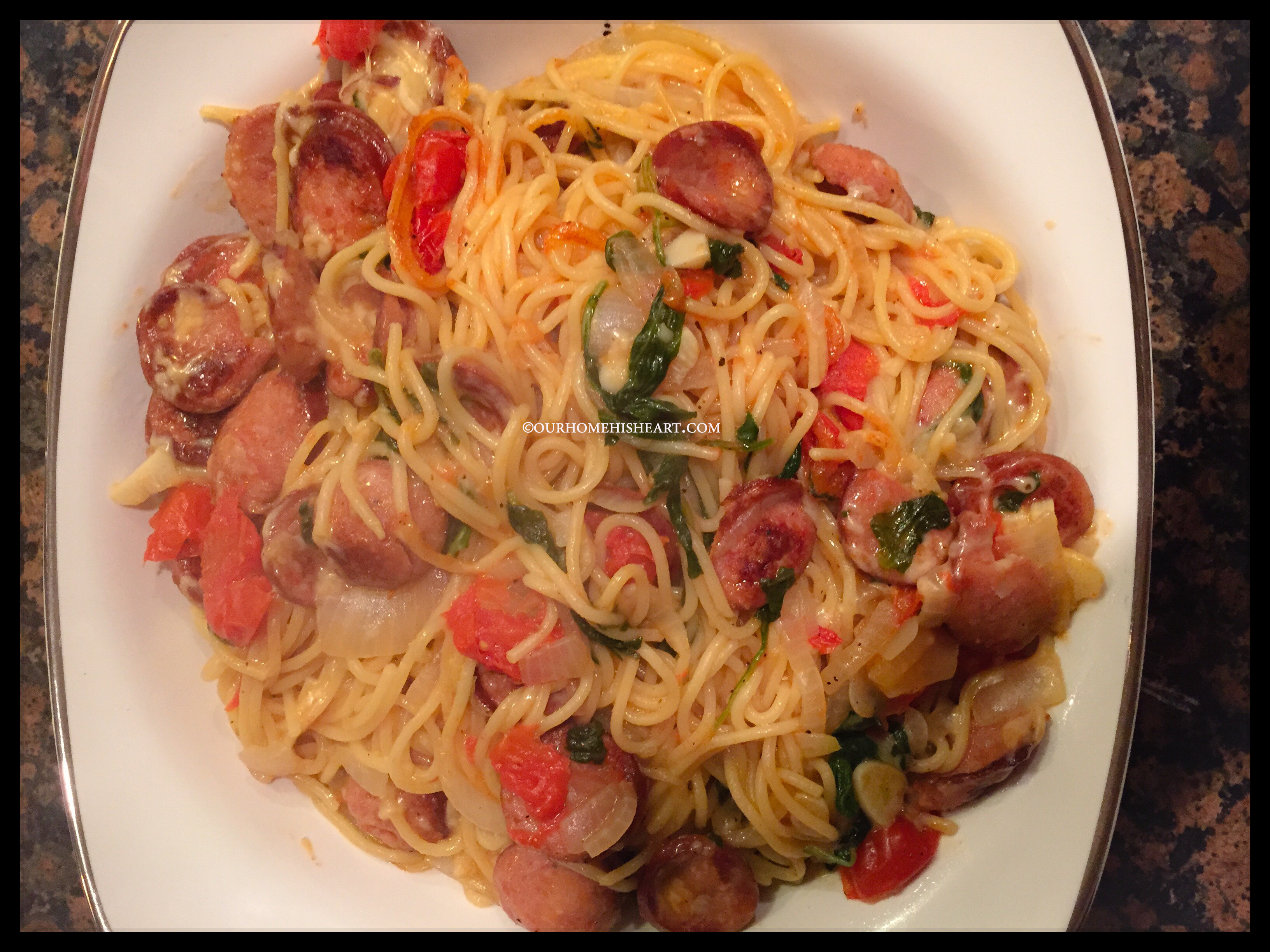 The original recipe that I loosely followed to create mine can be found here.
Which one pot pasta dish is your favorite?
Have a great day!