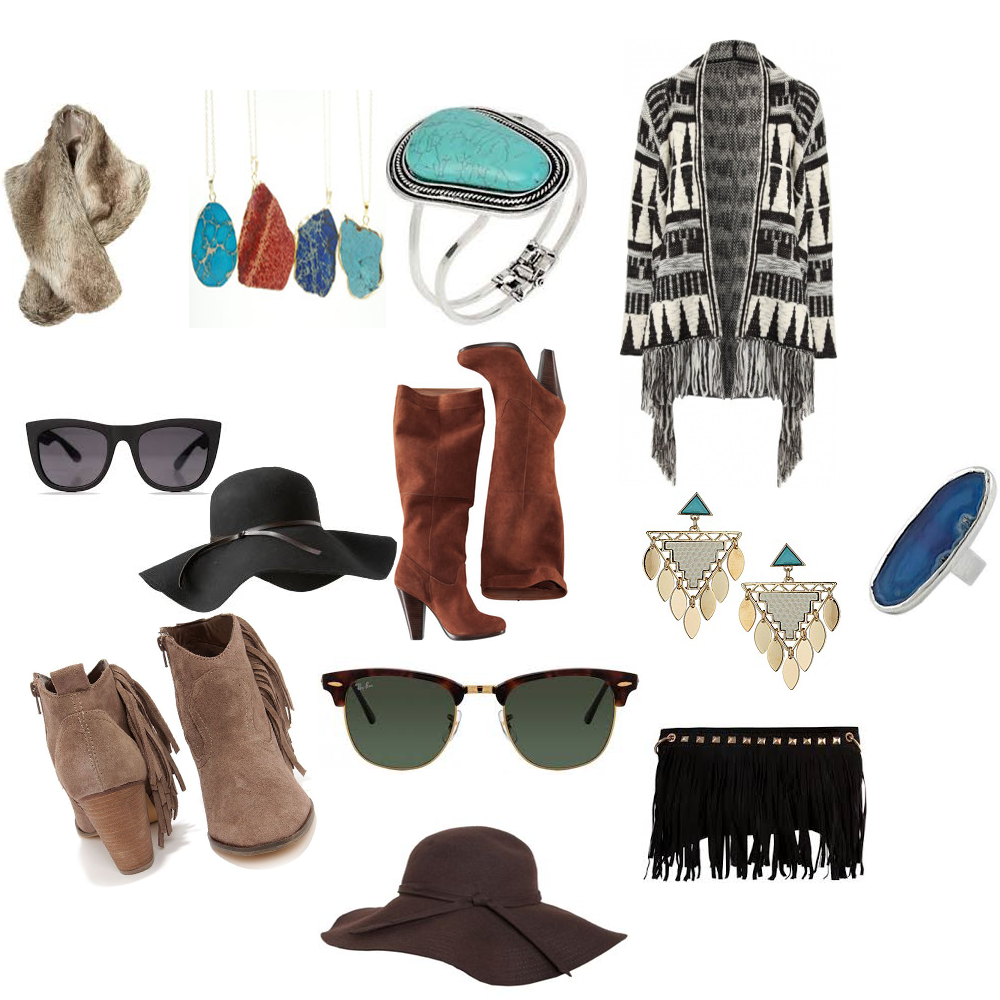 While going out and shopping around a bit, I have been so inspired to try some of the Fall 2015 Fashion trends. There are lots of new shoe and accessory trends out this year!  For Fall 2015, I think that the 70's inspiration in shoes, accessories, and fashion overall is so fun!  Think Earthy stone jewelry, capes and ponchos, big geo shaped earrings, lots and lots of fringe, suede boots and other suede items, retro sunglasses, floppy hats, and lots of faux fur warm and cozy textures. I have found some great accessory finds and inspiration perfect for Fall 2015. My personal everyday style is more casual and comfy. I prefer to invest in timeless items whenever I can, so that I get years and years of use out of them.  I'm a fan of good jeans and quality basics that can easily be dressed up or down, layered, mixed, matched, and accessorized.  I  tend to lean more on the classic side but like to incorporate just a few trends here and there by using inexpensive accessories. These types of accessories are simple to mix in with any timeless pieces that one may already have invested in. I will definitely be trying a few of these looks!
Trend: Felt Floppy Hat
A floppy hat looks so effortlessly glamourous. It can be thrown on if you're having a not- so- great hair day and you will instantly look so put together and fabulous! Add some sunglasses and you are quickly ready to go with one of these hats. They are so fun and come in so many colors. These on trend hats can be found almost anywhere this Fall. I have seen some wonderful selections at JCPenny, Target, and CharmingCharlie at great prices. This is a big Fall 2015 fashion trend.
Trend: Fringe
I love the look that fringe gives to any piece whether its an accent on a boot, a fun handbag or clutch, or even on a jacket. It adds such visual interest to any outfit and looks very stylish. I have seen some awesome leather moto jackets with fringe detail that I am loving!
Trend: Capes and Ponchos
I am so excited about the variety of capes and ponchos out this year. I really like the cozy look they give and you can throw them on over the simplest top and look like a million bucks. These look phenomenal with a suede boot with a stacked heel and great jeans. They come in a variety of  good solid color choices as well as plaid and aztec prints.
Trend: Earth Stone/Agate Jewelry
Earth Stone/Agate rings, bracelets, necklaces look so interesting in any stone choice. Druzy pendants are great and so simple to add to any outfit. Turquoise looks so pretty and striking with any outfit as well. Deep blue stones are not only dramatic but look beautiful with the moody tones of Fall. Deep nail polish colors will look great with any natural stone jewelry. I have seen great selections at CharmingCharlie and ALDO Accessories.
Trend: Suede Boots
I am so excited about this one! Suede boots are back in a big way and no matter what height or exact style of suede boot you prefer, you'll certainly be right on target with any pair you choose. The more Earthy tones and desert tones are the way to go with these this year, so think of tones in the rust ,chocolate, or camel family. I really like the look of suede ankle boots, wedges, and suede slouchy taller boots, all with a chunkier stacked heel. Not only are they comfortable but they are so stylish and go with everything.
Trend: Faux Fur/Stole
A little faux fur just adds such a glamorous and classy touch to any outfit. Will keep you warm and cozy and perfect for evenings out. Forever21 has some really good options in fun colors at fantastic prices.
Trend: Retro Sunglasses
Any retro shapes are great such as round, oval, cat eye. I will forever be a fan of a classic Aviator pair 🙂 There are so many to choose from out there depending on how much you would like to spend. Tom Ford and Prada both make great cat eye choices.  Classic Rayban Club-masters are great and also Quay Australia makes some wonderful selections at great price points.
Trend: Oversized Geo Earrings
These earrings are a nice addition to any outfit and look especially good when you are going out for the evening. Since flared jeans are back (YESSSS!!!), the fun geo shaped earrings would look so good paired with the flared jeans and an on trend platform shoe with a fitted top tucked in. Just be sure the jeans are super long for just the right look.
These are just a few Fall accessory trends and I'm loving the overall direction that these looks go in! They are all so fun and easy to accomplish. What's even better is that each look can be achieved without spending a ton of money!
What Fall accessory trend is your favorite?