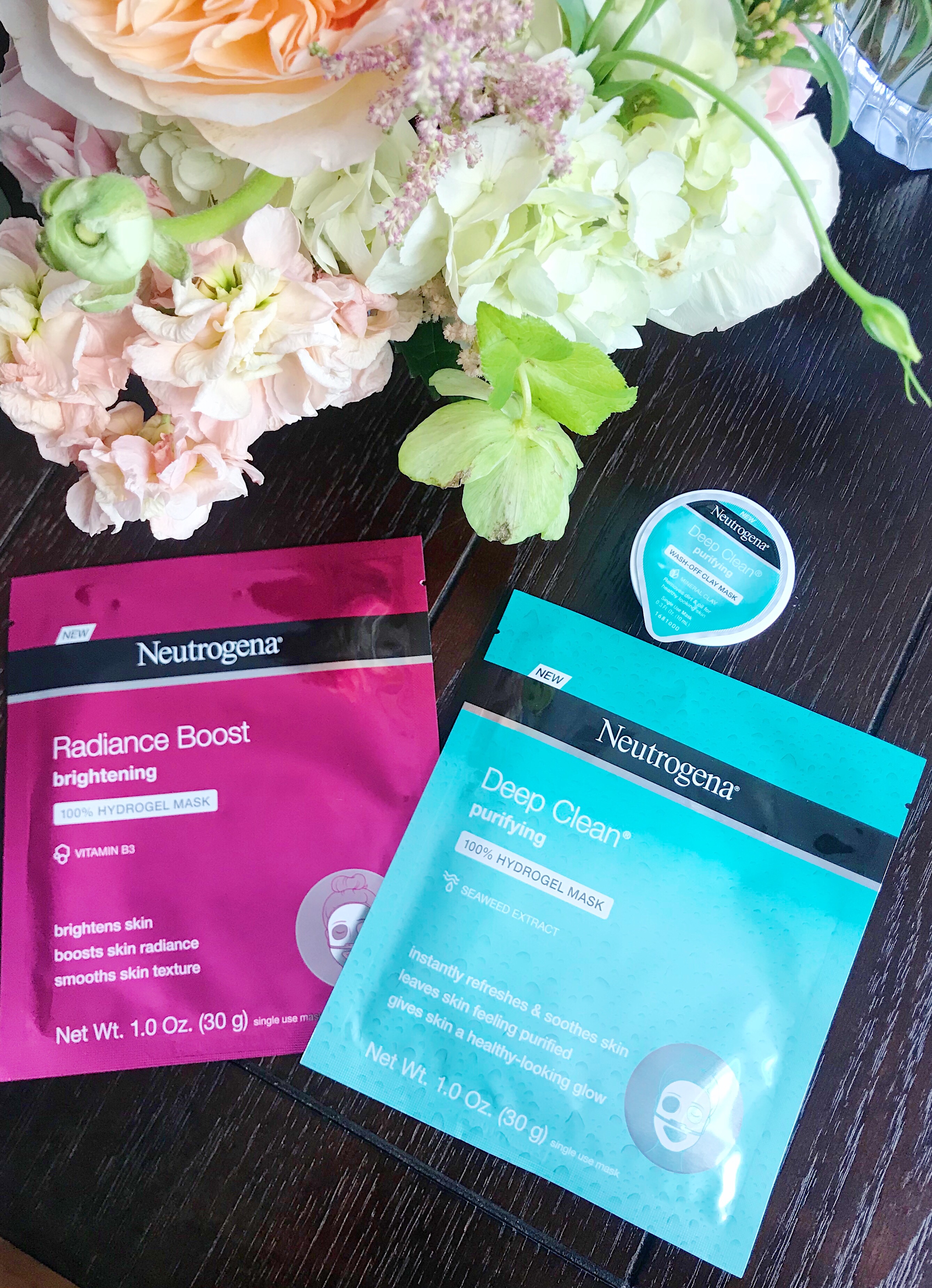 *Some Affiliate Links*
There's a new Neutrogena Mask Collection and I was happy to get the opportunity to share a few of the masks in the collection with you guys! Sheet masks are really becoming my favorite way to mask a few times a week because they are just so easy, and there's no mess to clean up, especially since I'm a mom of a busy little preschooler 🙂  I was introduced to them when I started incorporating more K-Beauty products in my skincare routine.
Neutrogena Mask Collection | It's In The Gel 
These Neutrogena masks come in either sheet mask form, or in Single-Use Pod Shots and both are perfect for day-to-day use, on the go, and for travel (especially with summer/vacations coming up!)
There are three different gel masks to choose from in the Neutrogena Hydragel Mask line:
hydrating (relieves dryness by using hyaluronic acid)
brightening (contains lots of Vitamin B3 for more radiance and even skin tone and texture)
purifying ( contains seaweed extract and 50%  more essence than a most sheet masks to purify the skin)
According to Neutrogena, these hydrogel masks use:
Innovative technology from South Korea to fuse nourishing essences with a polymer derived from seaweed to form a translucent, flexible sheet."
There are two Single-use Mask Shots to choose from:
Hydro Boost Hydrating Overnight Gel Mask ( creamy leave-on formula infused with hyaluronic acid)
Deep Clean Purifying Wash-off Clay Mask ( contains mineral clay that helps pull impurities from the skin as you rinse)
I like that there's something for every skin type with this collection at such an affordable price. The masks are easy to pick up on a Target run or at the drugstore, so that's nice too for any of you other busy mamas.
I'll be testing these masks out and I will report back here on how it went.  I am really interested in seeing how I like the sheet masks because I hear that they come in two pieces, one for the top half of your face, and one for the bottom half! That'll be nice since most sheet masks I've used before are a "one size fits all" type of thing and that doesn't always work for everyone.
So, Have you seen these masks by Neutrogena or tried them before? Let me know in the comments below!
Shop The Entire Mask Collection:
*I received these products from Neutrogena for testing and review purposes. As always, all thoughts and opinions are my own. *
Thanks for reading!