Is anyone else really excited for the weekend to officially begin?!  It's going to be Jacob's very first Halloween, so I just can't wait to dress him up in his little duckling costume!!! We don't get too much into actual Halloween in my family, but we are going to dress the baby in a cute costume (how could I not!) and hand out candy to the neighborhood kids. With October just about to end, I am looking forward to November and all of the Thanksgiving festivities coming up, as well as my Birthday that's in early November. Today, l'm all about sharing with you guys our Baby + Mommy Favorites for October.  We have constantly used these few things around here.  Here's a quick view of our baby favorite items for the month: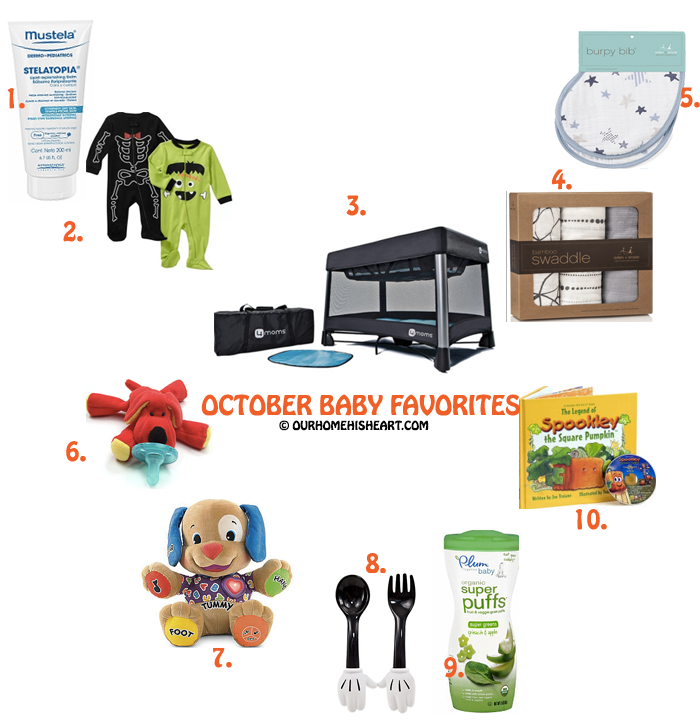 Below I have the breakdown of why we are loving them all. Enjoy!
Overall, that's all  of what we've been using a bunch for October! He is growing and changing so much each day and I can't wait to share next month's favorites with you! If you enjoyed this type of post on favorites for the month, check out last month's Baby + Mommy Favorites right here.  I hope everyone has a fun and safe Halloween weekend!
What are you or your kids dressing up as this year? There are some really funny costumes out this Halloween!