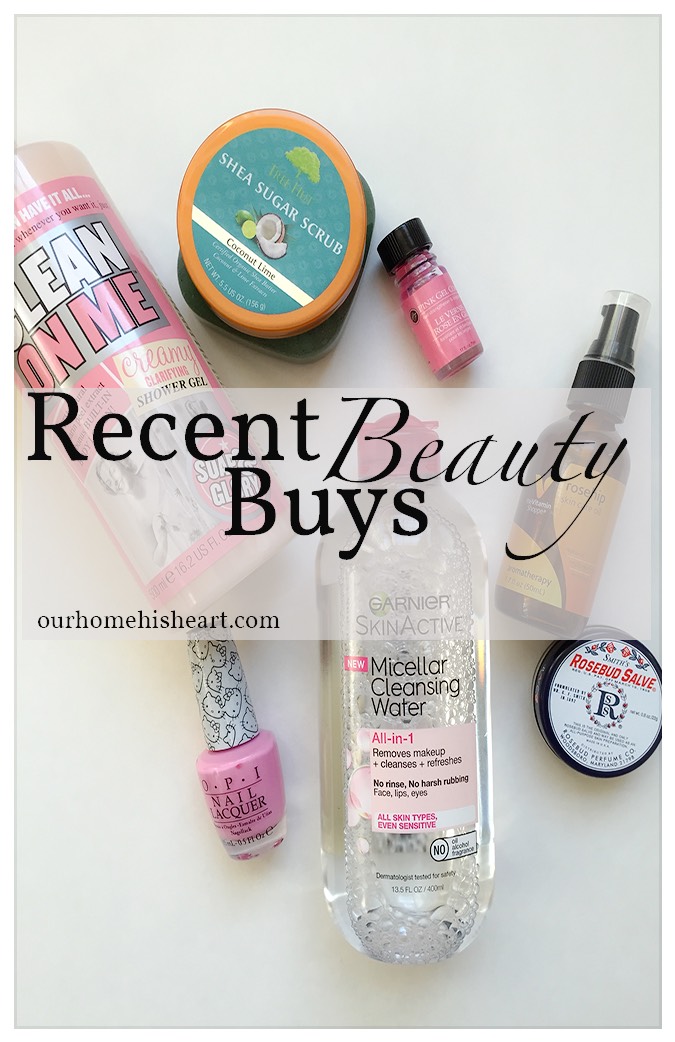 Lots of beauty related things have been on my mind lately! Last weekend, I had a chance to grab some of them  at Ulta, Sephora, and The Vitamin Shoppe. After I've been using them for a few weeks, it'll be interesting to see which ones make it into the ultimate list of products I'm loving lately. For any beauty product lover, its always interesting to see what others are shopping for at the moment so we can each add more and more to our lists haha! Some items I have already gotten around to using this week, while others… not so much just yet! I will hopefully get to all of them soon. Keep reading for some of my recent beauty buys!
I got the one with the pink top.  The blue one removes waterproof makeup as well, so it needs to be shaken up before use, much like many eye makeup removers.  Micellar waters are all the rage lately and this particular one was on my radar! Micelles act as a magnet to remove makeup with minimal tugging on skin. I wanted to try something different for removing makeup and I have started using this stuff already. So far, SO good! It is really refreshing and gentle. It really reminds me of the packaging on Bioderma!
I don't know why its taken me THIS LONG to try this stuff but we all know its a true cult-favorite! I picked it up on a recent Sephora run and I actually couldn't wait and I opened it in the car! Its really, really good! I see what all the hype has been about! What I love most is it is a multi-purpose balm: helps diaper rash, lip balm, soothes dry and irritated skin on the body, soothes burns, good for cuticles, fly-aways and more.  It smells great, like roses. Win, win!
Now girls, I just had to… it's Hello Kitty! This is going to make the perfect pink for the fast approaching spring season. Softer pink tones are major "it" colors for spring 2016 and I couldn't be happier! This is ridiculously pretty and looks so good on all skin tones.
These sugar scrubs are amazing and I love the smell of this! This smells very tropical and has me dreaming of warmer weather for sure whenever I take a whiff of it.
I have shared my obsession for the Soap & Glory The Righteous Butter and this body wash smells exactly like it. It has lotion in it so it's moisturizing and great for layering with the body butter. They both smell so much like Miss Dior Cherie to me! Mmm! P.S. You can use the $3.50 off of a $10 or more purchase coupons from Ulta on Soap & Glory! Makes it a great price for a luxe body wash!
I mentioned in my Current Beauty Wishlist post that I wanted to try the Mario Badescu Rose Hips Oil, in addition to continuing use the Josie Maran 100% Pure Argan Oil. I decided to give this Rosehip oil a try since it provides the same exact benefits, but at a more reasonable price since I am experimenting at the moment. I have just started using this oil and so far I can say I looove it as a facial oil at night, skin oil, and hair oil! The glass packaging is great and the pump makes it easy to apply. I will let you know my final thoughts after a few more weeks of use! So far I can tell that this one is going to deserve it's own post!
I got this as a point perk at Sephora so if you're interested and have some points to blow like me, run! I actually was looking for a very natural sheer pink coating to wear from time to time so this was perfect. I recently cut my nails very short to start fresh, and this seems like it'll be perfect for that polished natural look while keeping my nails shiny and strong. I hear it's like a "suit of armor" for nails so that pulled me in right away! I like the formula and the fact that no light is needed to set the gel polish- it goes on and dries just as a regular polish does. This even promises to make the whites of your nails appear whiter to contrast with the natural pink.
So have you tried any of these products? How have they worked for you? I would love your feedback! Don't forget to Like, Comment, and Subscribe!
Shop This Post: