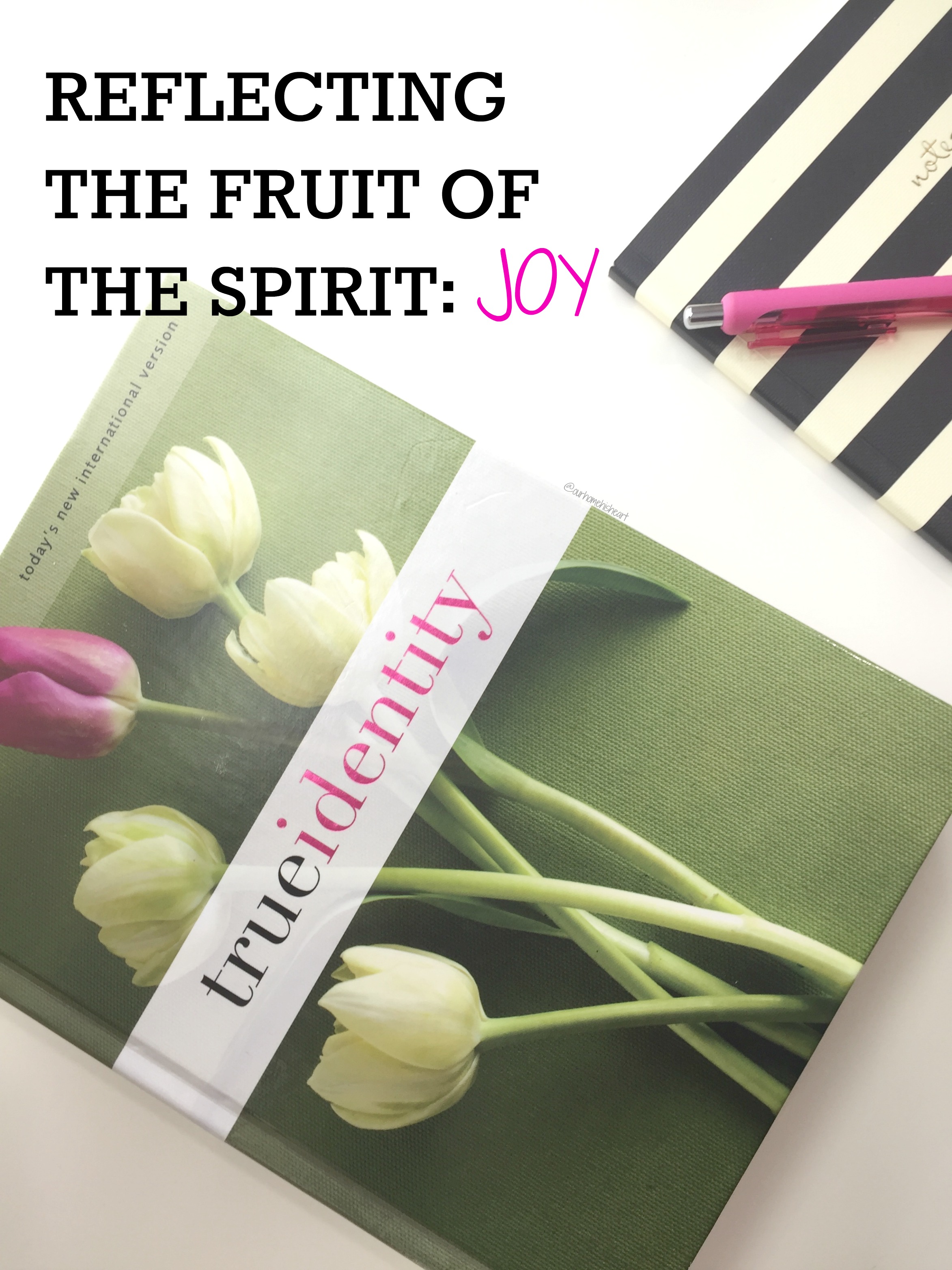 *Are you new to my Fruit of the Spirit Devotion Series? Be sure to check out the post 1  and  post 2 of this devotion series before reading this one, in order to get the best possible experience with the content.
I pray that God, the source of hope, will fill you completely with joy and peace because you trust in him. Then you will overflow with confident hope through the power of the Holy Spirit. (Romans 15:13 NLT)
The second spiritual fruit is joy. In this instance, we are referring to having joy as the Bible describes it. In the natural world joy is an extreme feeling of happiness. Yet, Christian joy is a pleasant feeling, in the soul that can only be produced by the Holy Spirit.
Reflecting the Fruit of the Spirit: Joy
Joy is intensified in our lives as the Holy Spirit allows us to see the beauty of Christ in all things. True joy is rooted deeply in the inner most being of a believer, and it produces a cheerful attitude in us that comes out of us. We have joy because we recognize how great He is. Furthermore, trusting God fully allows us to be hopeful.
Joy is a gift, as well as a natural reaction to the works and wonders of our amazing God. Every gift is given to be some sort of a communication from God in order to make us more aware of His glory. His goodness can be found in many examples including being found in people, in relationships and interactions, in nature, in all creation, in daily life and activities.
Every good and perfect gift is from above, coming down from the Father of the heavenly lights, who does not change like shifting shadows. ( James 1:17)
God's beauty is found all around us! Everything was and is created by Him. The Holy Spirit works within us in a gentle way to make us more aware of all, opening the eyes of our hearts. As we are more sensitive to noticing the gifts that God gives, we experience lasting joy.
Application: Experiencing Joy in All Things
We can have joy in all circumstances! Choose to look for Jesus in everything and in every situation, never losing hope.
Weekly Reflection: All My Hope is in God
As I find joy in God by focusing on how good He is, I am less anxious for the future. Out of joy, springs hope and positivity. And hope always looks ahead and God promises me a great future!
Additional Verses to Further Study Fruit of the spirit: Joy
"Rejoice in the Lord always; again I will say, Rejoice." (Phillipians 4:4)
"Though you have not seen him, you love him. Though you do not now see him, you believe in him and rejoice with joy that is inexpressible and filled with glory, " ( 1 Peter 1:8)
Prayer Starter:
Lord, You are my joy! I can always be restored in joy through spending valuable time in Your presence. The joy that comes from loving You, allows me to be more loving towards others."
Next week, let's explore of the Fruit of the Spirit: Peace. Don't forget to subscribe if you found this helpful and please share this with a friend! ? Thanks for reading! 
Wishing you all a great week!