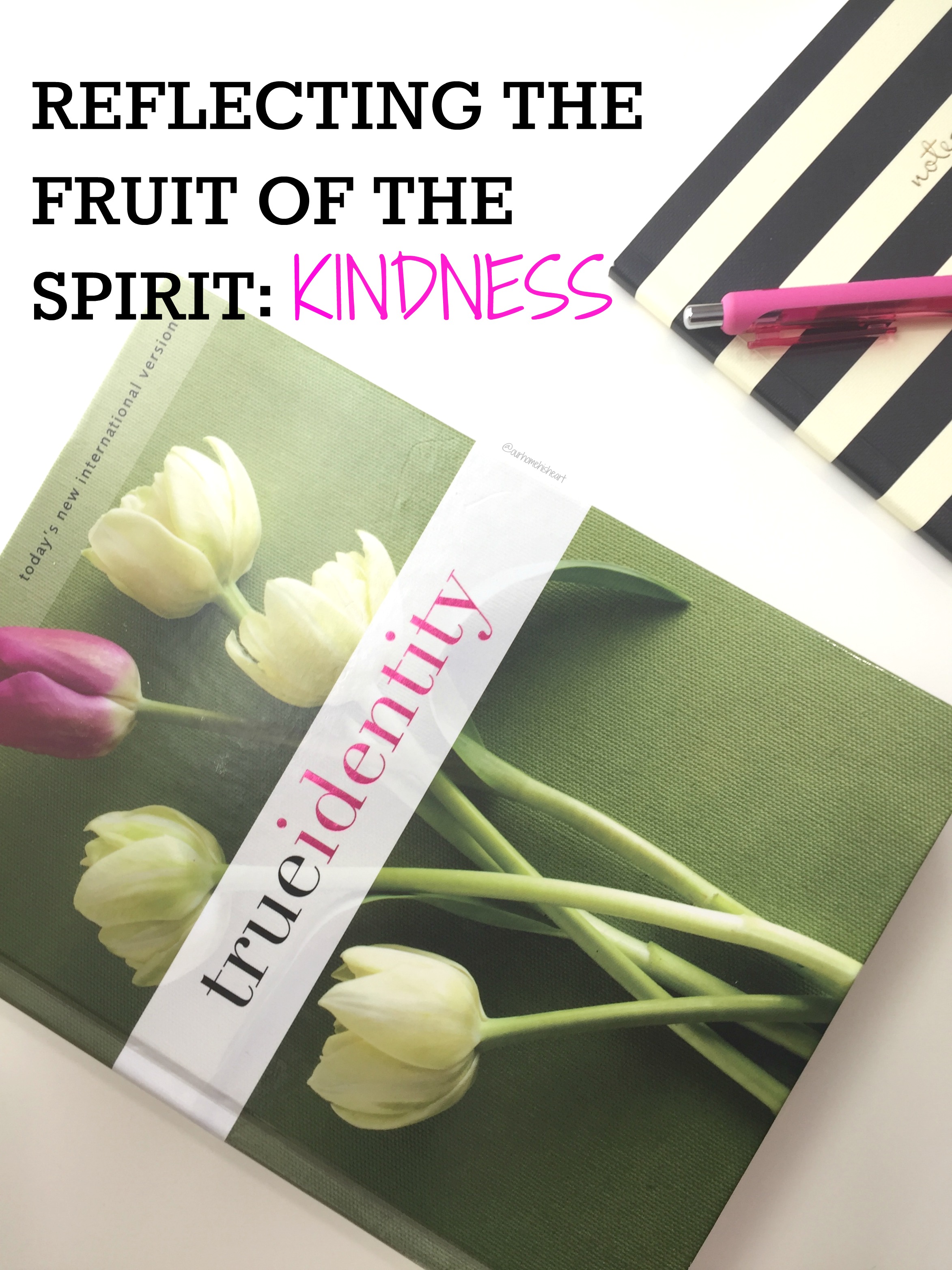 *Are you new to my Fruit of the Spirit Devotion Series? In order to get the best experience with the content, check out the following parts of this series before reading this one. 
Post 1 (Intro) , Post 2, Post 3, Post 4, Post 5
The life of Jesus paints a beautiful picture of kindness, giving us a guide that we can all live by. Jesus always cared for and helped others, expecting nothing in return. When He saw that there was a need, He always met it. God's kindness towards us is evident in the sacrifice made for us to have salvation.
But when the kindness and love of God our Savior appeared, he saved us, not because of righteous things we had done, but because of his mercy. (Titus 3:4-5)
Reflecting the Fruit of the Spirit: Kindness
God considers the character trait of kindness important in a Christian. When we are kind, we demonstrate to others what God's very character is. Simply put, we are kind to others because God is kind to us.
Kindness is love in action! The spiritual fruit of kindness requires much effort on our part. Being sensitive to the needs of other people is necessary in order to show kindness! It may also take some creativity as we begin to show kindness using what we do have to give; the tangible, as well as intangible, resources in our possession. Being able to understand and to show compassion towards other people is showing kindness.
Let nothing be done through selfish ambition or conceit, but in lowliness of mind let each esteem others better than himself. Let each of you look out not only for his own interests, but also for the interests of others. (Philippians 2:3-4)
Application: Demonstrating Kindness
Kindness does cost us some time and effort, but it really can make a big impact on others! Remember to show kindness to everyone, expecting nothing in return. Make a list of ways to show kindness to those God has placed in your life. Once you have some ideas, it's time to execute the ideas and watch God work in those relationships to make them better.
Weekly Reflection: God is Always Kind
Aside from giving us the wonderful gift of salvation, God shows kindness to us time after time, whether we deserve it or not. He meets our needs, listens to us, cares for us, and gives us mercy daily! We have been given the duty of showing that same kindness to other people, even when they don't deserve it.
With God's help, we can show kindness to those we love, as well as to those who are against us.
Additional Verses to Further Study Fruit of the Spirit: Kindness
"And be kind to one another, tenderhearted, forgiving one another, even as God in Christ forgave you." (Ephesians 4:32)
"But love your enemies, and do good, and lend, expecting nothing in return, and your reward will be great, and you will be sons of the Most High, for he is kind to the ungrateful and the evil." (Luke 6:35)
Prayer Starter:
"Lord, I appreciate your kindness towards me. I want to be kind to everyone you place in my life. Show me ways that I can be kind to everyone I encounter." 
Next week, let's explore of the Fruit of the Spirit: Goodness. Don't forget to subscribe if you found this helpful and please share this with a friend! ? Thanks for reading! 
Wishing you all a great week!