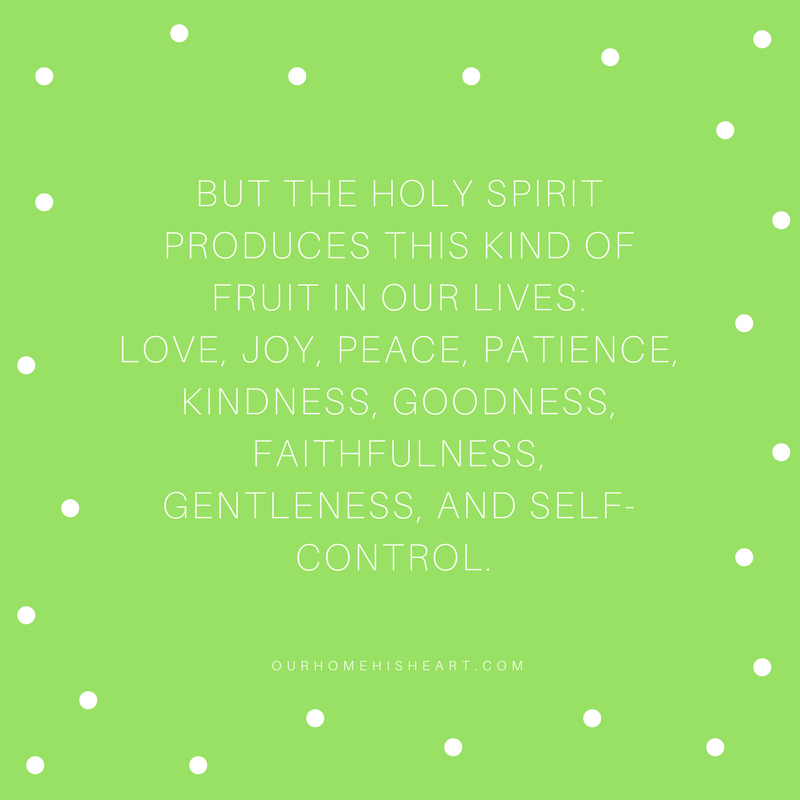 Once we accept Jesus into our hearts, we are then filled with the Holy Spirit by faith. The Holy Spirit dwelling within us allows us to possess the same character traits that Jesus does, enabling us to live life abundantly.  Recieving that we have the fruit of the spirit living within us is a wonderful first step as Christians, but we have to continually re-evaluate, taking action to further develop this fruit within ourselves. This routine "check-up" for our spiritual health ensures that we bear good fruit.
 Devotion Series Intro: Reflecting the Fruit of the Spirit
The Lord wants us to walk in the spirit while on life's journey with Him. We can gauge if we are actually walking in the spirit if we exude each of these Godly characteristics in our daily lives, and all are reflective of our Father:
Love
Joy
Peace
Patience
Kindness
Goodness
Faithfulness
Gentleness
Self-Control
We can have the understanding that the holy spirit is always there, but sometimes we can become a little unbalanced, unfocused, and off track simply because of life's happenings. We may find that what comes out of us (our words, our actions, even our thoughts) begins to show what condition our heart is in; what condition our spirit is in. We may notice that we haven't been showing Godly love lately, nor do we have any joy, peace, patience, gentleness, faithfulness, kindness, or self-control in our lives.  The absence of these characteristics are evidence that someone isn't walking in the spirit.  If we are not careful, our character can drastically change and we can no longer show any evidence of spiritual fruit.
Bearing good spiritual fruit in life allows us to actually experience God daily. This practice also allows us to demonstrate the goodness that is God to other people, which is what it's all about! Just remember that having the fruit of the spirit can be viewed as tangible evidence of the holy spirit living and working within us.
Developing mature spiritual fruit in our lives is not only beneficial for us but beneficial for everyone around us. It's never too late to get back on the right spiritual track, developing good fruit.
Please join me for the next few Sundays to further study each spiritual fruit through my first devotion series titled "Reflecting The Fruit of the Spirit." Gain a new understanding and more awareness of God's love that will change your relationships for the better. Together, we will discover more about each characteristic we all must to possess in order to show evidence of the Fruit of the Spirit in our lives. Next week let's explore, understand, and learn to apply the Fruit of the Spirit: Love in our lives.
Wishing you all a great week,