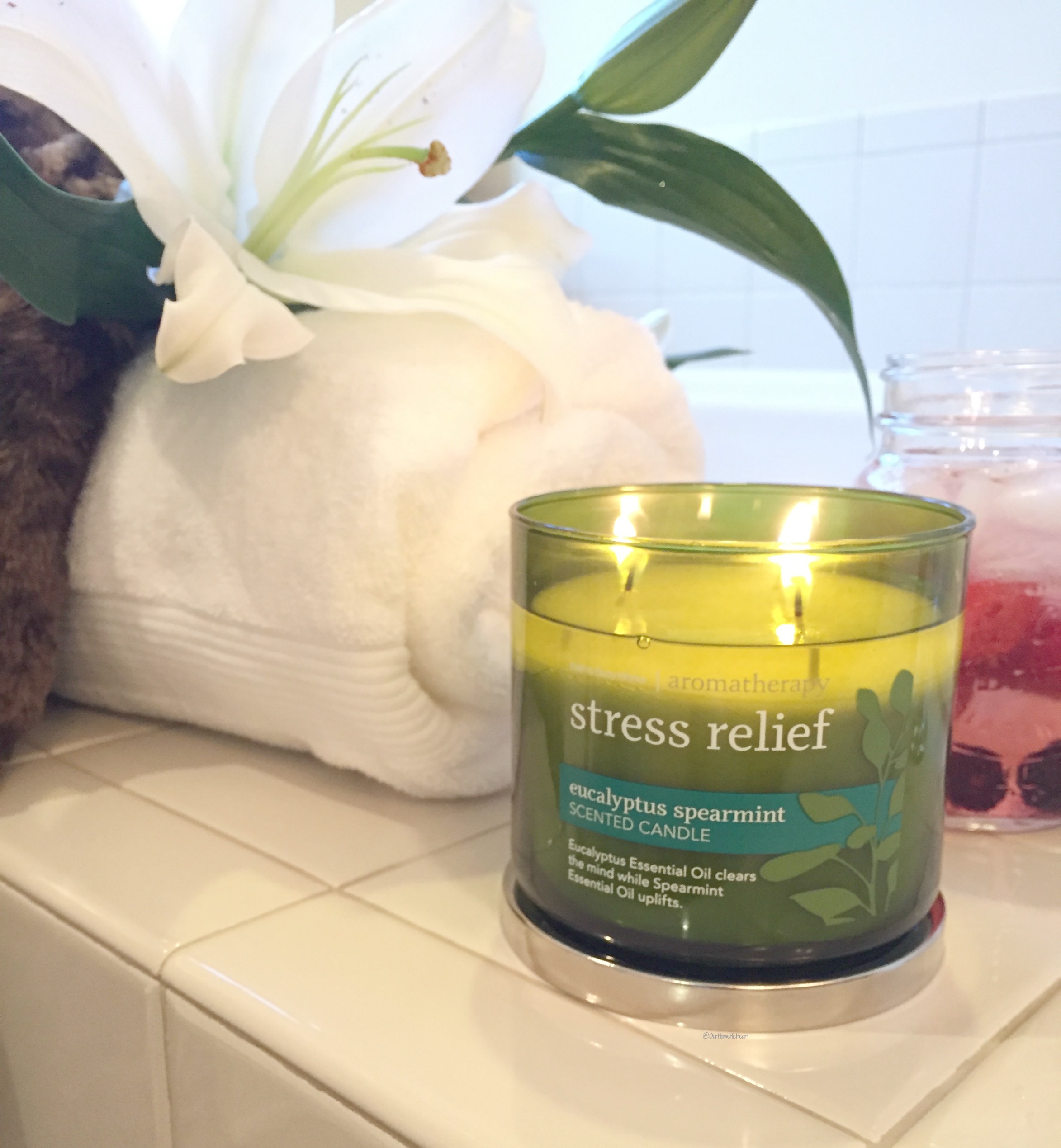 It's always good to take some time to pamper yourself! I'm talking all about how I have a relaxing spa night at home once a week or so. It's easy and you don't need that much to have a relaxing spa-night at home. Here we go!
Here's What You'll Need:
Candle
Cozy Robe and Pajamas
Plush bath towel
Skincare products, including a face mask
Spa Water (Infuse some ice water with orange, lemon, lime, cucumber, berries, or mint)
Music
Bubble Bath, A Bath Bomb, A Bubble Bar, and/or Bath Salts
Body Scrub and Lip Scrub/Balm
Body Butter and Body Oil
 Easy Spa Night At Home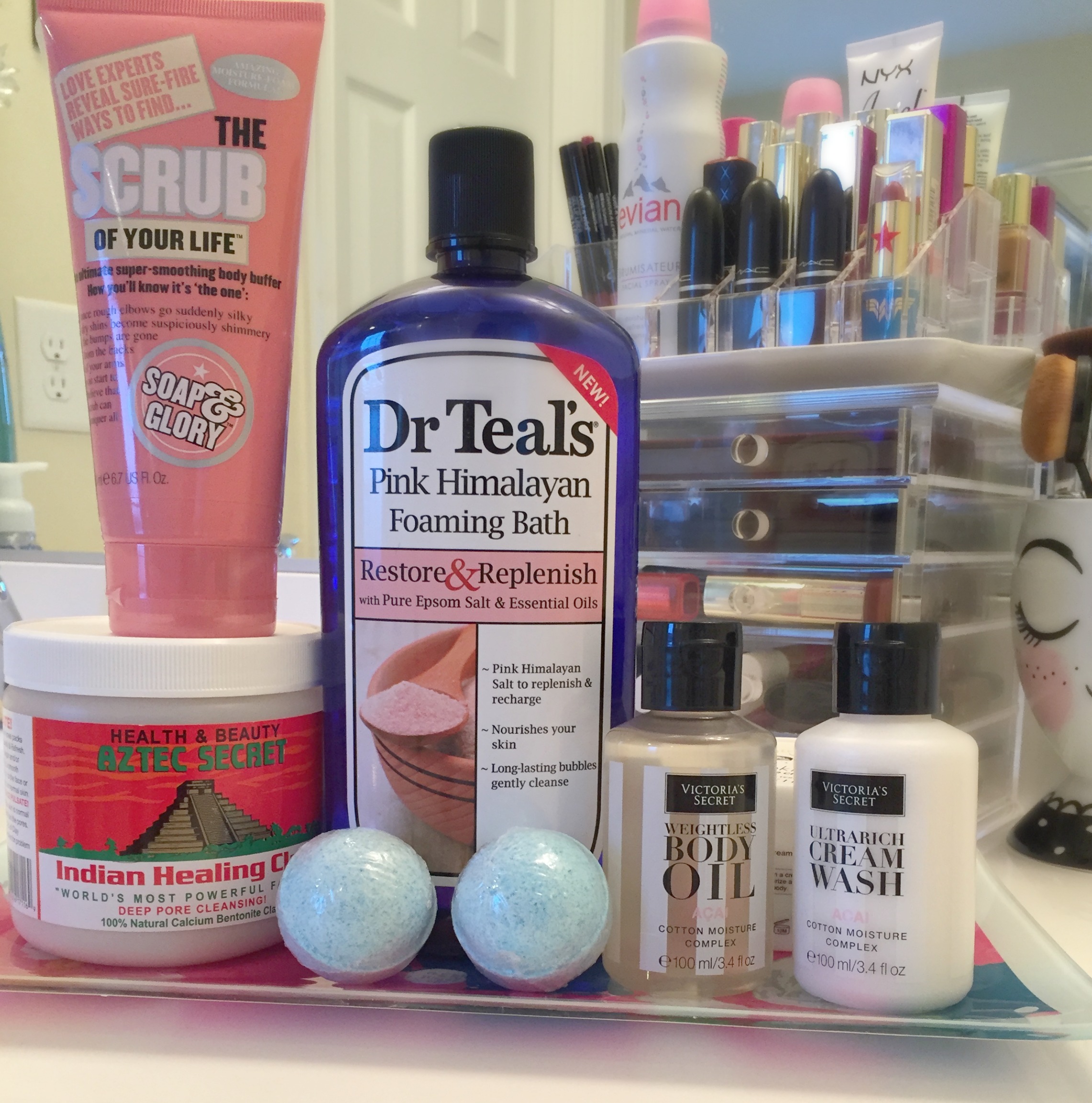 Set the Ambiance
Start off with making some spa water and light your favorite candle. An easy way to infuse is by using frozen mixed berries. Looks pretty and is super refreshing! The Aromatherapy line from Bath and Body Works is great and the candle I'm using right now for spa night in the scent Eucalyptus Spearmint. The scent reminds me of the day spa I like to go to from time to time. Ahh!
Get Cozy & Start the Bath Water
Tie your hair up, then wrap up in your coziest robe before running the bath water. Use either a bath bomb, bubble bar, bath salts, or a soothing bubble bath (Most times, I mix quite a few things ha!). A glitter rubber ducky makes things a little more fun! Dr. Teal's bubble bath is such a winner from the drugstore! Each formula has a very luxe feel, leaves skin soft, smells great, and makes lots of bubbles.
Remove Makeup
As the tub fills up with bubbles, remove your makeup. The Simple Micellar Water Facial Wipes, along with the Boscia Makeup Breakup Cleansing Oil for just around the eye area is what I'm using today. Both products are gentle and get my face mostly clean before using any skincare products.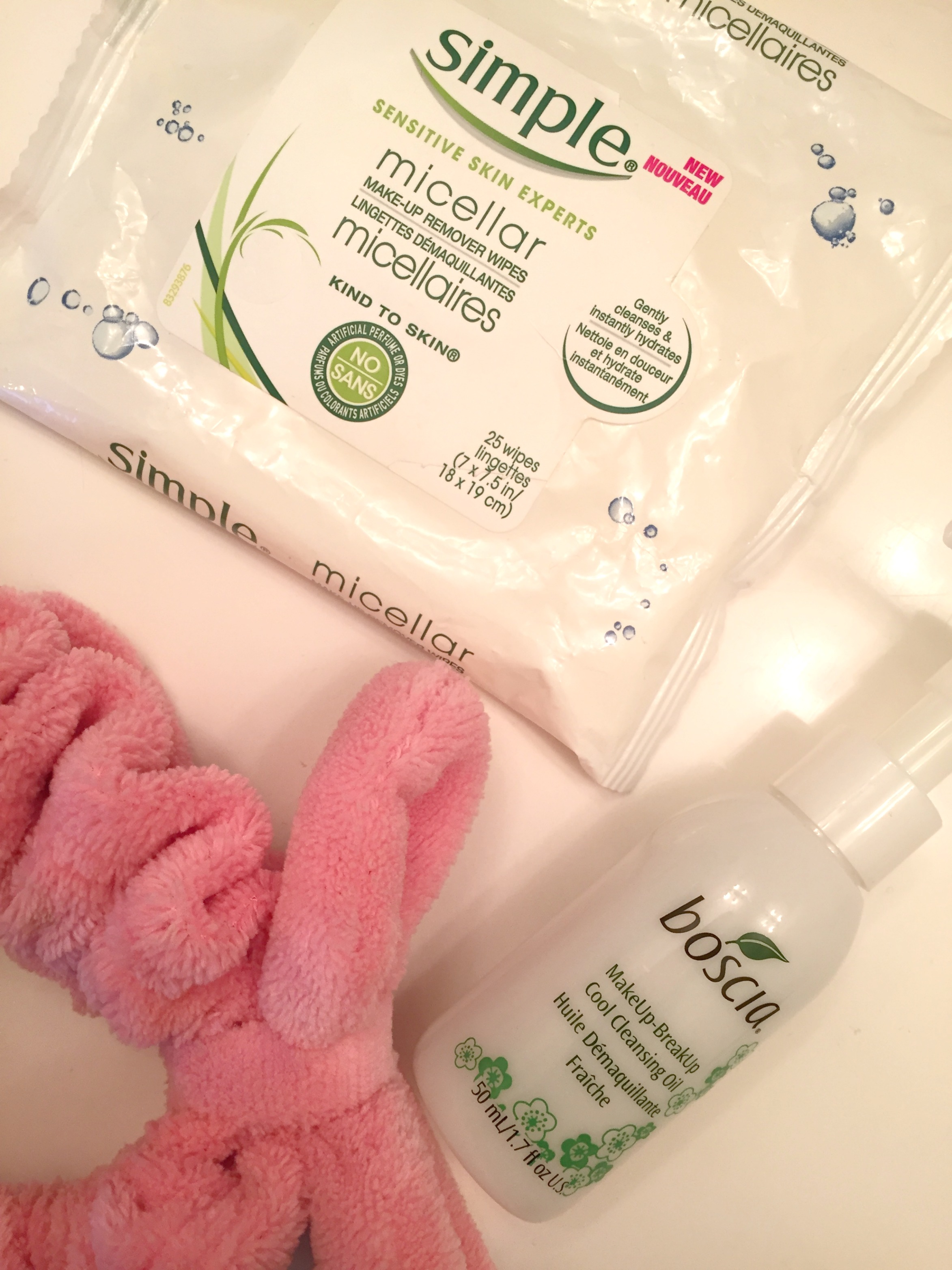 Skincare Routine & Apply Face Mask
Start your usual skincare routine to really get a deep clean. I apply cleanser to my Clarisonic, pat dry, and then apply a mask, which varies depending on what my skin needs at the moment. Today, I am focused on detoxifying my skin, the Indian Healing Clay Mask is perfect.
Time to Relax! 
Time to get in, soak, just relax! Listen to your favorite music, sip, and just unwind. After soaking a bit, a gentle body scrub  exfoliates so skin is ready to absorb moisturizer. Pay special attention to arms and legs to be sure things stay nice and smooth. Some people like to shave their legs during this step, but I prefer to shave mine in the shower, so I stick to using a scrub only and then use some yummy smelling body wash to get squeaky clean.
Moisturize, Remove Face Mask, and Complete Skincare Routine
As soon as you get out of the tub, quickly apply moisturizer (or body oil) while skin is still damp. I'm using some acai body oil  that smells heavenly! Rinse off the face mask and then finish up any skincare steps left in your routine (toner, serums, and moisturizer/oils, treatments, and eye cream.) Next, use a lip scrub and some lip balm to keep lips soft and moisturized.
Get Comfy and Cozy
Get cozy in your favorite pj's and enjoy the rest of your night! Curling up with a blanket and catching up on some t.v. or even some reading is always a nice way to finish up a spa-night routine. It only takes a little time to squeeze in a pampering session and it makes you feel refreshed in every way!
What's your favorite way to pamper yourself?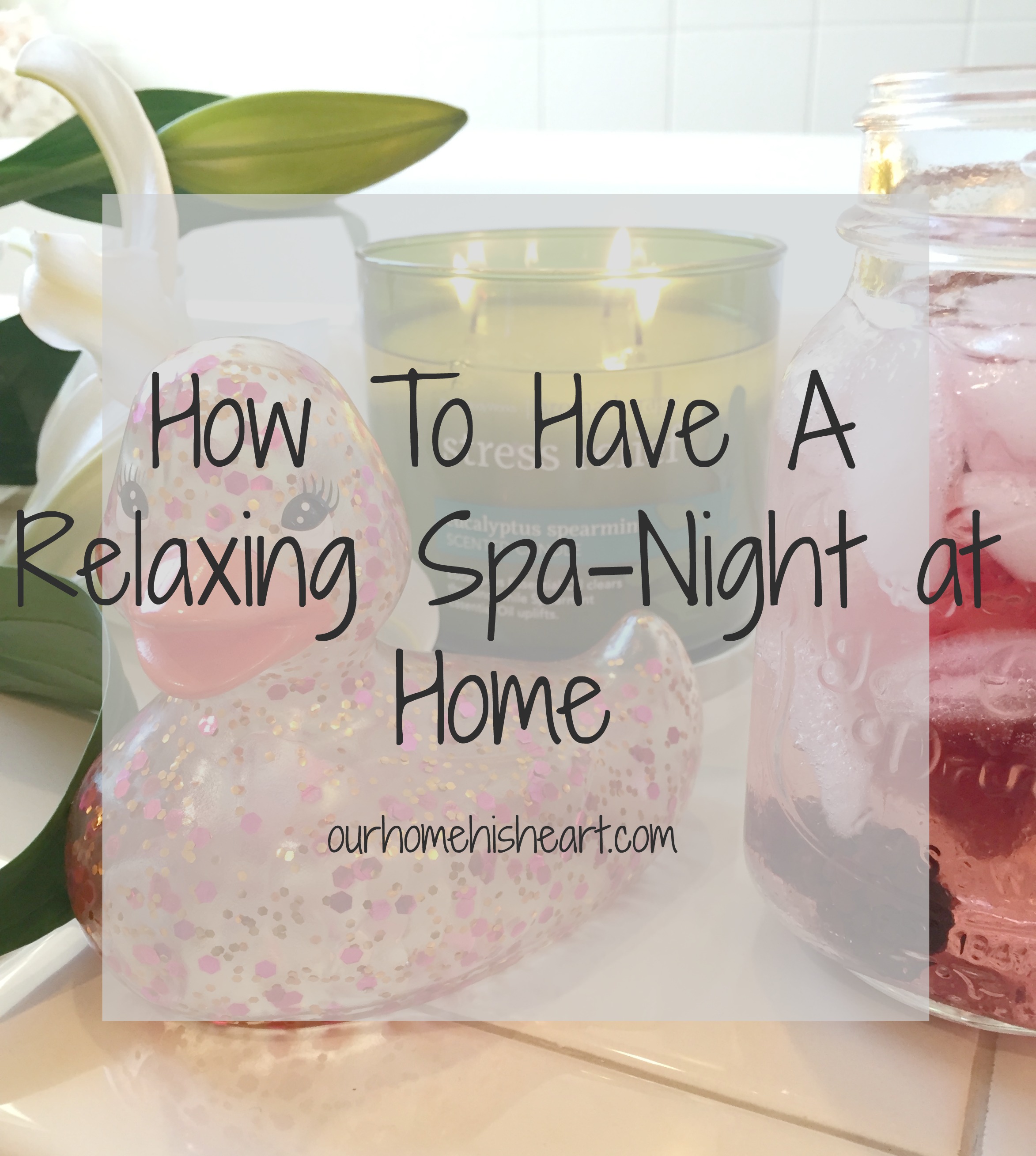 Have a great weekend, friends!