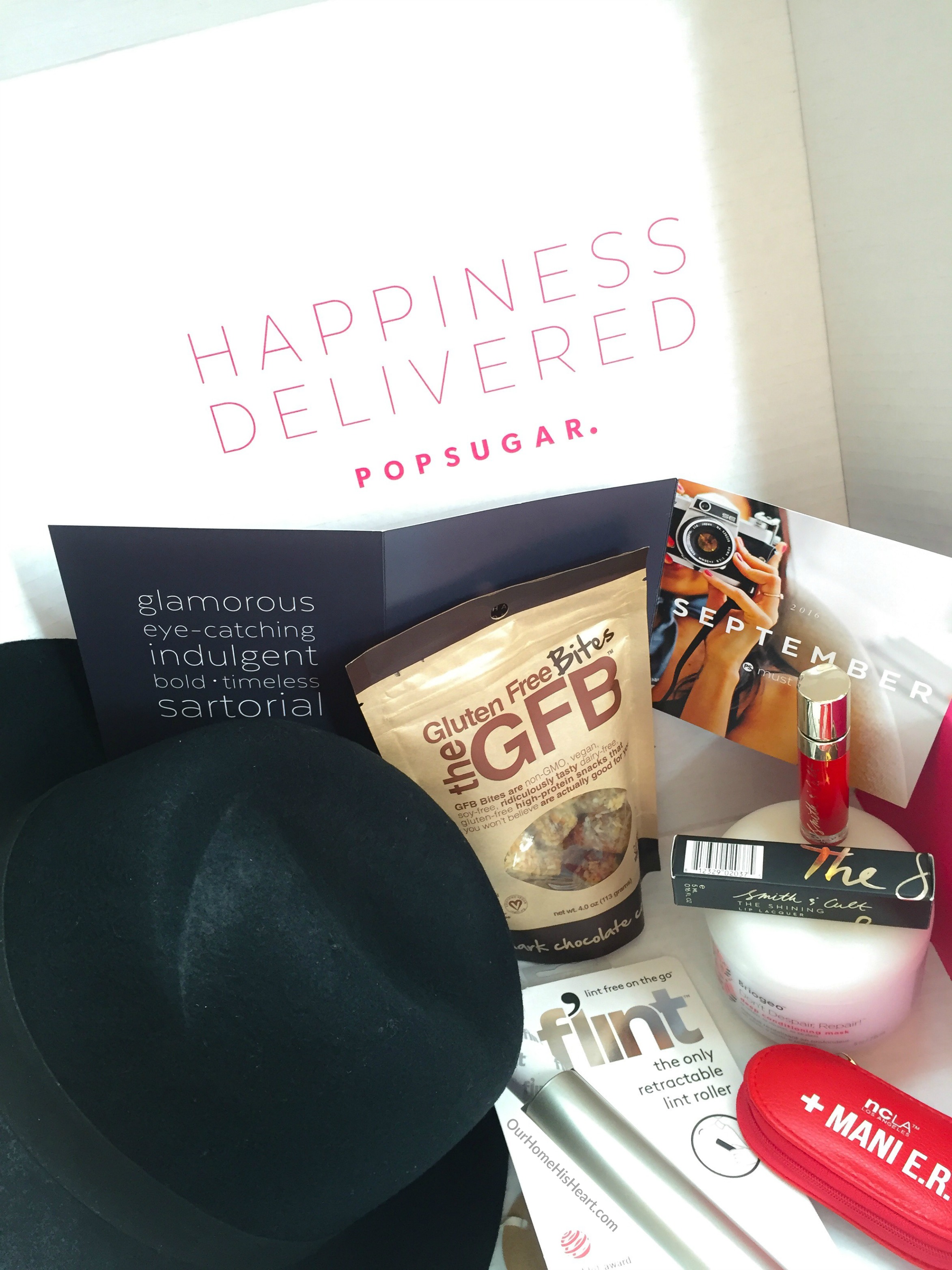 POPSUGAR Must Have is a monthly lifestyle subscription box for women. Each month they send you a mixture of surprise must-have picks from different categories ranging from beauty, style, lifestyle, home goods, and food delivered right to your door. Monthly boxes contain full size items, premium brands, some celebrity favorites, and even some newer brands.
September 2016's POPSUGAR Must Have Box is filled with fall goodies, all perfect for making sure you are prepped for the new season. POPSUGAR sent me this box to try and I am loving it!  This month's box was created with these words in mind as an overall theme:
Glamorous
Eye-Catching
Indulgent
Bold
Timeless
Sartorial
This particular box contains 6 fall essentials from the areas of beauty, style, food, and lifestyle. It's a good one, girls! So let's dig in!
 September 2016 POPSUGAR Must Have Box Review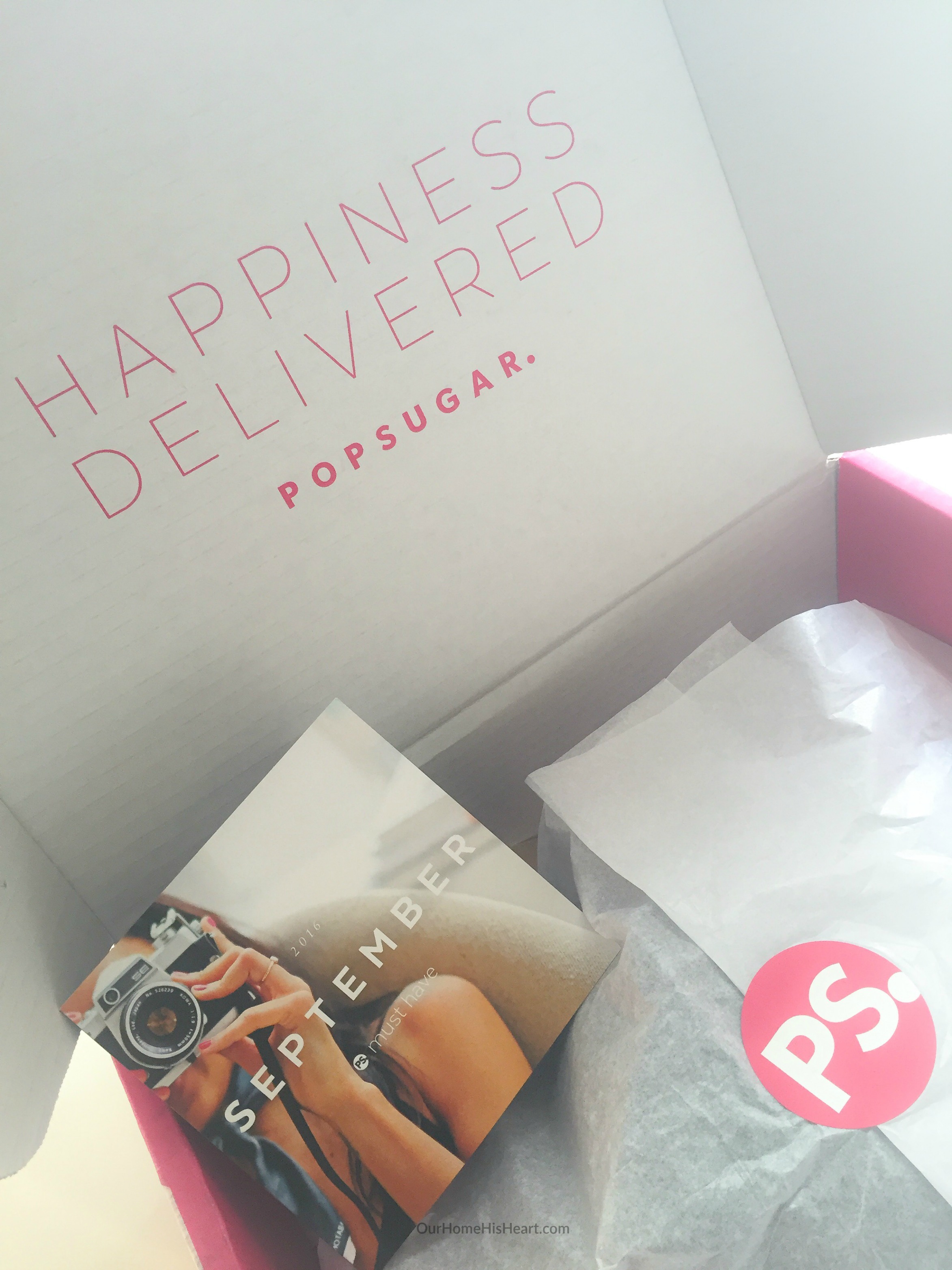 Every box comes wrapped nicely with a fold out card that explains each item included.  You'll also see what words exactly inspired the contents of the box for that month.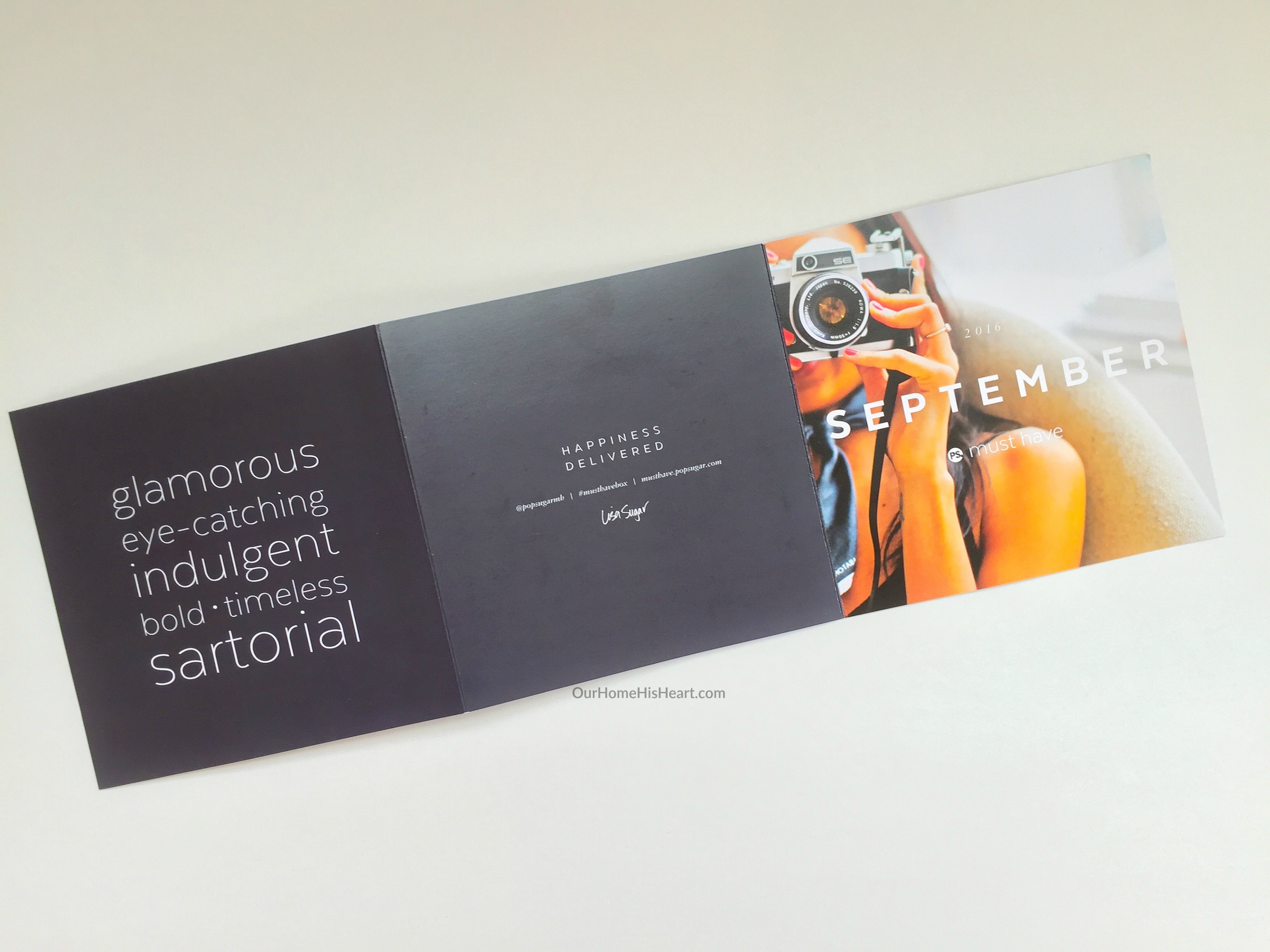 Here's a look at what goodies were included this month: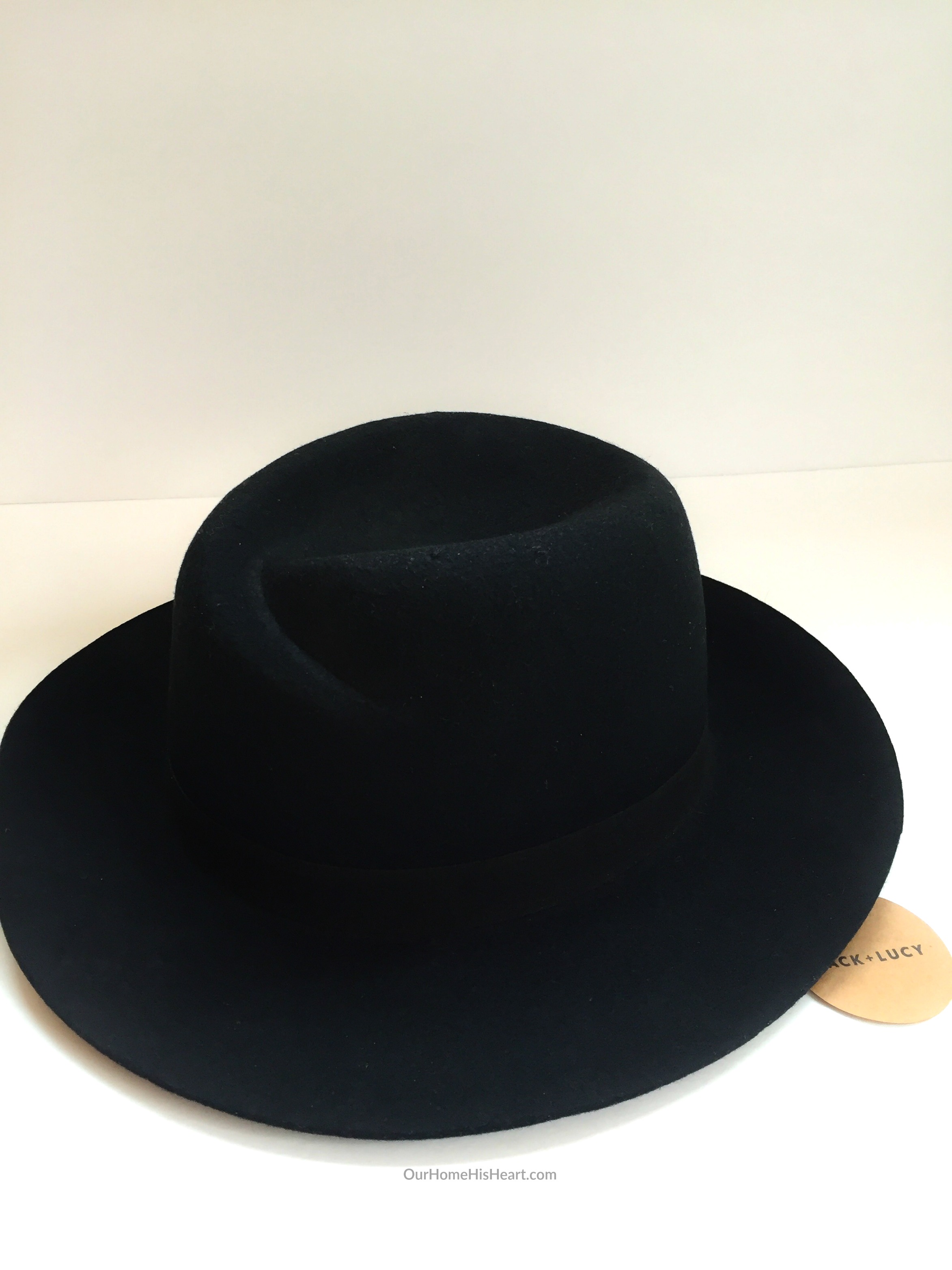 Jack & Lucy Bicoastal Wide Brim Hat (Suggested Retail: $58)
This 100% wool wide-brim hat is perfect to add a finishing touch for any fall outfit! What I love most is it is adjustable to get the right fit for you and it's wonderful quality.  You can pull the two strings on the inside of the hat to get that perfect fit. The black ribbon around the outside is a subtle detail that really makes this look chic. It's definitely one of my favorites from this month's box!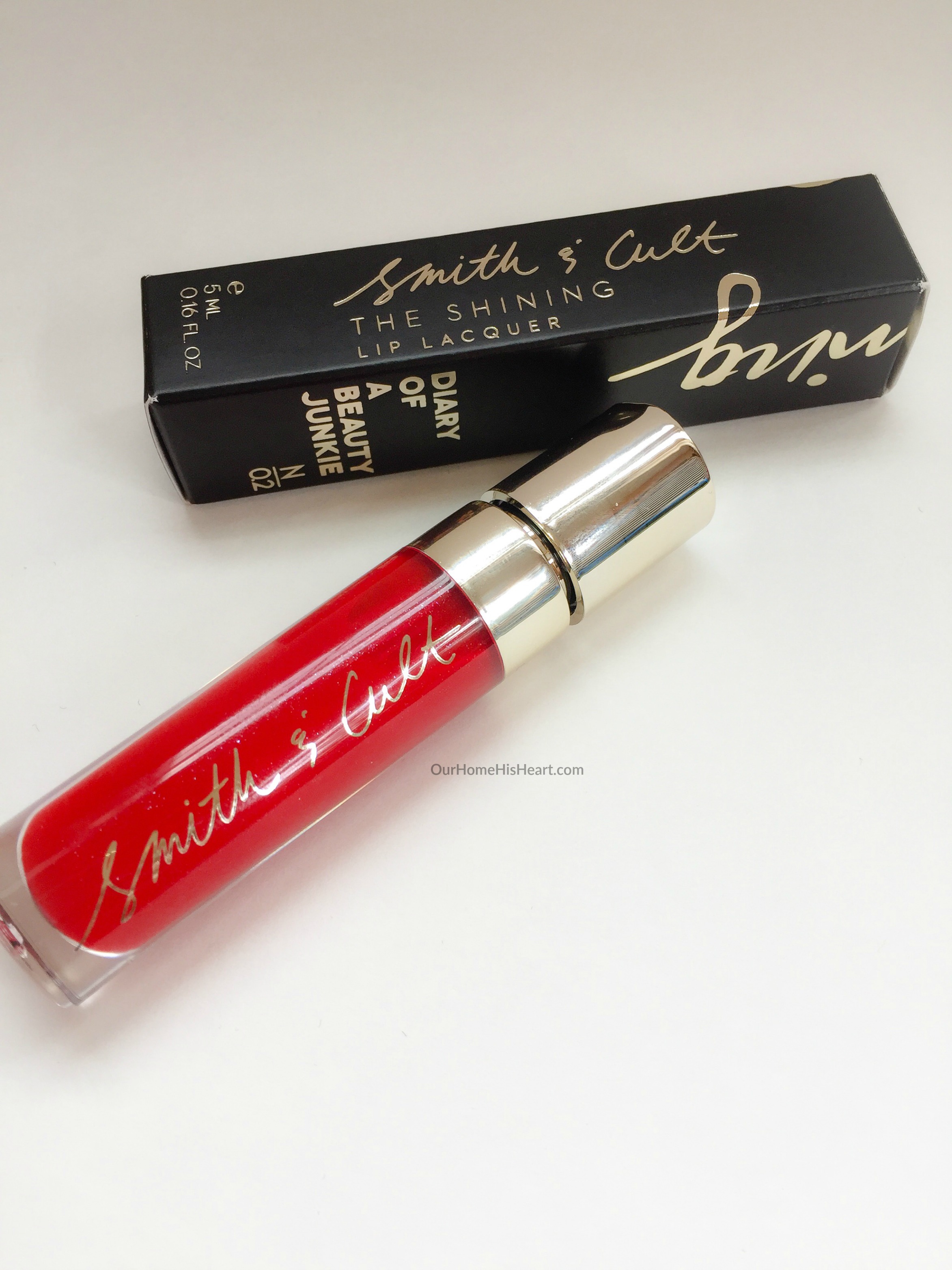 Smith & Cult Lip Lacquer in The Warning (Suggested Retail: $22)
Another favorite from this box would be this Smith & Cult gloss. Smith & Cult always nails it with the packaging and every girl needs a bold red shade of lip color for fall, right?! This looks fabulous with the wide-brim hat and black sunnies. The formula is a bit sticky, but goes on semi-sheer with a good amount of bold shimmery color as you build it up. This shade flatters lots of different skin tones.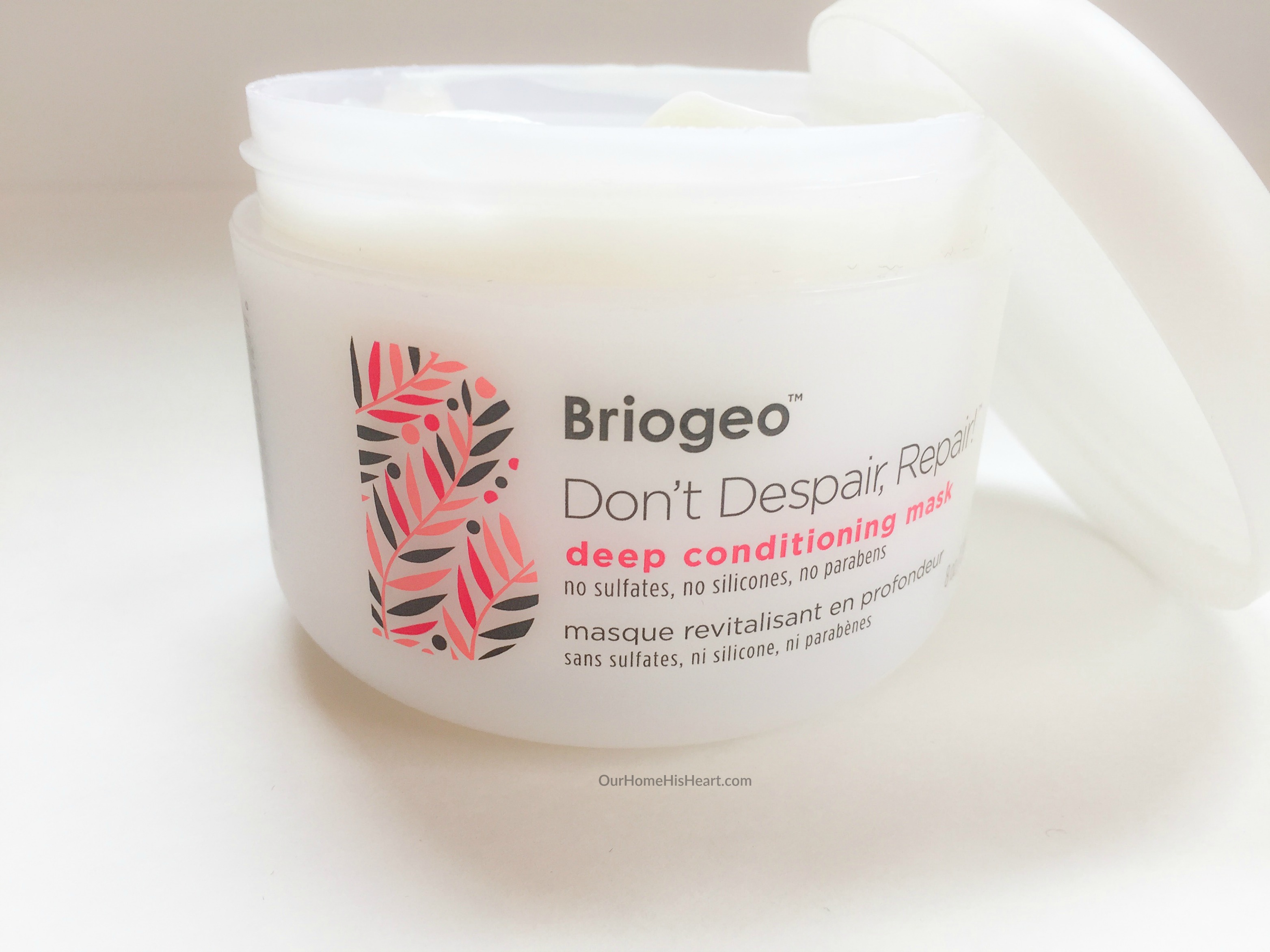 Briogeo Don't Despair, Repair! Deep Conditioning Mask (Suggested Retail: $36)
This smells fresh and has plenty of nourishing benefits for the hair.  This hair masque promises that the rich and creamy hydrating formula works to deep condition hair in 10 minutes, leaving it soft and vibrant. Directions say that to get an even deeper condition, apply and leave on longer with a plastic cap under a heated dryer. I'll be trying this out very soon.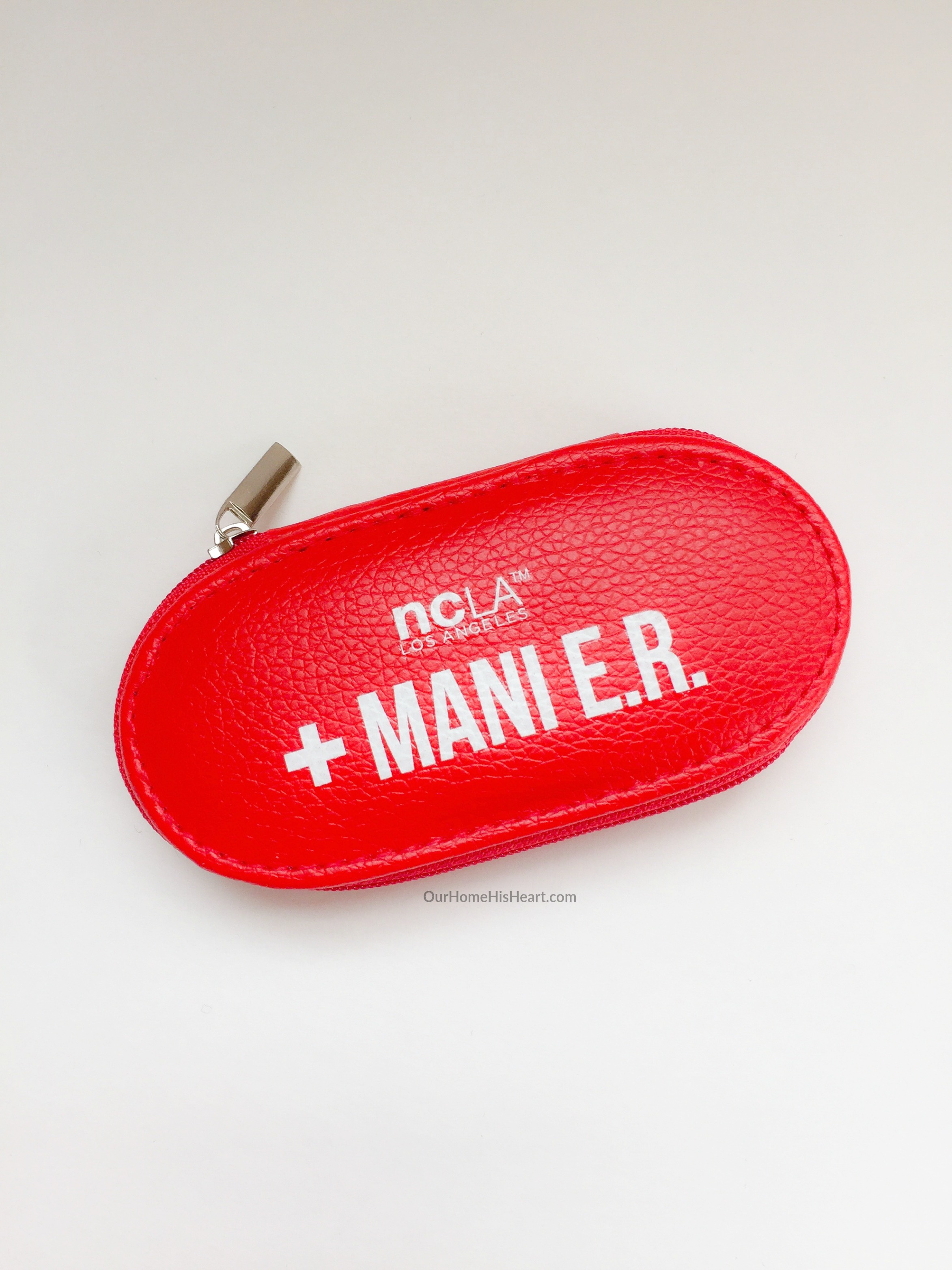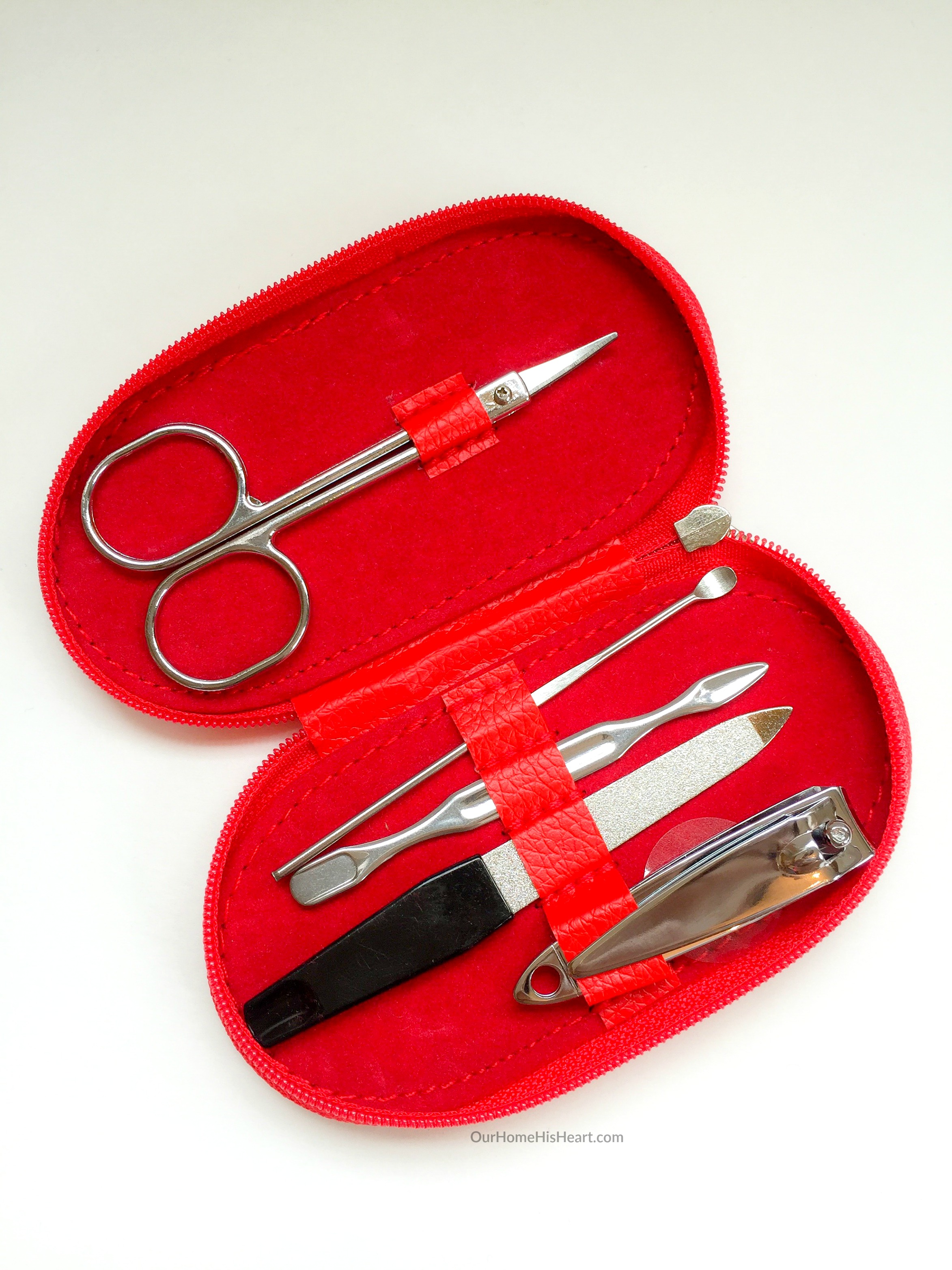 ncLA Mani-ER Tool Kit (Suggested Retail: $16)
This manicure kit is perfect for on the go fixes and touchups. The bright red case is compact, easy to spot in your handbag, and looks really well made. It comes with a nice zippered case so no tools are floating around your bag. This is going to be really useful.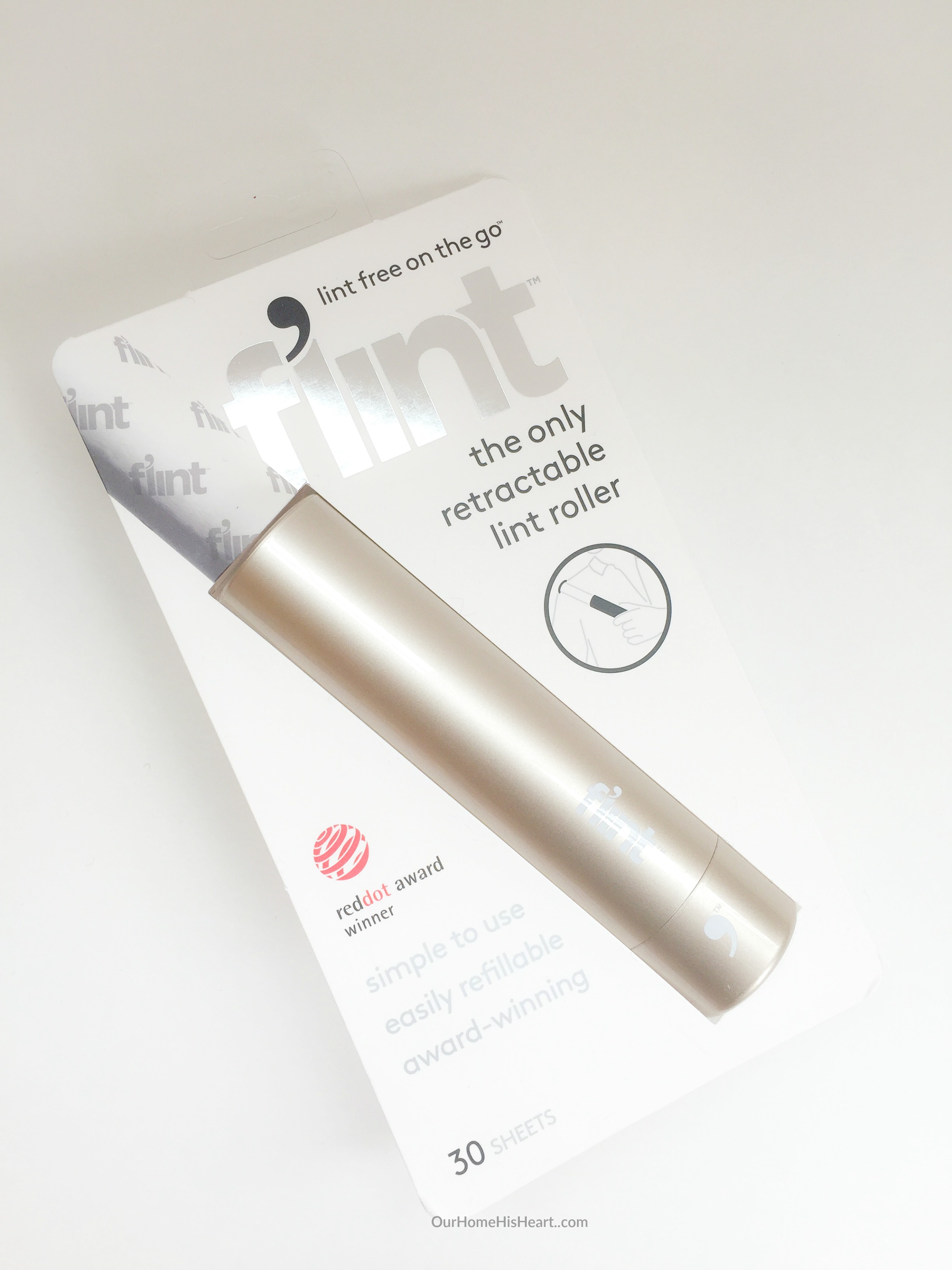 F'LINT Lint Roller (Suggested Retail $9.99)
Yes! Another useful item that's just perfect for your purse! What i like most about this lint roller is the sleek packaging and ease of use. The sheets extend out and slide back in easily for quick use and outfit touchups.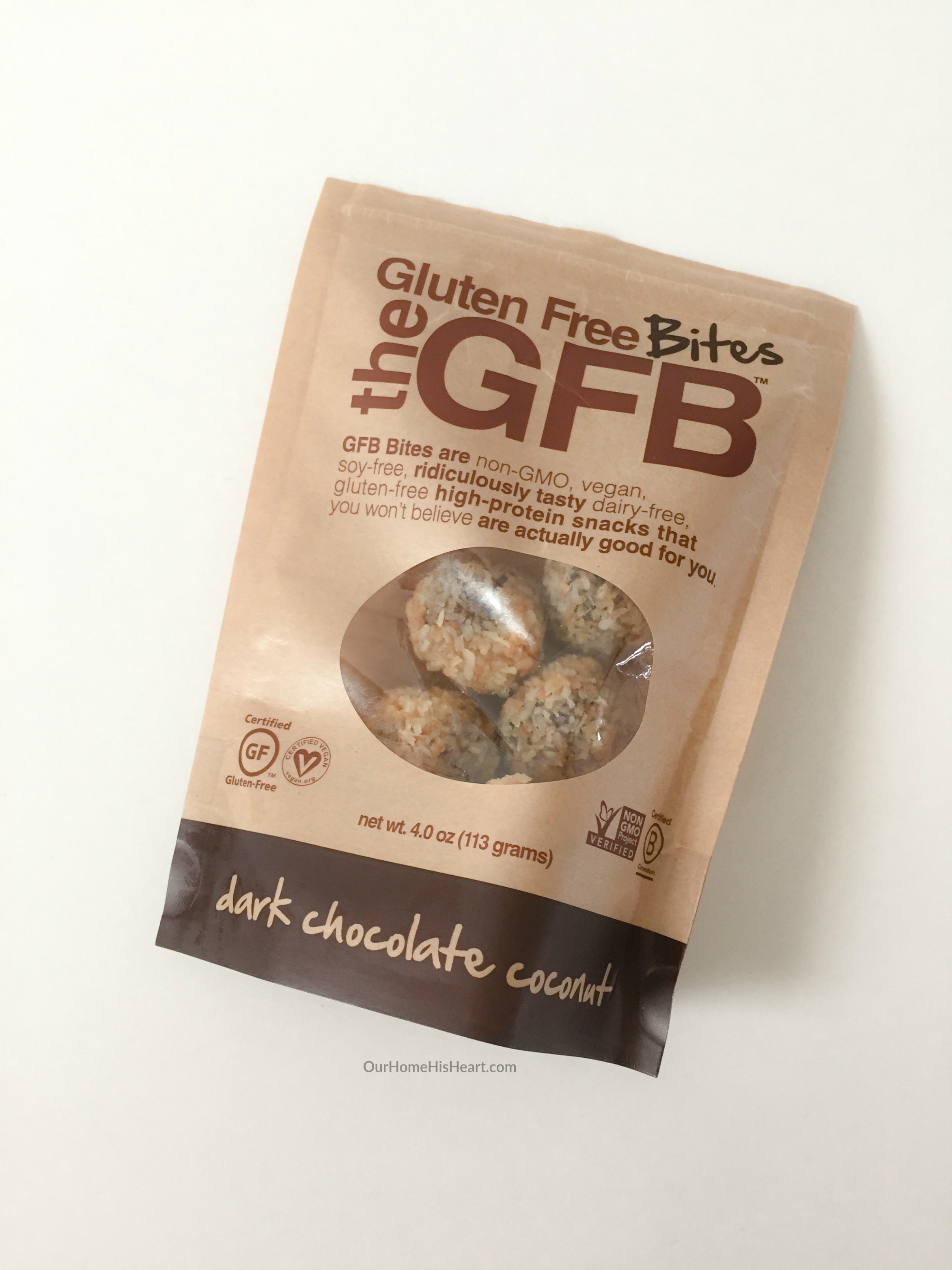 The Gluten Free Bits Dark Chocolate Coconut Bites (Suggested Retail $4.99)
These make a nice treat from time to time. Each bite has a toasted coconut coating and a truffle-like center. These are pretty good!
Final Thoughts on September 2016's Must Have Box
This is a great value at just about $40 a box! The retail value of contents collectively is over $100. I love that you get practical items and such great mixture of things in each box. It's great to get a surprise in the mail each month as well 🙂
Grab your own POPSUGAR Must Have Box right here!  It retails for $39.95 a month, and you can use the coupon code SHOP5 to get $5 off your first box.
Which items were your favorite from this month's box?

*This is a sponsored post. All opinions are 100% my own.*