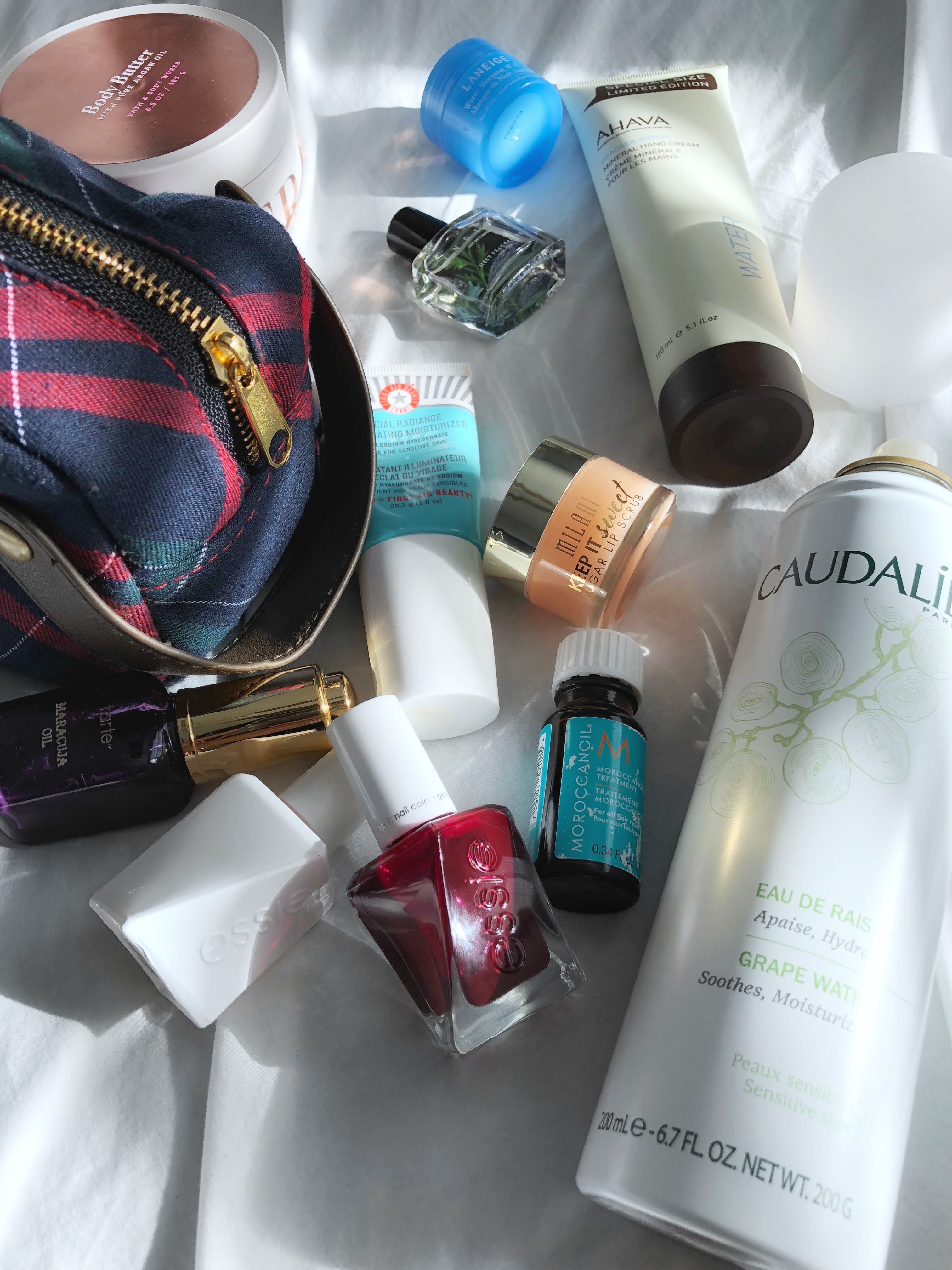 *Affiliate Links*
Hope everyone is having a good week! I'm happy to do a beauty post today! Switching up some of the products for winter helps to combat the frigid temps that winter time brings. Products that keep moisture in and make skin soft and glowy are what I'm always on the hunt for. Deeper polish shades have been on repeat, along with plenty of at-home treatments. Grab a warm drink and get cozy …  let's chat about some winter beauty essentials!
Winter Beauty Essentials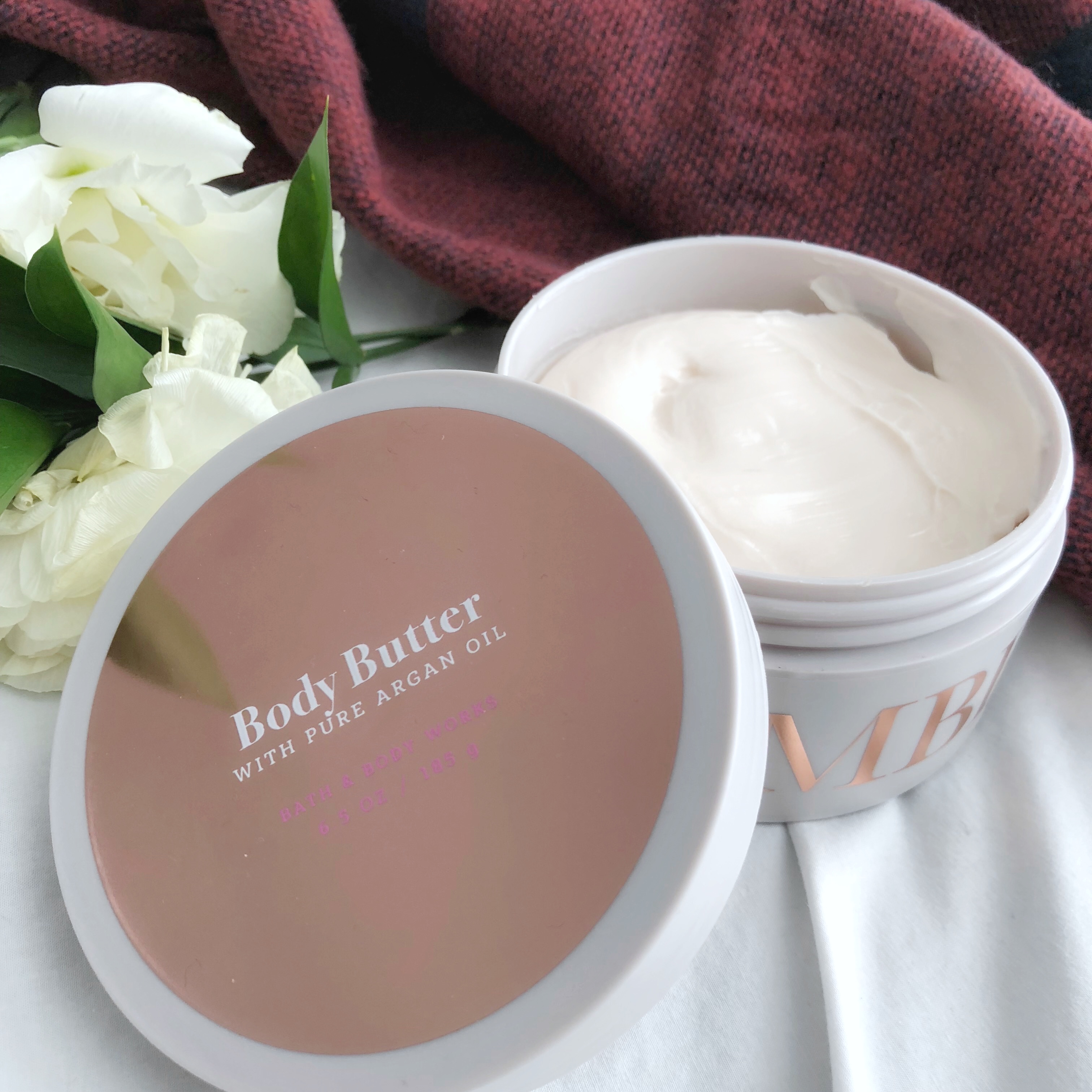 Light body lotions will have to wait until spring because winter is all about rich & creamy body butters! How good does skin feel after using a body scrub and then applying a body butter?! If you haven't tried the Pure Argan Oil line by Bath & Body Works, you have to! These two smell warm and wintery 🙂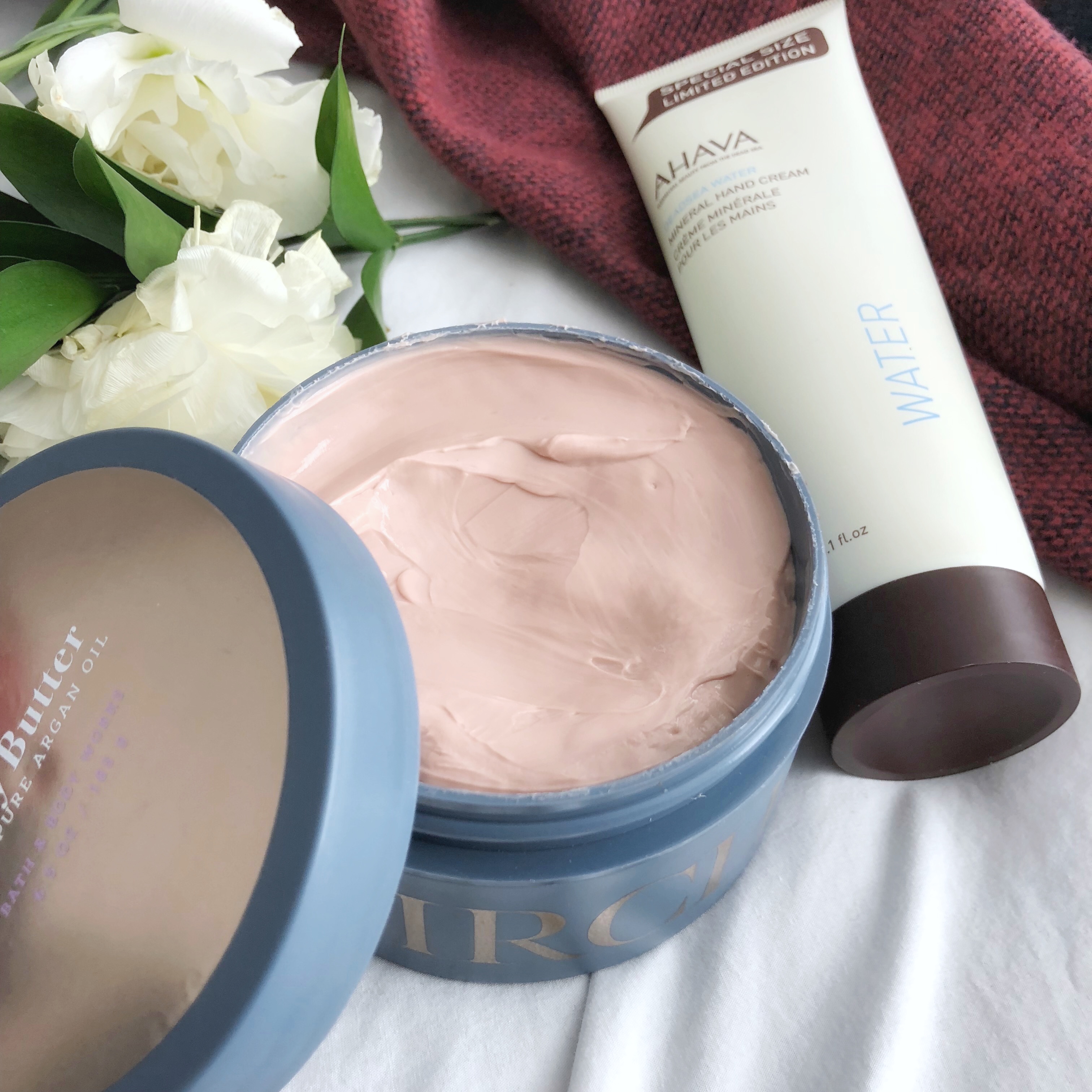 Argan Body Butter Amber / Argan Body Butter Birch / Ahava Hand Cream 
Hands get extra dry in winter, so we have to stash hand cream everywhere, girls! The one was in my FabFitFun Winter Box and it's so good.! Excited for the Spring box to come out! Sign up for the next FabFitFun Box and you won't miss out on lots of spring goodies 🙂
Up next, let's chat about nails and what scent I'm OBSESSED with this winter!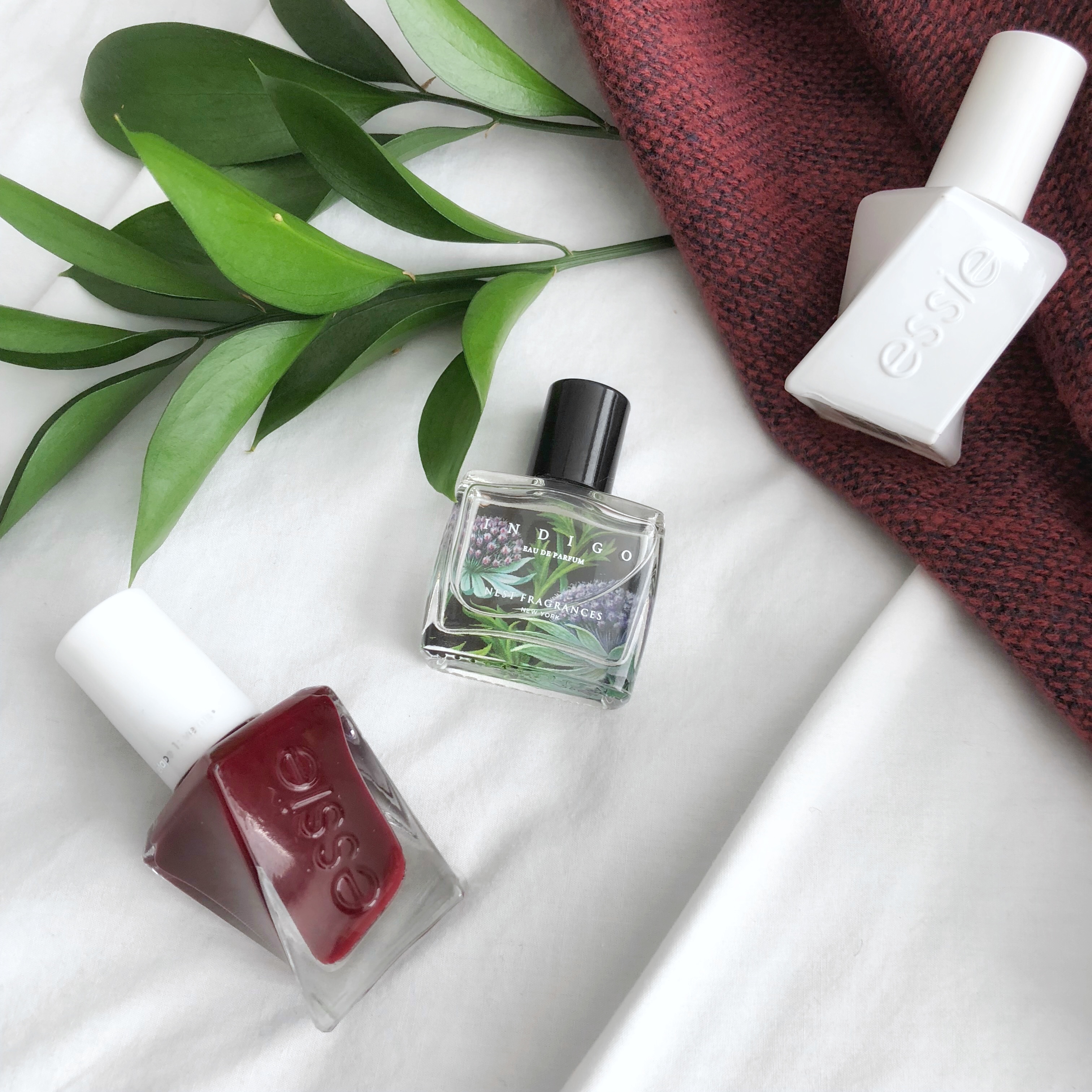 Essie Gel Couture " Model Clicks"/ Nest Indigo 
This line by Essie is the best! It gives a shiny and long-lasting gel manicure at home – no light required. Also, there's no chipping for more than a week!  This berry shade is fab for when its cooler out.
I'm rotating a couple of scents for winter and this little gem smells deep and moody, yet still very feminine. Perfect for day and for night!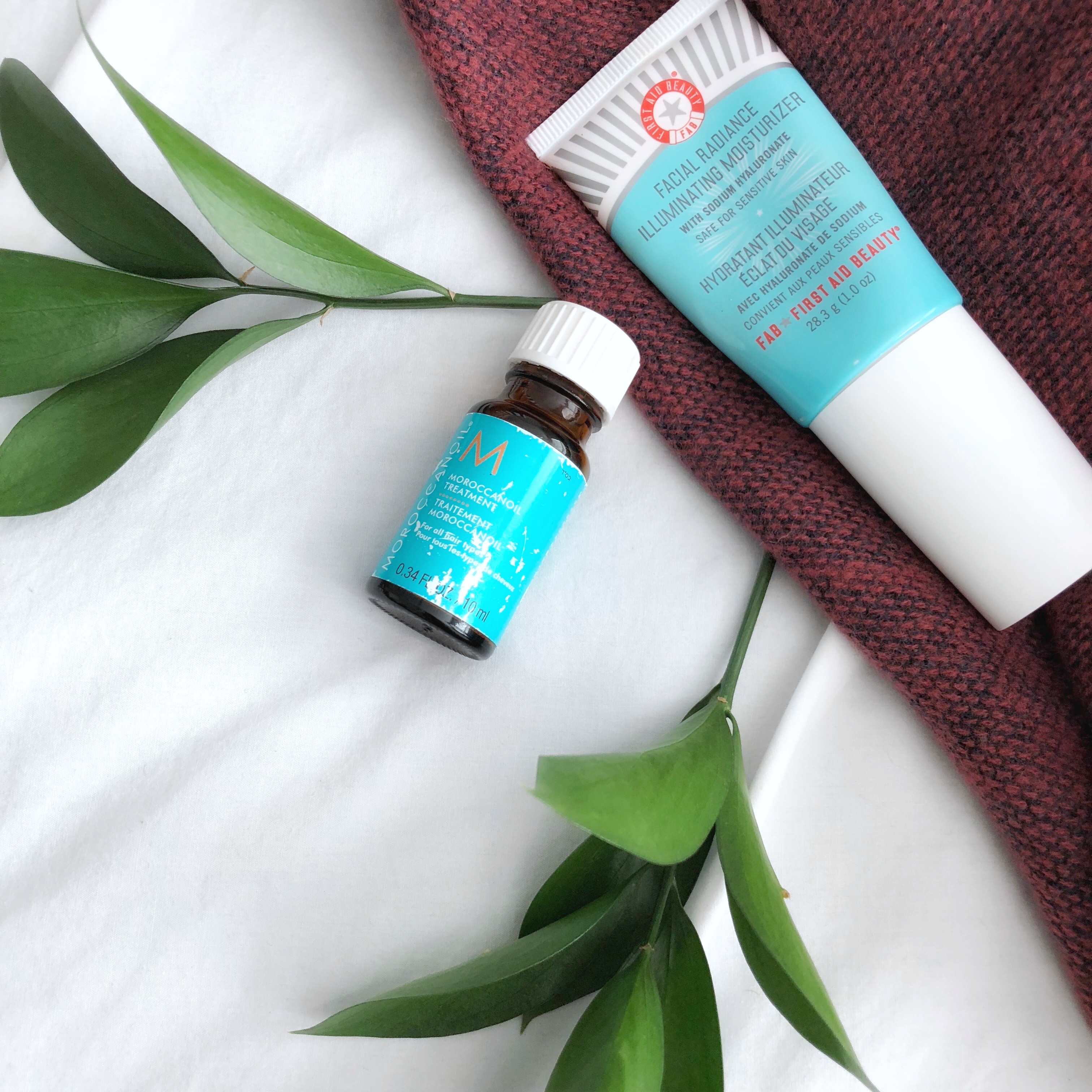 Moroccan Oil Treatment / First Aid Beauty Illuminating Moisturizer
Protecting our hair when the weather changes keeps hair shiny, healthy, and strong. This oil treatment is great because it's light, but still effective against elements.
Skincare and face products shift just a bit for me according to season. For night, heavier creams that deeply nourish to keep skin from drying out are a must when its cold out. For daytime, I prefer lighter products all year because my skin is a little oily. This one gives a natural looking radiance while moisturizing lightly under makeup.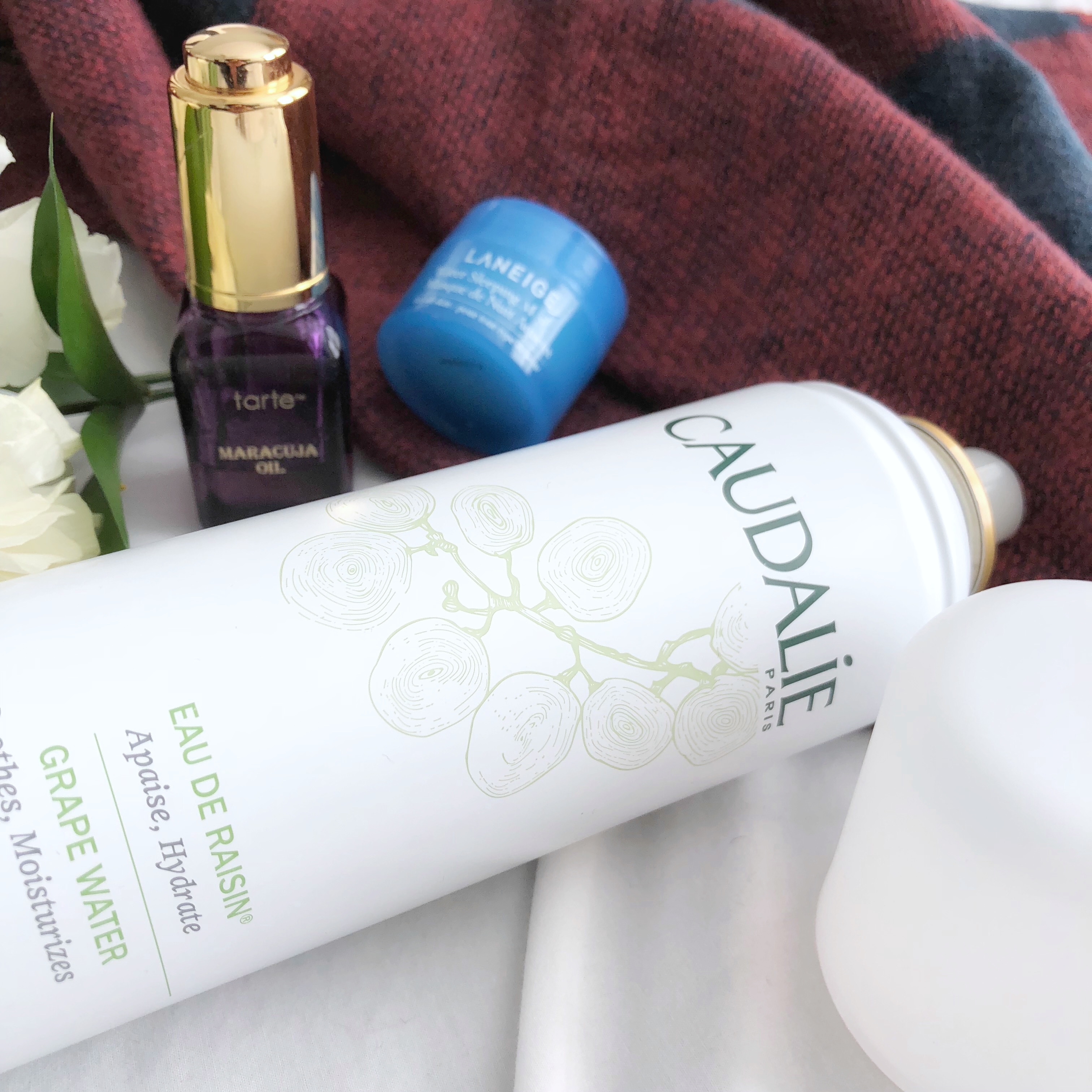 Facial Mist / Facial Oil / Water Sleeping Mask 
Skincare products are my weakness and I look forward to sharing my skincare routine soon! There's always a bunch of facial mists in my rotation all year long. Grape Water keeps skin moisturized and soothes gently. Using mists to refresh bare skin as well as my makeup throughout the day keeps skin happy and glowing.
I know I'm not the only one who piles on the facial oils at night when its colder outside! I've found that they work great when you have freshly washed & toned your skin, apply mist first, moisturize with a cream, then top with a facial oil  to seal the moisture in.
Some nights, using a moisturizing sleeping mask gives my skin an extra treat. I wake up to baby soft and luminous skin, so no need for foundation or tinted moisturizer every single day!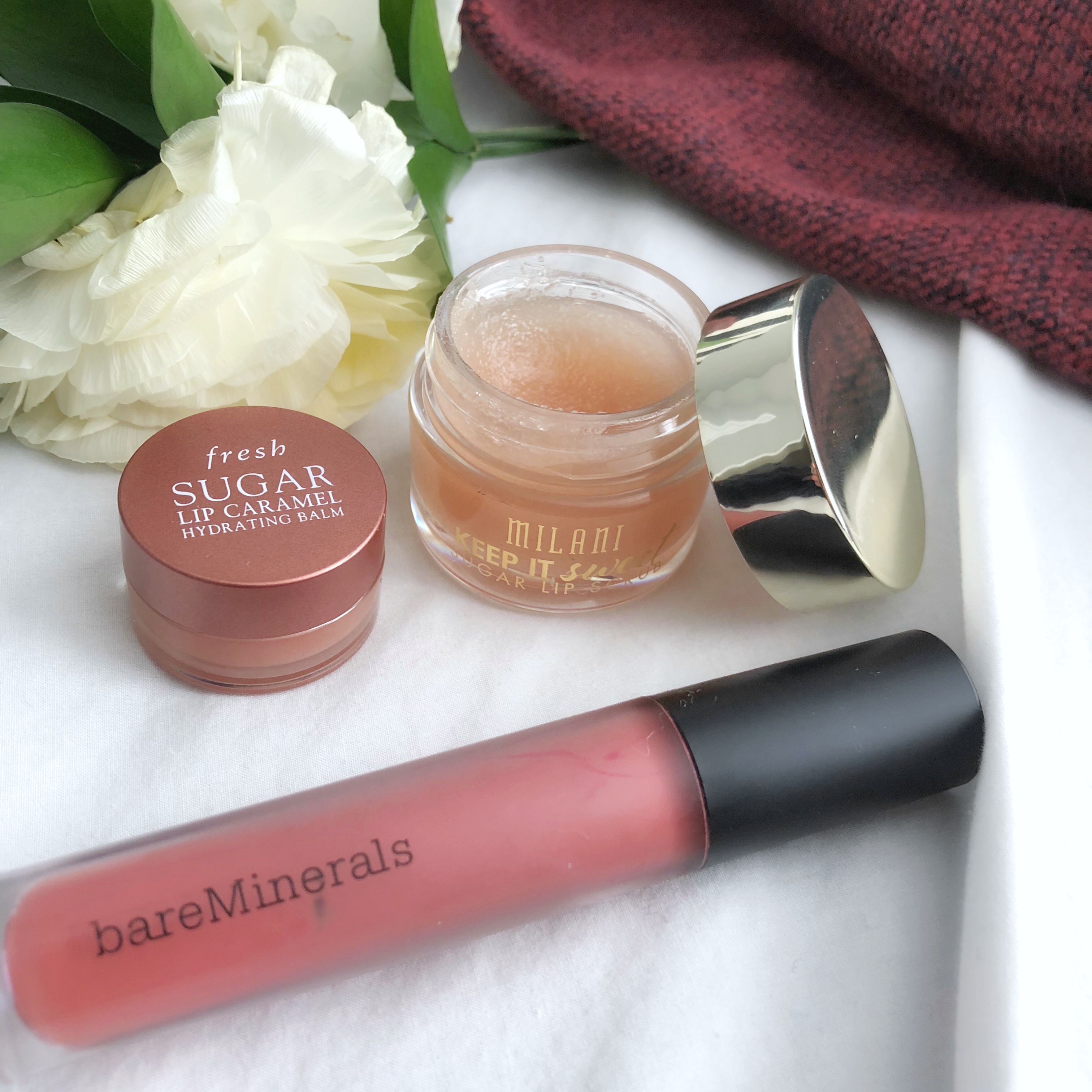 Fresh Lip Caramel /  Sugar Lip Scrub / Moisturizing Matte Liquid Lipstick
A moisturizing lip balm is a must … especially one that smells like caramel!  Before applying balm, using a sugar lip scrub gets dead skin off, making lips soft and smooth for lip color. This line of matte liquid lipsticks actually hydrate the lips and not dry them out like most will. Definitely great for winter!
Those are some of my Winter Beauty Essentials!
What are some of yours? Thanks for reading!