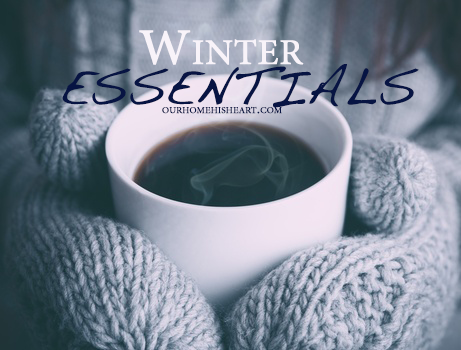 Winter is finally here and I couldn't be happier! During the chilly winter months, its great to still remain fashionable while keeping warm and cozy. I have compiled a list of items I consider to be staples in a perfectly stylish Winter wardrobe. Aside from great  gloves and mittens, these are the items I truly consider to be Winter wardrobe essentials in my closet. Keep reading if you are into cold weather fashion like I am!
Winter Wardrobe Essentials
Chambray Shirt and Flannels– Chambray tops are thin and wearable button down tops look great when pulling off the double denim look (light on dark denim) and also look so good with a basic pair of quality leggings. They are so soft and comfortable on. These are great because they come in both light and dark wash options and can be worn with fun necklaces and can basically be accessorized in so many ways. These should be a definite staple in any Winter wardrobe! Another button down type of shirt that screams colder weather are flannels. Not only do these keep us warm, but can make pulling off the layering look super easy. There is a flannel color family ideal for everyone, whether you prefer dark flannel colors or light flannel colors. It's a good idea to shop the men's section since these are best when slightly oversized. Remember to add really feminine touches like dainty jewelry and flats when going with the more masculine colored flannels.
Vests– A vest can take a plain top (or outfit) to another level, making everything tie together nicely making it all look so stylish! Vests are the finishing touch on most winter outfits and provide a great layer of warmth as well. There is a perfect vest out there for everyone, whether you like a thinner quilted or fleece vest, or whether you prefer the puffer style vests. With the variety of patterns, colors, materials, textures, and prints out there, it's okay to have more than one in your collection! Check down below for some glam faux fur options that are right on trend.
Hats– I mentioned my affection for floppy hats in my previous fall fashion post and these will still look great for Winter! Right now I am also loving the look of baseball caps paired with vests and button down tops with leggings for a sporty and casual look. Shop my favorite baseball caps below 🙂
Scarves – Bring on the blanket scarves! Right now I'm all about the black and white patterns and colored plaid mixture seen everywhere. These are fantastic additions to any scarf collection because they perform double duty: they can be worn stylishly around your neck while outside, or you can choose to remove it and use it as a little fabulous throw while riding in the car or while indoors. Aside from blanket scarves, continuing to wear your favorite fall scarves is totally allowed in Winter! I have a thing for pretty much anything cheetah print, so I love scarves in this print. I also happen to LOVE faux fur scarves.
Easy sneakers– Chucks are my absolute favorite for this effortless chic look! I will be purchasing these in the near future! I love the style and the fact that the laces don't have to be tied for a sleeker look. There are also some awesome slip-on shoe options in irresistible prints like cheetah and also lots of materials, such as tweed and leather. Vans makes some cute slip on sneakers to choose from. It's great that most slip- on shoes I've seen also provide some texture to any outfit to add some interest. The Nike Free sneakers below are on my never-ending list at the moment.
Boots– Having good selection of boots are is a major Winter wardrobe staple and there are so many options available. Among my favorites right now are duck boots, Hunter rain boots,  and over the knee boots. Boot socks give a cute look with an extra layer of warmth to keep feet warm. There are also genius clip-on boot accessories out there too!
Joggers, leggings, and skinny jeans– Joggers are part of the "ath-leisure " trend and I see these being around for quite some time in fashion. I love them because you can dress them up a little more by wearing a jacket, a flannel top layer, and a cool scarf, and great easy sneakers. I especially love the way they look wearing a denim jacket or a leather moto jacket with lots of layers underneath. The joggers from Gap are great quality. Leggings look good on anyone when worn the right way and give so many styling options. They are a major staple in my Winter wardrobe along with skinny jeans. There are several brands that even make the fleece lined basic leggings, which are wonderful for the frigid Winter air. I love that all three styles of pants don't drag as you walk and can be easily tucked into boots.

Cute thick tights

– Opaque tights are good to have on hand to make your favorites dresses warmer and wearable all year long. They can be worn with a great winter jacket, a turtleneck or dressy top underneath,a dressy coat ,as well as boots and heels to look gorgeously put-together! The option of solid color or a subtle print tights is available depending on your preference. I think the tights shown below are great choices.
Utility Jacket and Peacoat– Even if you aren't a fan of the camo print in particular, there are so many solid color military inspired options out there that look great! I love the jackets with gold hardware and a drawstring waist to add a touch of femininity. Peacoats are a true classic and come in so many color choices now.
Great heels and flats– A classic pointy toe heel and flats are an absolute must as part of any wardrobe in general for all seasons. In the winter wardrobe, a basic pointy toe pump and lace up suede shoes bring any look together perfectly. Flats are so easy-breezy, stylish, and comfortable!
Chunky Oversized Sweaters– These sweaters are warm and look nice when worn with leggings, boots, and even with jeans and heels and fabulous accessories. Free People has some really good oversized sweaters to choose from.
Shop This Post :
All of these things will certainly have you wardrobe-ready for Winter! If you enjoyed this post, be sure to check out my Fall wardrobe essentials here. Leave a comment below letting me know your go-to Winter essentials!