There are tons of things I want to get for all different categories and I keep a running Wishlist for each at all times …you should see the notes section of my iPhone haha! Today I want to share my current Wishlist for Home Items. I am not doing a complete over-haul and start from scratch with my home decor. I am just wanting to simply add to what I already have going on, with the exception of us planning to add a neutral colored sectional sofa on the main living floor and then us replacing our current bed with an upholstered bed in the upcoming months. The inspirations seen above will mesh seamlessly with the current mood of my overall home design style. With lots of refreshing and rearranging in the works, these are the things that I am most inspired by for now as I shop around for home items: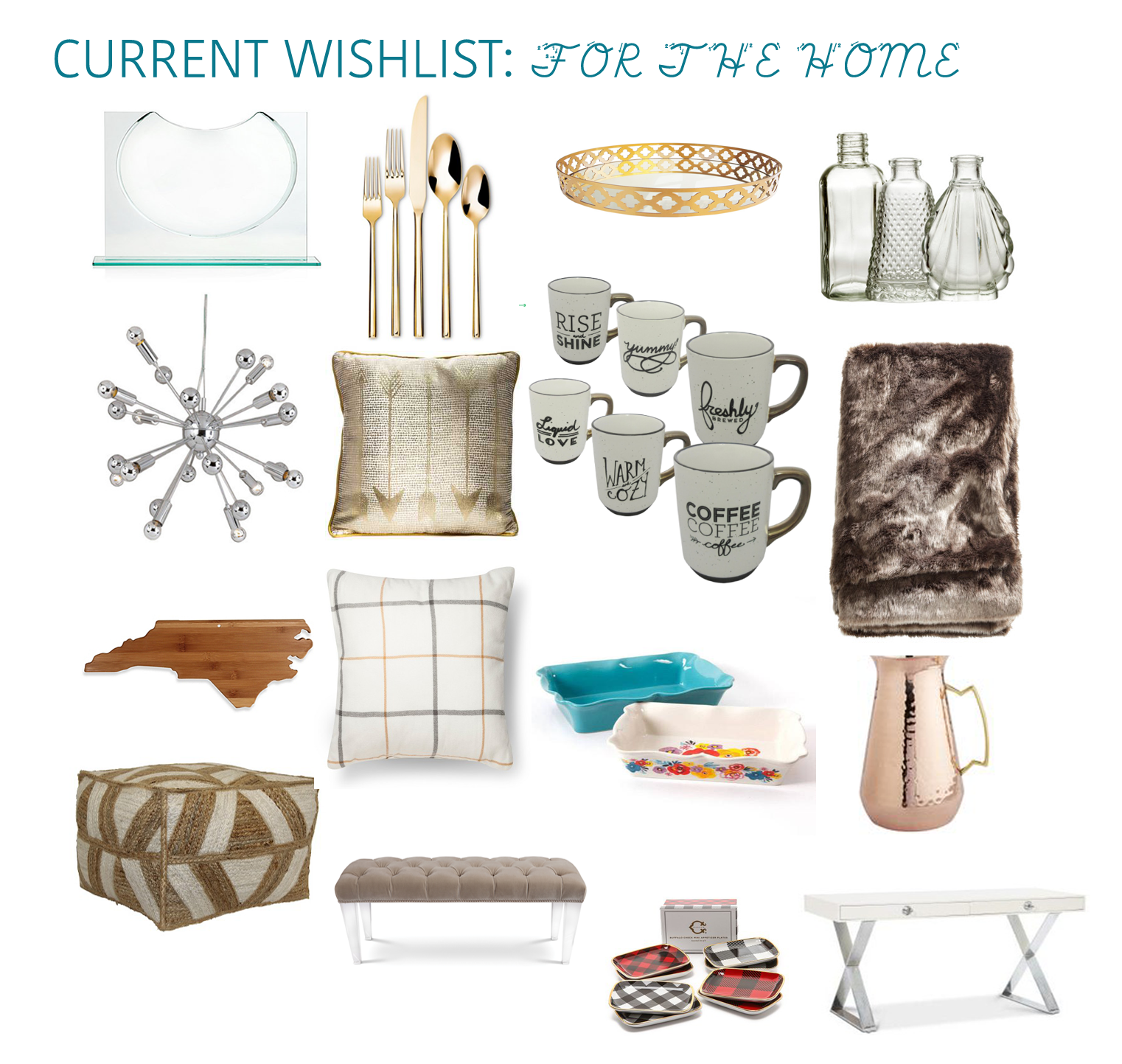 1. This unique vase from Z Gallerie has been on my list for quite some time. I love how it adds interest and would look stunning with fresh flowers in it.
2. This gold flatware set looks so chic and it is perfect for my home because I enjoy the look of mixed metals.
3. This tray is very glam and I would like to use it in my Butler's Pantry area to display some pretty gold-etched glasses. I like the mixture of metal and glass on this one. It makes a very nice contrast with the difference in materials used.
4. These vases are inexpensive and from the H&M Home line. The H&M Home line has so many great things at such affordable prices. If you haven't checked this line out yet, please do!
5. I am wanting a light fixture that has a fun look just like this one for Jacob's playroom/play-space that is currently in the works.
6. I love how this pillow has gold accents and the arrows are a huge trend in home decor right now. I would like to use pillows like this to layer with other textures and prints on our main living floor. I am also planning to add some fabulous faux fur pillows in the mix.
7. These adorable mugs are at Target and I love the size, the text on them, the speckled backgrounds, and the antiqued look of the gold handles on them.
8. I am on the hunt for a luxe faux fur throw. This one looks very snuggly and stylish. 🙂
9. This bamboo state of NC shaped cutting board is functional and decorative. This will complement my Granite color, my cabinet color, and my wood floors nicely.
10. This plaid throw pillow has a contemporary yet classic feel and the colors are nice and warm for Fall. This could even work with my home decor for the Holidays.
11. I am really loving The Pioneer Woman Collection of kitchen items at WalMart (her recipes are perfection too!). These pieces look very sturdy, are colorful, and seem to be made very well, with great attention to detail.  They are perfect for the upcoming Holidays too!
12. This copper and gold handled pitcher is yet another example of how I enjoy the look of mixing metals. I think it will be perfect for a family dinner or a dinner party with friends.
13.  This cream and tan pouf from Target would fit in perfectly with how we are planning to re-design our living room. Poufs are great and make convenient extra seating that can be tucked away when necessary. They are great footstools and good seating for kiddos too!
14.  This bench just screams my name! I think the lucite legs on it and the tufting on the bench both add a nice feminine touch.
15.  Yes, more plaid! I just can't get enough with this print! These little square plates would be so fun around the Holidays to serve some sweet treats on.
16. I am looking for a white writing desk to fit in Jacob's play space so that I can work a bit while he plays from time to time. This desk is the look I want to go with and I like how this one doesn't take up much floor or wall space.
What items are you looking to add into your home decor?
Have a great day!