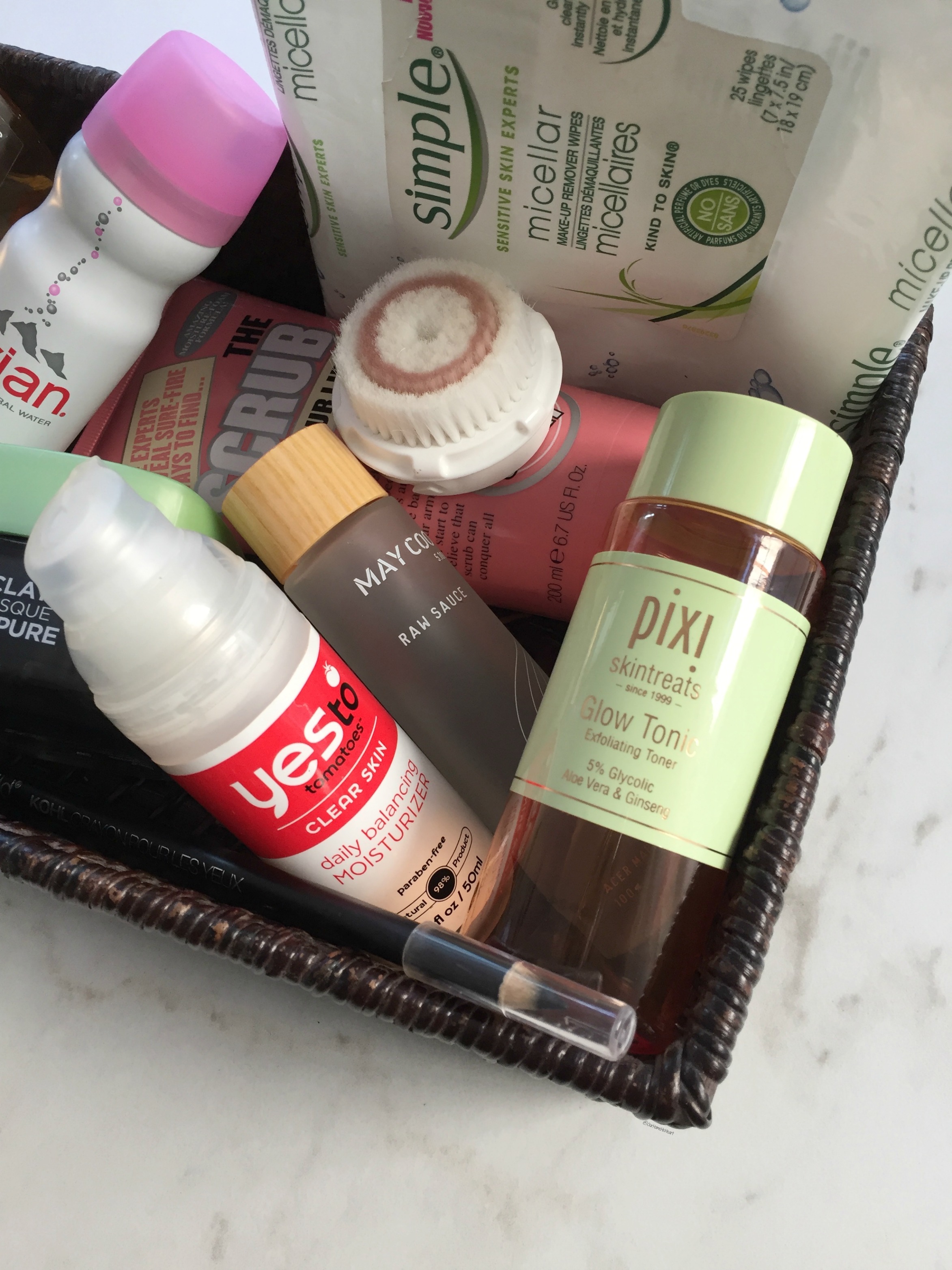 Hey friends! I Hope your summer is going great!  I have purchased quite a bit of new things to try over the past few months, I've also worked dilegently  on using up things already in my collection, so that I can give my overall thoughts! Today, it'll be a mix of some items I purchase on a regular basis as part of my routine, as well as some things I really needed to finish up. Grab a cup of something iced (cause its HOT!!!), get comfy, and let's chat about some product 'empties'!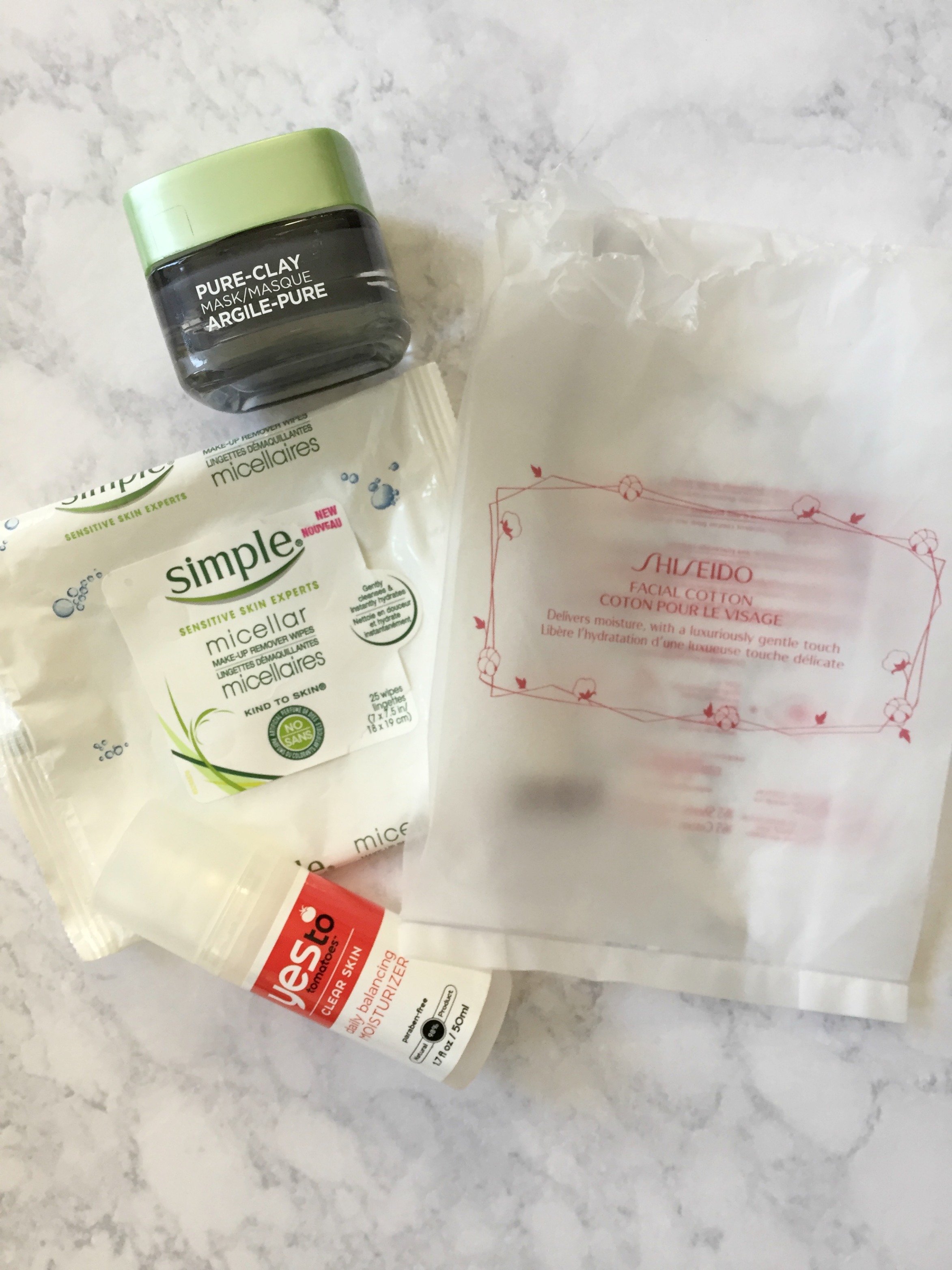 Skincare + Beauty
Simple Micellar Water Makeup Remover Wipes – These are good to have on hand for step 1 to remove makeup before applying cleanser. I like to alternate on what I use for step 1, but always keep these in my stash cause they are that good.
Shiseido Facial Cotton – The softest facial cotton and a regular part of my routine. If you haven't tried these, please do! FYI: There's a small travel pack to try now that I recently saw at Ulta if you'd like to try those before committing to a full size package.
Yes To Tomatoes Daily Balancing Moisturizer – This moisturizer is great for the cooler months. It has a light scent. I'm quite oily, and this is a heavier moisturizer that doesn't break me out and keeps my skin happy.
L'Oreal Pure Clay Charcoal Mask – Such a fantastic detoxifying mask at a great price from the drugstore!
Pixi Glow Tonic – I've been through a ton of these and finally remembered to save a bottle! This is one of my favorite exfoliating toners that I currently use in my evening skincare routine. Really does give you a glow. Super gentle, even if you have sensitive skin.
Clarisonic Radiance Brush Head – Gentle and effective! Out of all of the other variations of brush heads, this one is my favorite.
Empties | Summer 2017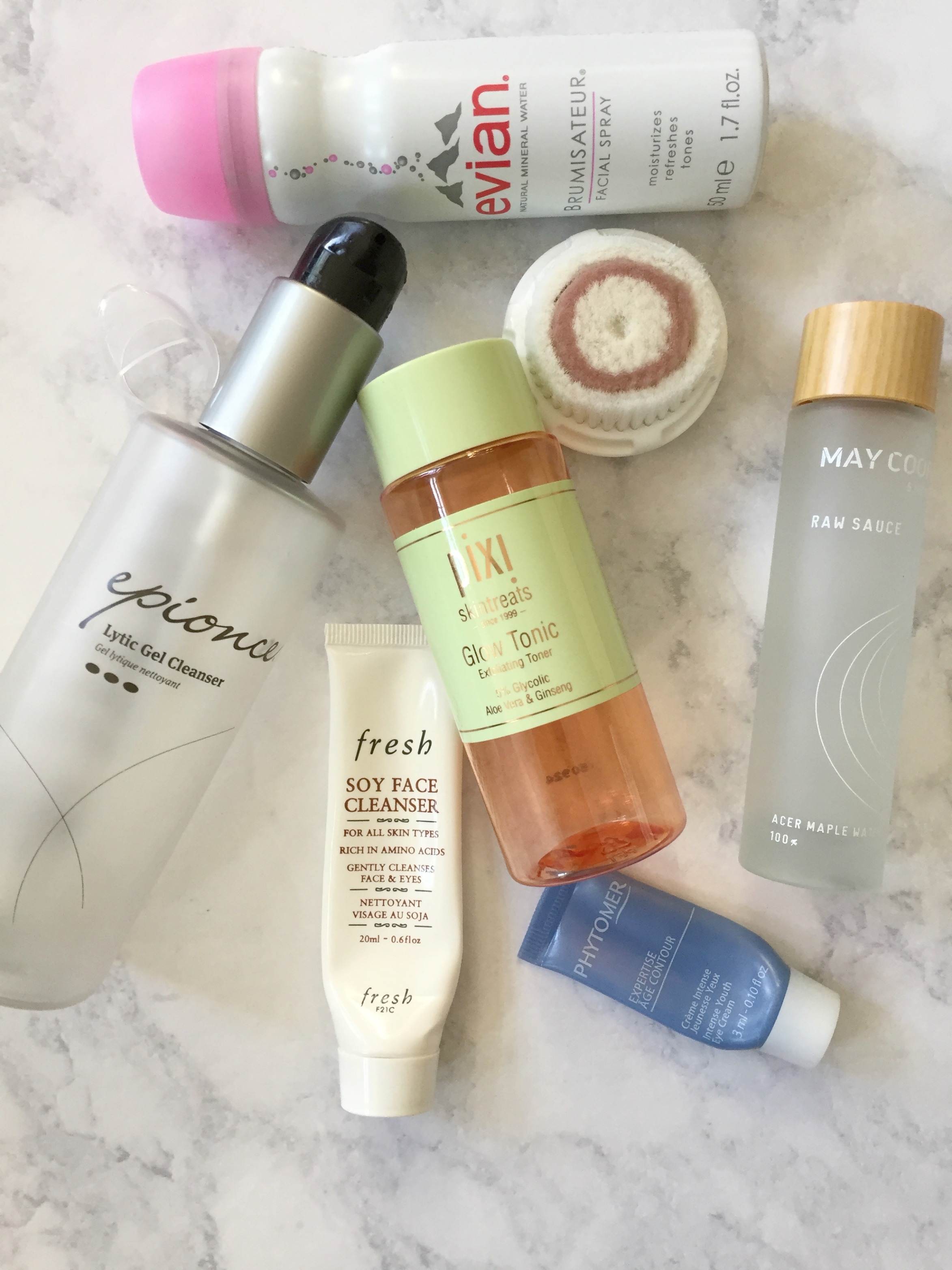 May Coop Raw Sauce – This travel size lasted a good while. I've actually been through 3 of these small bottles because I love this all-in-one product! It's a K-Beauty favorite among many. I finally purchased the full size because I just have to have this in my routine. Review coming soon!
Fresh Soy Face Cleanser – This was a deluxe sample size and I fell in love with this cleanser! The only thing I'm not crazy about is the artificial cucumber scent of this, but it removes makeup on it's own and doesn't strip the skin.
Epionce Lytic Gel Cleanser – I'll probably include one of these in each 'Empties' post! It's my #1 cleanser. Leaves skin clean and never stripped.
Phytomer Eye Cream – Had a deluxe sample and it was so nourishing for the eye area. The full size is super expensive, so I don't see myself spending that much on eye cream in the near future.
Evian Facial Spray – Love keeping this small size for makeup touch ups and also to use with my toddler while out! I keep the full size in my rotation of facial mists to use with skincare and makeup application.
Makeup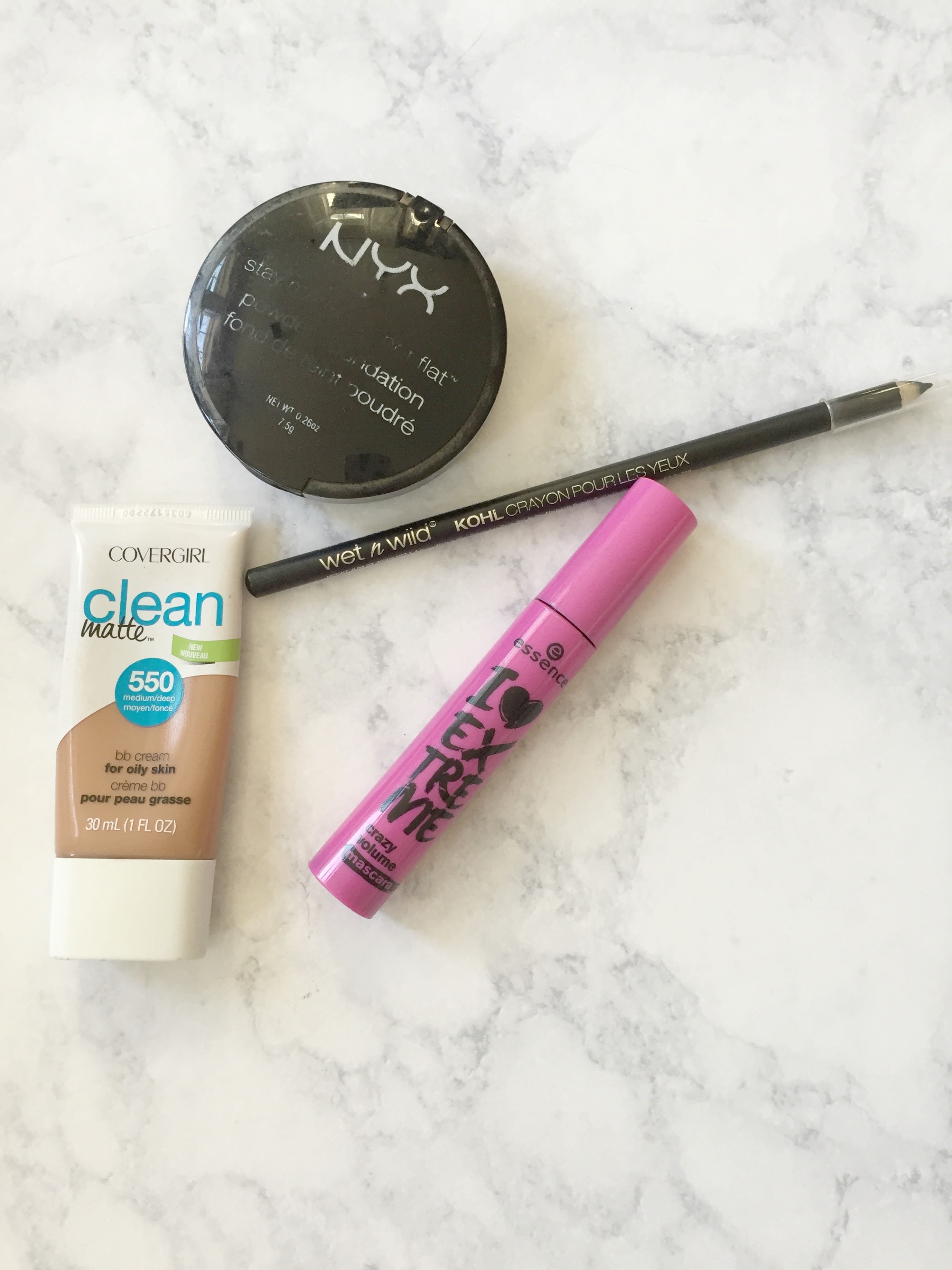 CoverGirl Clean Matte BB Cream – This little gem of a BB cream works great for oily girls! It's lightweight and looks very natural on. If you haven't tried it yet, you have to!
Wet nWild eyeliner – This gets five-star reviews, but it runs horribly on me! I didn't even finish the pencil because it just didn't work for me because I'm not a fan of raccoon eyes!
Essence I Love Extreme Mascara – Essence mascaras are a great choice anytime you are at Ulta! This one lengthens, gives volume, and doesn't transfer. Best part is the price and the packaging is cute!
NYX Stay Matte Not Flat Powder Foundation – I like using this on light days. It has great coverage and stays matte all day.
Toddler + Mommy Things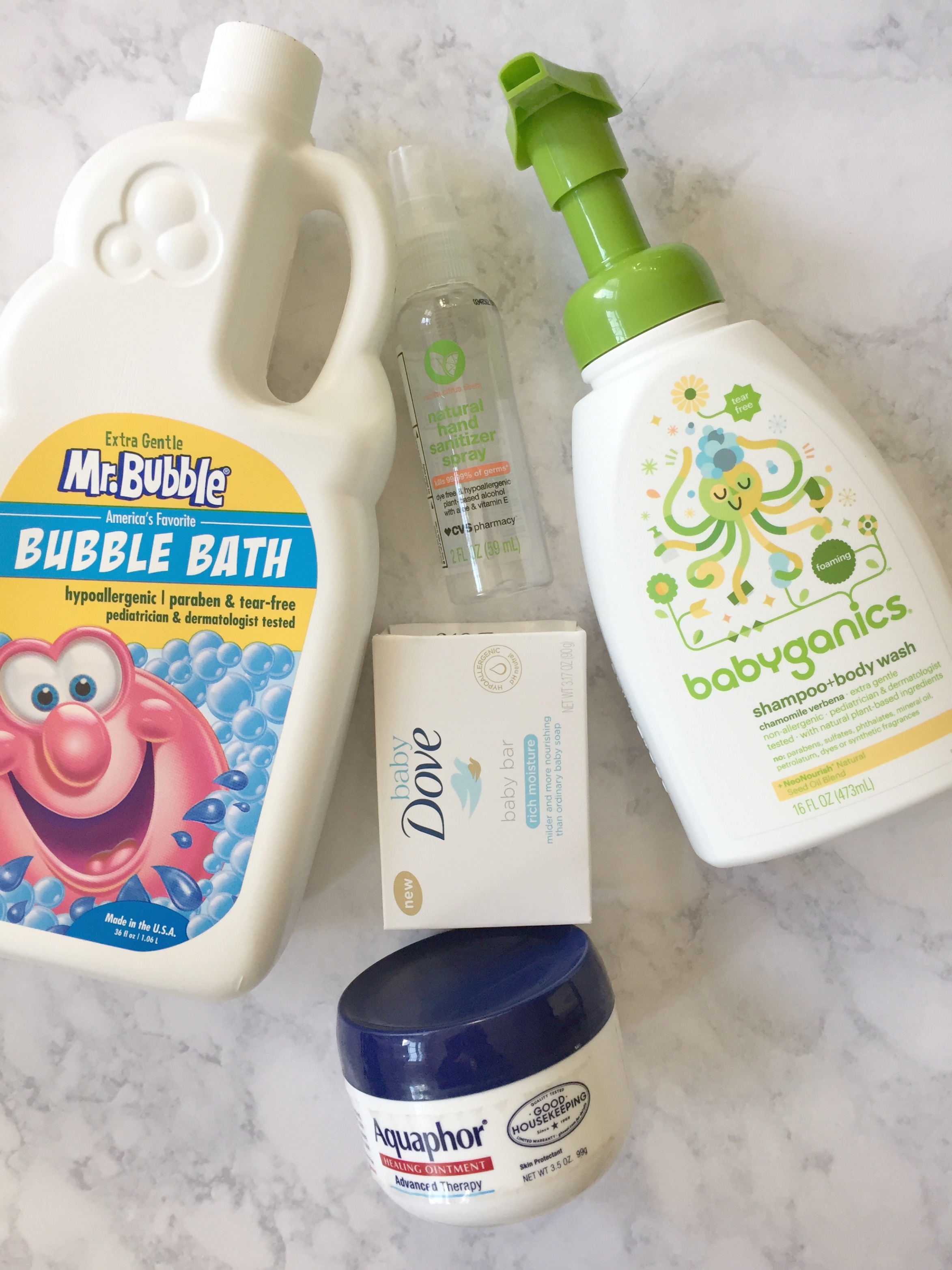 Aquaphor Healing Ointment –a fantastic multi-purpose balm! Everyone in the house can use it, it moisturizes, and it heals. Also makes a great lip balm.
Vanilla Citrus Natural Hand Sanitizer Spray – I grabbed this on a whim when I stopped at CVS one day. I have fallen in love with the scent of this! Spray hand sanitizers are my go-to formula for being out and about with a toddler. Quick and Easy!
Babyganics shampoo+body wash , Chamomile + Verbena – another product that smells amazing and gently cleanses JP's skin. The foam formula is fun to use and lasts a long time.
Mr. Bubble Extra Gentle Bubble Bath – Makes lots of bubbles, fragrance free, and isn't harsh on my son's sensitive skin.
Dove Baby Baby Bar – This has a light scent and moisturizes kid's skin as it cleans.
Body Care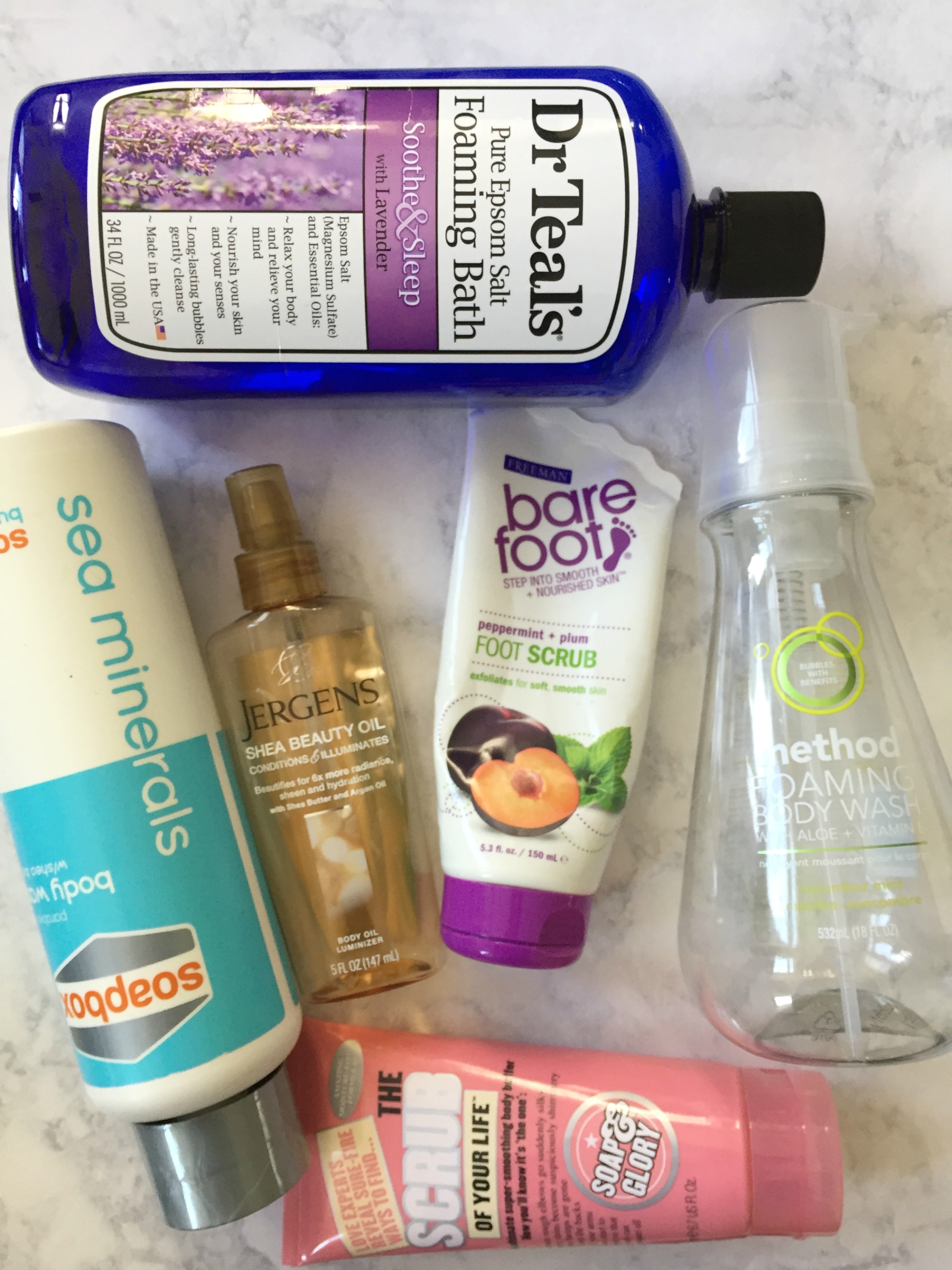 Dr. Teal's Foaming Bath Soothe and Sleep with Lavender – Dr. Teal's makes such luxe body washes! The perfect scent for nighttime to wind down and relax.
Soapbox Sea Minerals Body Wash– Smells great! I loved this and it's great that each bottle purchased gives a bar of soap to someone in need.
Method Foaming Body Wash Cucumber Mint – Oh goodness, does this smell amazing! Love, love, love!
Bare Foot Foot Scrub Peppermint + Plum – Perfect to keep in the shower all year round to keep feet nice and smooth.
Jergens Shea Beauty Oil –Lightweight and absorbs quickly! fresh scent, illuminates skin, and moisturizes beautifully. It can be a little hard to find, but it's worth the hunt!
Soap and Glory The Scrub of Your Life – Smells just like Clean on Me (Soap and Glory's Original Pink scent), but has some grit to it for exfoliating.
Household Goodies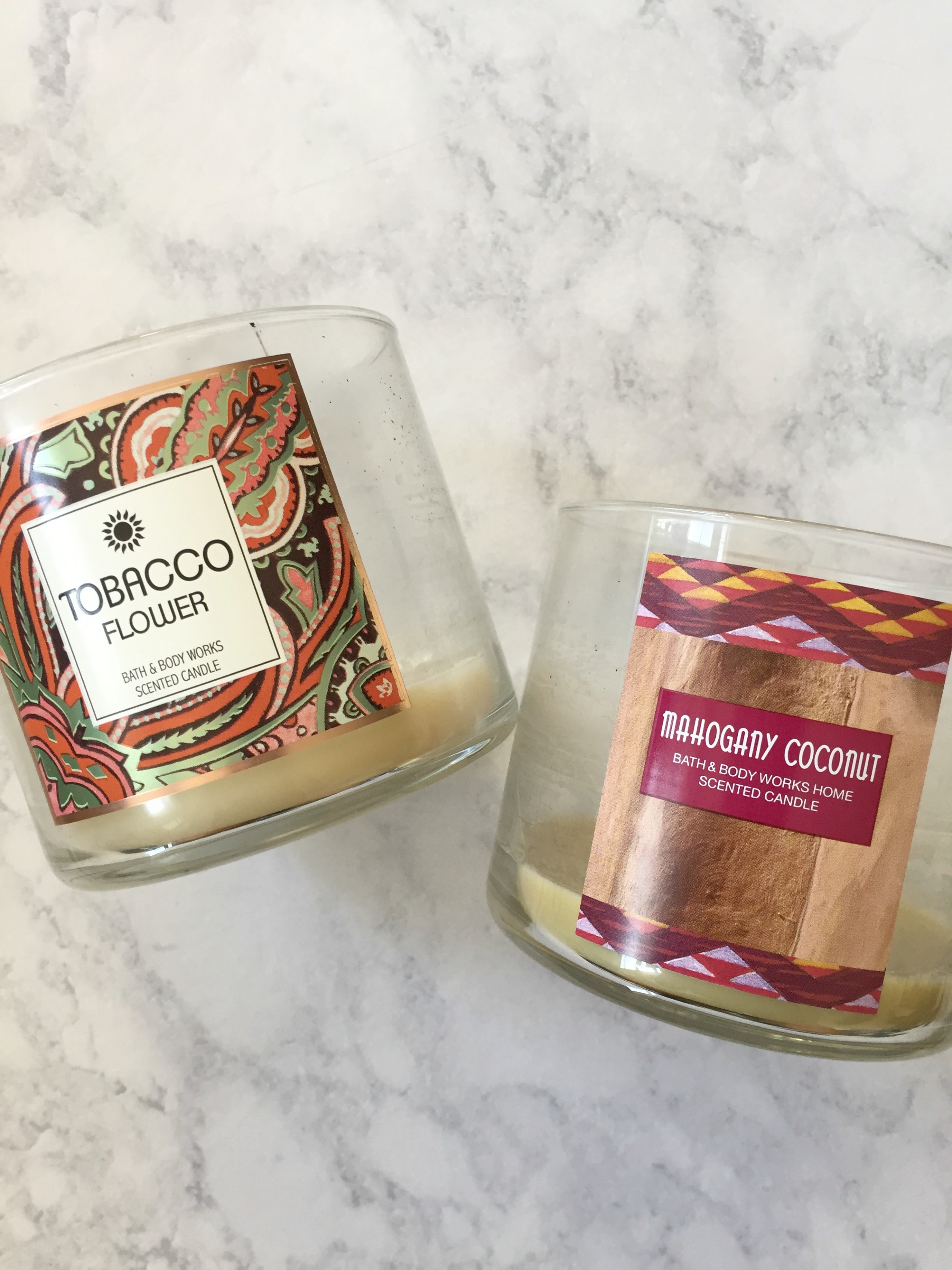 Bath + Body Works Mahogany Coconut Candle – We loved this for the warmer months.
Bath + Body Works Tobacco Flower Candle – Semi-masculine and perfect scent all year round.
Overall, I would repurchase everything with the exception of a few things. The eye cream was effective, but won't rebuy because of the cost. I have others that cost way less that I like just as much! The eyeliner was a dud for me. I don't mind paying a little more at the drugstore for one that doesn't run on me.  While I do love the deluxe sample of the Fresh Soy Face wash, the scent is a little too much for me, so I don't see myself purchasing it.
Hope you got some useful info from this empties post!