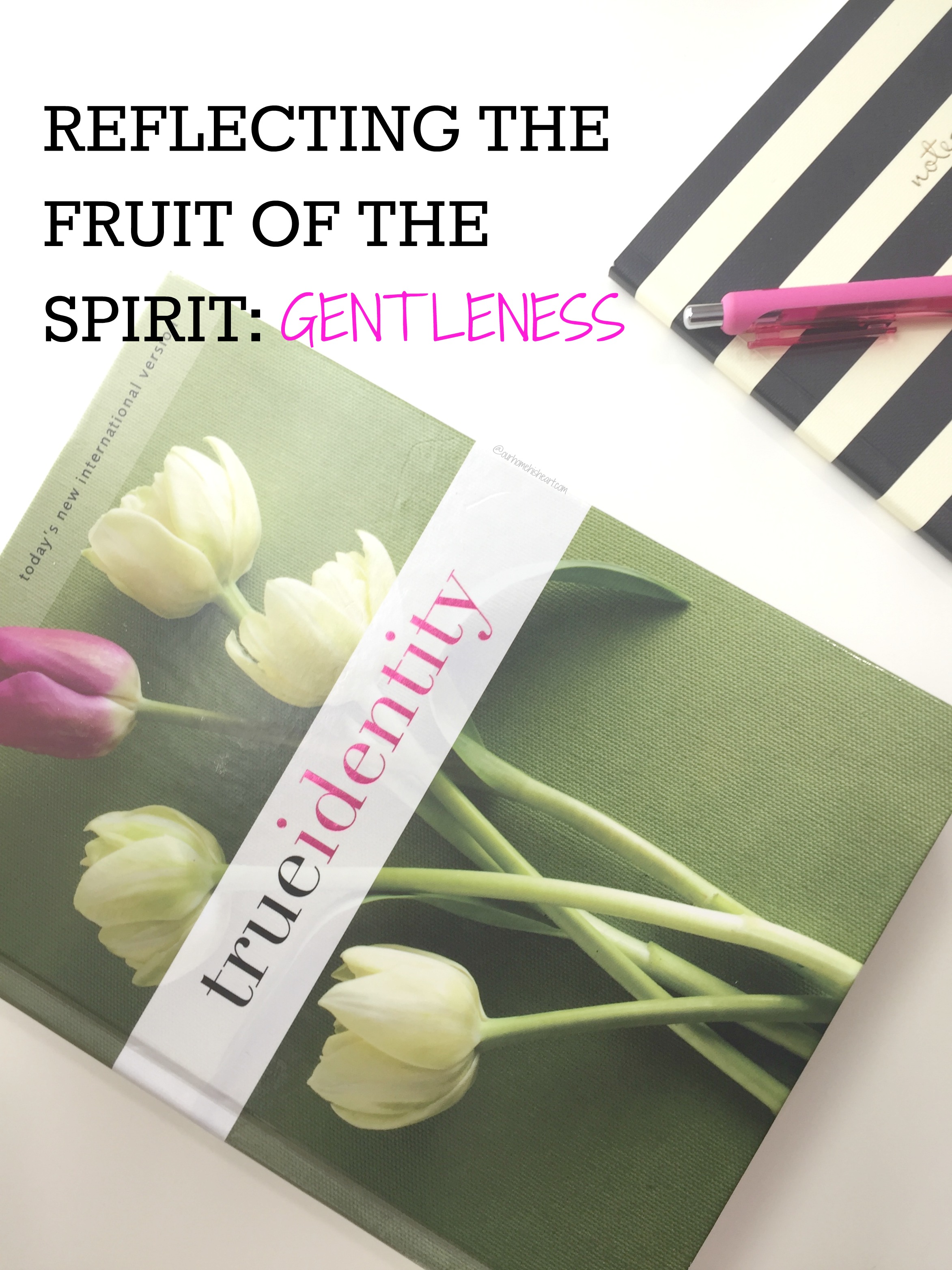 *Are you new to my Fruit of the Spirit Devotion Series? In order to get the best experience with the content, check out the following parts of this series before reading this one.
Post 1 (Intro), Post 2, Post 3, Post 4, Post 5, Post 6, Post 7
The next spiritual fruit is gentleness. To be gentle is to be careful, kind, and thoughtful. We can be gentle with people, as well as to things. Having a gentle state-of-mind and being gentle in our actions, are both ideal characteristics of a believer.
Jesus shows us what gentleness looks like. For example, Jesus was always patient, kind, easy to approach, and gentle towards others. Our Father has all power, yet he never misuses it! Instead He is always gentle and loving to us, in spite of our shortcomings.
Love is patient, love is kind. It does not envy, it does not boast, it is not proud.  It does not dishonor others, it is not self-seeking, it is not easily angered, it keeps no record of wrongs. Love does not delight in evil but rejoices with the truth.  It always protects, always trusts, always hopes, always perseveres. (1 Corinthians 13:4-8)
Gentleness is not weakness! Instead, it can be described as controlled strength, which takes a huge amount of self-control. Demonstrating genuine love requires us to be gentle in our thoughts, actions, and words towards one another. Patience key in order for us to develop a lifestyle of gentleness.
When we are gentle, feelings are not hurt, nor are people left hurt by us. Being kind, speaking quietly (over yelling), using hands to help not hurt, and thinking loving thoughts towards other people are all examples of having a gentle spirit. The Holy Spirit helps us develop gentleness.
REFLECTING THE FRUIT OF THE SPIRIT: Gentleness
Application: Being a Peacemaker
Remembering to be gentle, in terms of interactions and disagreements, can be difficult. Christians are supposed to be peacemakers, not physical fighters. An overly argumentative, combative, non-cooperative attitude is not ideal. The good news is that believers have an endless supply of spiritual weapons in store, always available for us to use! By using spiritual weapons instead of physical weapons to handle conflicts, we demonstrate gentleness.
We use God's mighty weapons, not worldly weapons, to knock down the strongholds of human reasoning and to destroy false arguments. (2 Corinthians 10:4)
Weekly Reflection: Practice Gentleness:
Gentleness takes practice, as well as the development of self-control. Learning to have control over your mind, your mouth, and your actions is not only beneficial to yourself, but will also benefit other people. It is important that even when we are angry, we are never to hurt others with our words or our actions. We always have the opportunity to speak the truth in a loving way.
Gracious words are a honeycomb,
sweet to the soul and healing to the bones. (Proverbs 16:24)
Additional Verses to Further Study Fruit of the Spirit: Gentleness
Therefore, as God's chosen people, holy and dearly loved, clothe yourselves with compassion, kindness, humility, gentleness and patience. (Colossians 3:12)
Let your gentleness be evident to all. The Lord is near. (Philippians 4:5)
Prayer Starter:
Lord, You have shown gentleness towards us. Teach your people how to be gentle towards one another. Show us how to speak the truth in love."
Next week, let's finish up the series by exploring of the Fruit of the Spirit: Self-Control. Don't forget to subscribe if you found this helpful and please share this with a friend! 🙂 Thanks for reading!